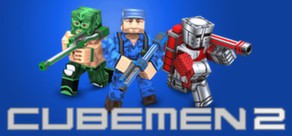 Cubemen 2 is a fast paced, action packed, original 3D Strategy game where you use your little Cubemen units to defend and attack enemies in a range of awesome game modes including CTF, Skirmish, Territory and more.
發售日: 2013年4月8日
觀看 HD 影片
購買 Cubemen 2
Includes the official soundtrack.
購買 Cubemen 2 2-Pack
Includes the official soundtrack and an extra copy of the game in your inventory to send to a friend.
包含此遊戲之套件
2014年2月26日
We are happy to finally announce that the major Cubemen 2 v1.2 update is live on the store!

This update introduces some cool new features and game improvements.

Change List

Added new MP game mode - King Of The Hill (KOTH)

Added new MP game mode - Defector

Added new missions system

Added new player XP and Levelling system with new global leaderboards and ranks

Added some new achievements

Added a few new Cubemen skins (Star Soldier & Axis)

Refined unit balance to improve play experience

Improved network game reliability

Lots of bug fixes and speed optimisations
This version is now in line with iOS and Mac App Store versions for cross platform MP games.
7 則回應
繼續閱讀
2013年12月12日
Just a heads up that we are running a Kickstarter campaign for our current game in development - Fight The Dragon

Fight The Dragon Kickstarter

Fight The Dragon is a 3D Mini Action RPG that also ships with an advanced in game Adventure Construction Kit and will be released on Steam next year for Win, OSX and Linux.

Key Gameplay Features
- Action packed Hack-and-Slash Adventuring
- Epic loot to find and dangerous enemies to battle
- Local Drop-In Split-Screen Co-Op
- Up to 4 player online Co-Op (cross platform)
- Endless range of adventures to play
- Intense Dragon Fights
- Fully intuitive gamepad support as well as Mouse & Keyboard
- Full Steam Big Picture/Steam Machine support
- In game Adventure Construction Kit

We'd love the help of our Cubemen community in backing the project and spreading the word.

Thanks :-)

P.S. We just finished CM2 1.2 release candidate 1 and will be sending that to testers tomorrow - finally!

2 則回應
繼續閱讀
評論
"Cubemen 2 is a fun and unique experience that most strategy buffs would do well to try at least once."
8/10 – Dads Gaming Addiction

"All in all this game is a very nice piece of work, being a fan of the original I am really glad to see how the series has come along!"
8/10 – Out Of The Box
關於此遊戲
Cubemen 2 is a fast paced, action packed, original 3D Strategy game where you use your little Cubemen units to defend and attack enemies in a range of awesome game modes including CTF, Skirmish, Territory and more.
For the multi-player enthusiasts, you can compete in up to 6 player online Solo or Team battles against other humans or AI, for the top spot on the global rankings. Host your own online games or join other games in the easy to use game lobby.
For those that prefer the single-player experience, Cubemen 2 offers 2 unique single-player game modes plus a Campaign mode, all with online rankings so you can compete against the worlds best.
Cubemen 2 offers enough variety to satisfy everyones strategy gaming needs.
Play on an almost endless supply of new and exciting user generated levels, or launch the easy to use built in level editor and make and share your own. All levels are stored locally so you can play your favorites when offline.
Key Features:
Five outstanding game modes including CTF, Territory and Rescue!

Customizable unit skins... Play as Cowboys, Knights or even Luchadores!

Built in Level Editor to play and share your own levels

Customizable level themes... Choose from over 20 styles

No static towers. Move your Cubemen around the level and attack or defend at will

Campaign mode where you compete against others for a global ranking

Up to 6 player cross-platform multi-player carnage

Find new online levels to play with a single click

Nine specialised unit types including path blockers, mines and freeze lightning

Real 3D levels with Teleporters, Healing Stations and floating platforms

Online ranking for all game modes

Teams and individual multi-player games against Humans, AI or both!

Clean, rich and simplistic visuals that keep the focus on the strategy

All skins and themes in Cubemen 2 on Steam are now permanently free

Original soundtrack for Cubemen and Cubemen 2, Composed by Levan Iordanishvili.
Track list:
Cubemen 1 Main Theme

Ricky Rockets

Flint Flamer

Frill Grunt

Moty Mortar

Laslo Laser

Fred Freezer

Sid Sniper

Mike Medic

Cubemen 2 Main Theme

Waly Wall

Milo Mine

Larry Lightning

Cubemen 2 Rock On

Cubemen 1 Main Theme Piano

Cubemen 1 Main Theme Sheet Music

The soundtrack will download to your computer to the following location .../SteamApps/common/Cubemen 2/Soundtrack folder.
系統需求 (PC)
OS: Windows XP, or later

Processor: Intel or AMD

Memory: 1GB

Hard Disk Space: 200MB

Video Card: Nvidia 8000, Radeon HD3000, Intel HD ( No GMA9xx )

DirectX®: 9.0c or above

系統需求 (MAC)
OS: 10.6 +

Processor: Intel Only

Memory: 1GB

Hard Disk Space: 200MB

Video Card: Nvidia 8000, Radeon HD3000, Intel HD ( No GMA9xx )


Linux 系統需求
OS: Ubuntu 12.04 +

Processor: 2 Ghz Intel or AMD

Memory: 1GB

Hard Disk Space: 200MB

Video Card: OpenGL 2.0 Nvidia 8000, Radeon HD3000, Intel HD ( No GMA9xx )


Sound: OS Compatible sound card with latest drivers

具參考價值的客戶評論