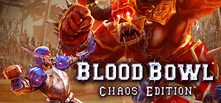 This bonecrunching sport features 23 playable races, each with its own style, vicious moves, rankings & more!
Fecha de lanzamiento: 11 de Oct, 2012
Ver vídeo en alta definición
7 de Agosto
Summer vacation? Before leaving, equip your cleats, don your helmet, grab your dice and bring the field with you!

Blood Bowl is now available on iPad and Android tablets!
>> Android: https://play.google.com/store/apps/details?id=com.focushome.bloodbowlandroid
>> iPad: http://itunes.apple.com/app/blood-bowl/id885017273?mt=8
>> Amazon: http://www.amazon.com/Focus-Home-Interactive-Blood-Bowl/dp/B00M8CQ3JK/

This handheld version will let you bring the fierce matches of Blood Bowl with you, wherever you travel!




Assemble your team from among six fantastic races in the Warhammer universe (Humans, Orcs, Dwarfs, Skaven, Wood Elves and Chaos). Each race has its own strengths, weaknesses and numerous opportunities to develop which will lend an immense tactical depth to the game.

Immerse yourself in single matches in Solo Player mode to enjoy fun, fast games, or set off to conquer the Blood Bowl in the extensive Campaign mode. Develop your team and players by gaining victories and experience as you progress in the game.

In Multiplayer you can compete against a friend on your tablet in "Hotseat" mode, or launch yourself into the vast online world in a massive permanent league where you can create and develop your teams. Play against Blood Bowl players from all over the world on iPad, Android tablet or even PC!
3 comentarios
Leer más
5 de Junio
Blood Bowl 2, the sequel to Blood Bowl today unveils a brand new series of screenshots, presenting the Dwarf teams and their stadium! Blood Bowl 2 will also be presented next week at E3 in Los Angeles, at Focus Home Interactive's booth (West Hall Booth 5512).

>> SEE THE SCREENSHOTS <<

While Humans and Orcs have been joyfully tearing each other apart for a few weeks now (watch the 'First Match' trailer), it's time for the 3rd of the 8 races of Blood Bowl 2 to make - despite their modest size - a triumphal entry. Their beards freshly trimmed and their Bugman's Beer mug locked to their belt, the Dwarfs finally enter the pitch of their newly inaugurated stadium! One thing is for sure: they're definitely not here to play the ball, and the Human team who have the honour (or misfortune) to face them first will certainly testify to that.

Blood Bowl 2 is even more ambitious than its predecessor in all aspects of the game, with numerous extra features and the highest production values. Its brand new graphic engine has been specifically developed for this sequel and displays the game's high-quality visuals and superb graphics and sound effects that raise the license to the next level. The animations, the dynamic cameras enhancing the brutal atmosphere of the matches, the "Cabalvision" identity and the commentator duo of Jim Johnson and Bob Bifford faithfully convey the thrills and fury so typical of the intense clashes in Blood Bowl.

Blood Bowl 2 includes a host of new features in both Solo and Multiplayer mode that also make the game more accessible. The ambitious Solo campaign puts players in charge of one the most famous teams in the world of Blood Bowl to compete in some unconventional and truly unique matches to take their team to the top, while "League" mode allows you to manage your own team, club and even stadium! Finally, the game achieves a greater tactical depth in Multiplayer mode with fabulous innovations that we will release very soon and which guarantee to drive the players wild!

We look forward to revealing more of Blood Bowl 2 with additional game screenshots and videos over the coming months!

11 comentarios
Leer más
Análisis
"Blood Bowl is a rare treat - and I wouldn't hesitate to recommend it."
strategyinformer

Acerca del juego
Inspirado en el mundo de fantasía de Warhammer, Blood Bowl es una mezcla ultraviolenta de estrategia y juego deportivo.

¡Chaos Edition cuenta con 23 razas jugables, tres de las cuales son completamente nuevas, y que aportan sus propios estilos de juego! Forma un equipo competitivo, entrénalo y cómprale la mejor equipación. ¡Una victoria brutal tras otras, mejora las habilidades de tus jugadores para convertirlos en verdaderos jugadores de Blood Bowl! ¡Este es un deporte rompe huesos en el que todo vale! Incluso si las opciones tácticas son tus favoritas, puedes elegir entre una amplia selección de sucias e increíbles jugadas: sobornos al árbitro, hechizos devastadores, armas ilegales…

¡En Chaos Edition, tres nuevas razas hacen su entrada triunfal al campo: los malévolos Enanos del Caos, los marginados que forman los equipos del Inframundo y, por primera vez en Blood Bowl, los Demonios de Khorne! El nuevo estado de los Hombres Lagarto está más que preparado para dar la bienvenida a los nuevos equipos, así como a un nuevo y desafiante modo de juego: Copa del Mundo. ¡Participa en un prestigioso campeonato y guía a tu equipo desde la ronda de clasificación al sangriento torneo final!

Blood Bowl se puede jugar online. ¡Crea tu equipo, mejóralo y llévalo hasta lo más alto de los rankings oficiales! ¡Desarrolla tu propia liga privada en internet y organiza tus propios torneos!
Requisitos del sistema
Minimum:


OS: Windows XP SP3/ Vista SP1/WINDOWS 7/WINDOWS 8

Processor: AMD/INTEL DUAL-CORE 2.4 GHZ

Memory: 1024 MB (XP)/2048 MB (VISTA/7/8)

Graphics:128 MB 100% DirectX® 9 and shaders 2.0 compatible (NVIDIA GEFORCE 6600 / ATI RADEON X700 or higher) Not compatible with SLI. Intel, SIS and Via/S3G graphics controllers non-supported

DirectX®:9.0

Hard Drive:8 GB HD space

Sound:DirectX® 9 compatible

Additional:Internet connection required for online gameplay.
Recommended:


Additional:Internet connection required for online gameplay.
Blood Bowl: Chaos Edition -- Copyright © Games Workshop Limited 2012. Blood Bowl, the Blood Bowl logo, Chaos Edition, GW, Games Workshop, Warhammer, the Warhammer Device, and all associated marks, logos, places, names, creatures, races and race insignia/devices/logos/ symbols, vehicles, locations, weapons, teams and team insignia, characters, products, illustrations and images from the Blood Bowl game and the Warhammer world are either ®, TM and/or © Games Workshop Ltd 2000-2012, variably registered in the UK and other countries around the world, and used under license. All Rights Reserved. All other trademarks, logos and copyrights are property of their respective owners.
Análisis útiles de usuarios
Título:
Blood Bowl: Chaos Edition
Género:
Deportes
,
Estrategia
Desarrollador:
Cyanide Studios
Editor:
Focus Home Interactive
Fecha de lanzamiento:
11 de Oct, 2012
Idiomas:
| | Interfaz | Voces | Subtítulos |
| --- | --- | --- | --- |
| Español | | | |
| Inglés | | | |
| Alemán | | | |
| Francés | | | |
| Italiano | | | |
| Polaco | | | |
Ver todos 6 idiomas disponibles