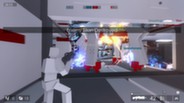 Set in a minimalistic stylized universe, Minimum features fast-paced combat with an elaborate blueprint crafting system that pits two teams against each other with their own gigantic robotic Titan. Collect materials from fallen foes and build damaging weapons to become deadlier as matches progress.
Release Date: May 13, 2014
Watch all 2 trailers
Early Access Game
Get instant access and start playing; get involved with this game as it develops.
Note: This Early Access game may or may not change significantly over the course of development. If you are not excited to play this game in its current state, then you may want to wait until the game progresses further in development. Learn more
What the developers have to say:
Why Early Access?
"We want to work with you guys - the Steam Early Access community - to make Minimum the best, most player-focused game on Steam. We want your feedback, we want it early and we want a lot of it!"
How long will this game be in Early Access?
"We're currently planning to be in early access through the end of the summer or early fall."
How is the full version planned to differ from the Early Access version?
"The full version will be similar to our early access version but with more features, more polish and less bugs. During early access we want to show you features that are quite early - maps in their blockout stages, new weapons before they've been fully balanced, and other early peeks so that players can give us feedback early in their development."
What is the current state of the Early Access version?
"Our premier game type, Titan Mode, is already playable and very fun with (as of now) 2 polished maps and 1 early prototype map. The game is stable and runs without major crashes or problems, although bugs and unpolished elements (in particular areas of the UI) are definitely present. Players should expect to experience occasional bugs and imbalanced features."
Will the game be priced differently during and after Early Access?
"We haven't settled on our final pricing yet, but we can definitely say that we do not intend to become a free to play (F2P) game."
How are you planning on involving the Community in your development process?
"Our Steam forums are an excellent place to give us feedback, as us questions and get help. The Minimum team is extremely active and responsive on these forums and we're constantly reading what our players write and responding to their feedback and ideas.
In addition, we do regular developer streams on Twitch where we preview upcoming features, answer questions and play with people in our community. You can follow us here:
http://twitch.tv/humanheadstudios
"
Read more
Buy Minimum Team Pack (5 Copies)
August 8th, 2014
Our third major Early Access update is now live! This includes cumulative fixes from all of our weekly builds since Update 2.0 in addition to a bunch of brand-spanking new stuff like:


Path of Lanterns - new Titan Mode map with a cool, Far East style

Zen Garden - new Team Deathmatch Mode map, also with a Far East style

AI bots!

New deployable devices like the proximity mine and sticky grenade
You can find the full patch notes for update 3.0
right here on our developer blog
. While you're there feel free to check out the
notes for update 2.0
as well if you haven't been back to Minimum in a while. Lots of great new stuff in both of them!
We're also excited to announce a price drop from our original $19.99 all the way down to $9.99! We think Minimum was a great value at the original price (just ask our current players!) but this new one makes us an even better buy. If you've been on the fence about joining us for Early Access there's never been a better chance to get involved.
Finally, we'll be doing our regular "chat with the developers" stream today a 1PM PST / 4PM EST / 8PM GMT to talk more about Update 3.0, our price drop and any other questions you might want to ask about Minimum. We'll also be raffling off a free copy of the game during the stream! We stream every Wednesday and Friday for an hour as part of our goal to be the most player-focused game on Steam.
Please join us on Twitch: http://twitch.tv/humanheadstudios
10 comments
Read more
August 6th, 2014
Come chat with us some more! We'll talk about new features, updates to maps, how Norm's fitness plan is going and more.

Join us on Twitch: http://twitch.tv/humanheadstudios
0 comments
Read more
Reviews
"I didn't expect giant robots or MOBA elements to play a front-and-center role. But Minimum incorporates them in a way that feels new and authentic"
IGN

"From the first moment I got to sit down with Minimum...I knew I was going to be in for a treat"
Gamezebo

"Minimum's solid mechanics make it a fun shooter"
Polygon

Just Updated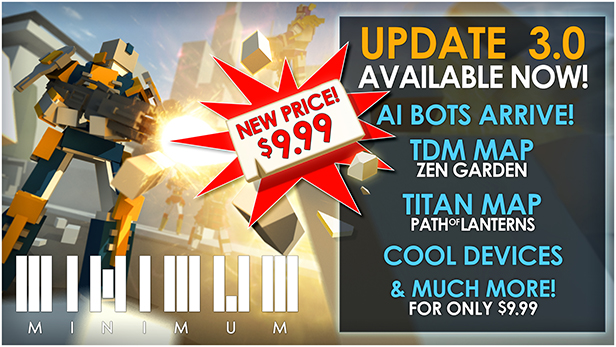 At long last Minimum's third major early access update has arrived! This time we're bringing you two brand-new maps, one for Titan mode (Path of Lanterns) and one for Team Deathmatch (Zen Garden). Both feature unique Far East themes that represent the best, most gorgeous art we've added to Minimum so far. We've also brought you AI controller bots and two new devices (proximity mines and sticky grenades) to reduce your foes to little block bits.

If you played before but took a break, come back and see what we've changed! If you've never played, there's no time like the present to join us for Early Access and help shape what the game becomes!
Early Access Founder Bonus

To show our love for our Early Access supporters, everyone who purchases Minimum during our Early Access phase will receive this awesome Quickfire Katana schematic! A sexy variation of the trusty Inferno Katana, this sword will clearly identify you as an early adopter who believed in us before it was cool. Even more important, though, once Steam trading is finished you'll be able to craft new copies of this sure to be rare weapon to trade with your friends!
About the Game
Are you a fan of old-school twitch shooters like Unreal Tournament and Tribes? What about team focused MOBAs like DotA and League of Legends? Would you like to play a game that combines elements of both genres while adding crafting, customization, giant robots and a bold new art style to the mix?
Of course you would, and Minimum is just the game you've been searching for!
Minimum focuses on fast-paced shooting fun and a robust system of in-match crafting, team objectives and customizable roles to create a rich and rewarding PvP experience. You'll find a bunch of interesting weapons to collect and customize, armor sets to mix and match, a solid core game mode known at TITAN MODE and more all wrapped up in a unique, minimalist artistic style that's more than the sum of its parts. Some of our coolest features include:
Customizable Weapons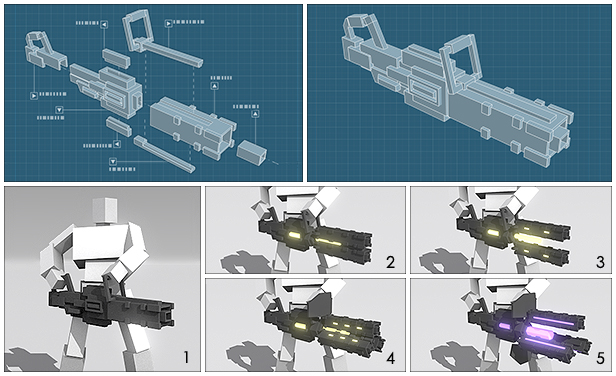 Craft dozens of lethal weapons with unique abilities and roles to best fit your personal playstyles. Each weapon has 5 power levels that are activate during kill streaks, increasing your power making you a force to be feared. Be careful though: weapon power levels are lost upon death, so with great power comes great risk!
Blueprint Crafting System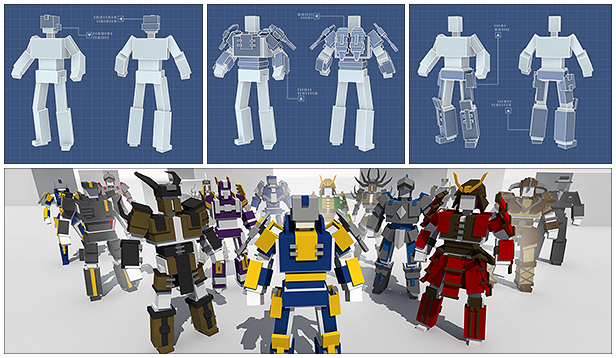 Gather materials from fallen foes and defeated objectives to craft and upgrade armor sets over the course of a match. Each set of armor has different benefits and weaknesses that can emphasize your favorite playstyle or counter what your enemies are trying to do.
Titan Mode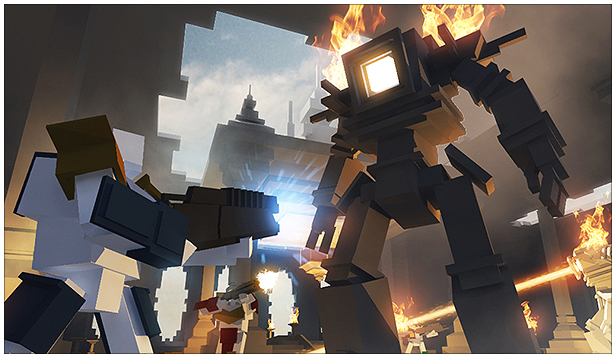 Battle in epic matches centered on the your team's Titan, a giant, destructive robot that confronts the enemy's Titan. Players can power up their Titan by performing tasks in-game, can defend their mammoth ally by killing enemy players, and can attack enemy Titans directly. The teams compete until one side's Titan reaches the enemy base and destroys it!
5v5 Competitive Gameplay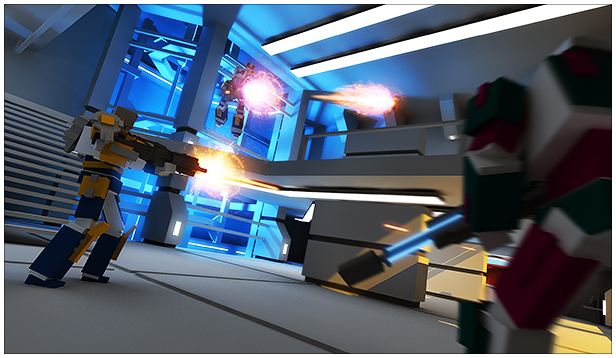 Create cunning strategies with your teammates and define your unique role on the team by combining different weapons, armor and devices. Support your teammates weapons that increase drop rates for materials and powerups, defend your Titan with armor that grants additional health and survivability, scout enemy positions with weapon and armor that increase speed and allow for double or triple jumps, or simply go glass cannon and dish out as much damage as you can!
A Player-Focused Development Team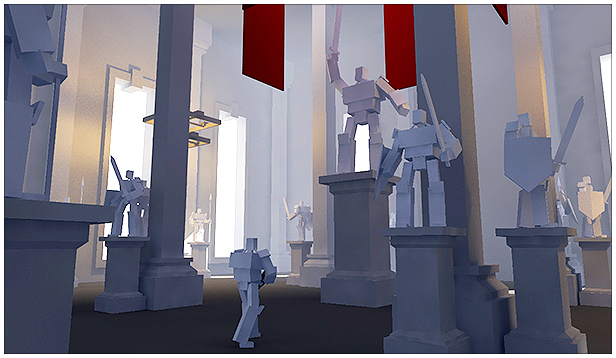 We want Minimum to be the most player-focused game on Steam! Join us on our Steam community discussion forums to talk shop, weigh in on new features, report bugs and balance problems or just chat. Minimum is a game that will evolve with its community, both while in Early Access and beyond.
Planned Updates
We have a ton of features planned for early access, though not all of them have been scheduled yet. Here's a breakdown of our first 3 (of many!) planned updates to Minimum, which should be released on a pace of about once a month:
Update 1:
New devices and the ability to craft devices using schematics

New armor sets

An early version of our new Titan Mode map

Fixes, balance changes and other polish
Update 2:
Finished version of our new Titan Mode map

New armor sets

Craftable structures (part of our in-match blueprint crafting system)

Team Deathmatch Mode with 2 maps

Additional weapon crafting features

Fixes, balance changes and other polish
Update 3:
Our first themed update! Most of these elements will have a new shared visual look

New Titan Mode map

New Team Deathmatch map

New weapons

New armor sets

Steam trading and marketplace support

Fixes, balance changes and other polish
We'll almost certainly have additional things to add to each of these updates as we learn more about what the community is most interested in and what features and modes you're enjoying.
How You Can Help
We're looking for all kinds of feedback from players, including but not limited to:
Bug and exploit reports

Balance suggestions

New feature feedback

New feature ideas

Fun contests to help pick new names and feature priorities

Spreading the word about how much you love Minimum!
In short, we want you guys to tell us how you feel about every aspect of Minimum and work with us to create the kind of game you want to play and share with your friends.
System Requirements
Minimum:


OS: Windows 7 32-bit SP1

Processor: 2.0GHz

Memory: 2 GB RAM

Graphics: DX10 compatible or better

DirectX: Version 10

Network: Broadband Internet connection

Hard Drive: 350 MB available space

Sound Card: Windows-based sound card

Additional Notes: Service pack one is REQUIRED for Minimum.
Recommended:


OS: Windows 7 64-bit SP1

Processor: 2.0GHz multi-core

Memory: 8 GB RAM

Graphics: 1GB VRAM DX10 compatible

DirectX: Version 10

Network: Broadband Internet connection

Hard Drive: 350 MB available space

Sound Card: Windows-based sound card

Additional Notes: Service pack one is REQUIRED for Minimum.
© 2014 PlayMinimum.com All Rights Reserved.
© 2014 Atari SA. Under exclusive license to Cubed Productions, LLC. All rights reserved. Minimum trademark owned by Atari SA. All other trademarks are the property of their respective owners. © 2014 Human Head Studios, Inc. All Rights Reserved. Human Head Studios and the Human Head logo are the property of Human Head Studios, Inc.
Helpful customer reviews
Title:
Minimum
Genre:
Action
,
Early Access
Developer:
Human Head Studios
Publisher:
Atari
,
Cubed Productions LLC
Release Date:
May 13, 2014
Languages:
| | Interface | Full audio | Subtitles |
| --- | --- | --- | --- |
| English | | | |