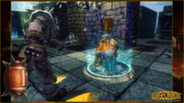 Dungeonbowl setzt die Brisanz dieses vom American Football inspirierten Sport höher und bietet explodierende Truhen, Teleporter, Lava und andere Fallen in gefahrvollen Verliesen!
Veröffentlichung: 2 Juli 2012
Alle 2 Trailer ansehen
17 Juni 2014


Dungeonbowl Knockout Edition is now available on Steam!!!

Play Blood Bowl… in a Dungeon! Exploding chests, teleporters, rivers of boiling lava and various other traps all serve to spice-up the matches, making them even more dangerous…!

Choose your favorite college ans play against other players in competitives matches or against the computer AI.

ALL the previous DLCs have been integrated in the Knockout Edition. All the Colleges of Magic are thus available, a total of 10 different teams compositions, mixing the most renowned Warhammer races! You also gain access to all existing environment kits for use in the Dungeon Editor. They will allow you to build unique and varied environments so that you can lead your opponents into the meanders of your evil designs!

For players who have already bought an edition of Dungeonbowl, their version have been updated automatically so that they receive the Knockout Edition at no additional cost.

Watch the trailer :
https://www.youtube.com/watch?v=HH7n7AB89jw
8 Kommentare
Mehr erfahren
21 Mai 2014
A lot of players have been asking for an AI in Dungeonbowl to be able to play whenever they want against a valuable opponent. Guess what ? The Knock Out Edition answer this demand with the brand new bots for every teams of the game and different difficulty modes available!

You can choose to play Online or Offline against the dreaded AI which will require all you skills to deserve victory, it have been trained by the best!
Enjoy epic matches versus other players or challenge the bots in merciless games!




With the Knockout edition, you'll also be able to share your experience with the facebook connect system and the new Twitch streaming functionality. Stream your matches and use the Twitch chat directly ingame !

In addition to these new features, Dungeonbowl Knockout Edition will contain all the previous DLCs since the launch of the first edition of Dungeonbowl. So yes, you'll be able to play with your favorite Magic College, and to build awesome new environments with the Dwarf Kit and the Outdoor Kit!

If you already bought the game don't worry, it will be updated on the release date, and you'll be able to enjoy all the new stuff (whatever the edition you already own)!

Prepare yourself and refine your strategies to jump into the melee! The Knockout Edition will be available in June!
5 Kommentare
Mehr erfahren
Über das Spiel
Dungeonbowl ist das nächste, spannende 'Blood Bowl' Online-Erlebnis in einer Fantasiewelt des 'American Football' von Cyanide. Die Hauptunterschiede zwischen Dungeonbowl und Blood Bowl bestehen neben dem offensichtlichen Namensunterschied darin, dass Dungeonbowl in gefährlichen Verliesen gespielt wird!
Die Zauberer haben Dungeonbowl erfunden, weil sie herausfinden wollten, welche Akademie der Magie die beste ist. Das Spiel zeichnet sich durch einige Modifikationen am Standardregelwerk von Blood Bowl aus. So wird ein Match zwar weiterhin zwischen zwei Mannschaften ausgetragen, aber jede Mannschaft besteht nun aus drei Rassen. Im Team der Regenbogenzauberer zum Beispiel gibt es Waldelfen, Halblinge und Menschen. Der zweite grundlegende Unterschied besteht darin, dass diejenige Mannschaft die Partie gewinnt, die den ersten Touchdown erzielt. Touchdowns sind jedoch deutlich schwieriger als in Blood Bowl, weil der Ball in einer von sechs Schatztruhen versteckt ist, von denen fünf zudem mit einem Sprengzauber versehen sind. Und last but not least wird das Fortbewegen im Dungeon durch Teleporter gleichermaßen erschwert wie erleichtert. Mit einem Teleporter kann sich ein Spieler in Sekundenbruchteilen von einer Stelle des Spielfelds an eine andere transportieren lassen. In seltenen Fällen kann es dabei aber auch leider vorkommen, dass ein Spieler ins Nirwana teleportiert wird! Wie schon Blood Bowl ist auch Dungeonbowl würfelbasiert und läuft in Runden ab.
Hauptmerkmale:
Spielen Sie Blood Bowl®... in einem Kerker! Explodierende Truhen, Teleporter, heiße Lavaströme und zahllose andere Fallen geben den Matches den nötigen Pfiff und machen sie noch gefährlicher, als sie ohnehin schon sind…

Es gibt theoretisch sogar unendlich viele Spielfelder, da die Spieler mit dem eingebauten Dungeon-Editor ihre eigenen Dungeons erstellen können, und eure Werke online mit der Community teilen.

Wird ein Match zwar weiterhin zwischen zwei Mannschaften ausgetragen, aber jede Mannschaft besteht nun aus drei Rassen.
Systemvoraussetzungen
Betriebssystem: Windows XP / Vista / 7

Prozessor: Pentium 4 2.4 GHz / Athlon 2400+

Speicher: 2 GB

Grafik: 256 MB, DirectX 9 und Shadermodel 2 kompatibel

DirectX®:

Festplatte: 2 GB

Sound:

Internet: Spiel setzt eine Internetverbindung voraus.
Dungeonbowl and Blood Bowl © Games Workshop Limited 2012. Games Workshop, Dungeonbowl, Blood Bowl, and all associated, marks, logos, places, names, creatures, races and race insignia/devices/logos/symbols, vehicles, locations, weapons, team and team insignia, characters,
illustrations and images from the Warhammer world, Blood Bowl and Dungeonbowl game setting are either ®, tm and/or © Games Workshop Ltd 2000–2012, variably registered in the UK and other countries around the world.
Hilfreiche Kundenreviews
Titel:
Dungeonbowl - Knockout Edition
Genre:
Sport
,
Strategie
Entwickler:
Cyanide Studio
Publisher:
Cyanide Studio
Veröffentlichung:
2 Juli 2012
Sprachen:
| | Oberfläche | Ton | Untertitel |
| --- | --- | --- | --- |
| Deutsch | | | |
| Englisch | | | |
| Französisch | | | |