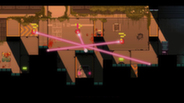 Om dit spel te kunnen spelen moet je het originele spel Stealth Bastard Deluxe hebben.

Releasedatum: 14 mrt 2013
HD-video bekijken
Stealth Bastard Deluxe - The Teleporter Chambers kopen
Pakketten die deze game bevatten
Stealth Bastard Deluxe Bundle kopen
Bevat 3 items: Stealth Bastard Deluxe, Stealth Bastard Deluxe - Soundtrack, Stealth Bastard Deluxe - The Teleporter Chambers
Info over het spel
Some days, life as a working clone starts to get you down. A daily grind that sometimes quite literally involves the grinding of your limbs and organs between whirring blades can start to feel like a real drag. Faced with a rat race in a maze that contains horrible death instead of tasty cheese, don't you sometimes just wish that you could be… somewhere else?
Well now you can! With this new Stealth Bastard Deluxe level pack, you can be in as many places as you like – simultaneously! Just pick up a teleporter from a handy nearby vending machine and disappear in front of your robotic antagonist's very eyes! Or sensors, or whatever those things have.
This Stealth Bastard Deluxe level pack contains 20 brand new levels that will test your prowess with teleporters. These handheld devices can be placed on any surface to create warp points, helping you to evade the camera's steely glare. But watch out – the enemies in these levels are wise to your game, and they'll be doing everything in their power to snuff out your precious little life…
Key Features:
20 brand new levels featuring teleporter-themed puzzles
Unlocks new features in the level editor
Six new DLC-specific achievements
Systeemeisen (PC)
Minimum:

OS:Windows XP SP2 or better, Vista, Win7
Processor:Dual Core 2.5Ghz
Memory:1 GB RAM
Graphics:DirectX 8.0 compatible
DirectX®:8.0
Hard Drive:250 MB HD space
Recommended:

Other Requirements:Broadband Internet connection
Systeemeisen (Mac)
OS: Mac OS X 10.6 Snow Leopard
Processor: Dual Core 2.0GHz
Memory: 1GB RAM
Graphics: NVIDIA/AMD GPU with 500MB+
Hard Drive: 300MB
Sound:
Systeemeisen Linux
OS: Ubuntu 12.04 or higher
Processor: Dual Core 2.0GHz
Memory: 1GB RAM
Graphics: OpenGL-capable graphics card with valid driver
Hard Drive: 300MB
Sound:
Nuttige klantrecensies
4 van de 15 mensen (27%) vonden deze recensie nuttig
Un DLC à l'espérance de vie étonnament longue (2 à 3h de jeu) à cause d'une difficulté bien plus grande que dans le jeu original.
Parcourir ces 20 niveaux de plus n'est pas indispensable, mais pas désagréable non plus. L'ajout des portails permettra malgré tout d'améliorer à nouveau vos scores !
Titel:
Stealth Bastard Deluxe - The Teleporter Chambers
Genre:
Actie
,
Indie
Ontwikkelaar:
Curve Studios
Uitgever:
Curve Studios
Releasedatum:
14 mrt 2013
Talen:
| | Interface | Spraak | Ondertiteling |
| --- | --- | --- | --- |
| Engels | | | |