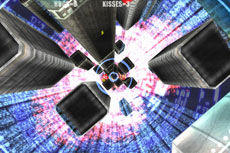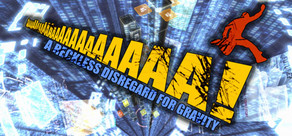 BASE jump through a floating city, creating your own stunts to delight your fans. Use quick reflexes to negotiate the intricate tangle of girders that make up the floating city. Flip protesters off for points!
Veröffentlichung: 3. Sep. 2009
HD-Video ansehen
AaaaaAAaaaAAAaaAAAAaAAAAA!!! kaufen
Pakete, die dieses Spiel enthalten
AaaaaAAaaaAAA!!! + The Wonderful End of the World kaufen
Enthält 2 Artikel: The Wonderful End of the World, AaAaAA!!! - A Reckless Disregard for Gravity
Inhalte zum Herunterladen für dieses Spiel
Über das Spiel
'BASE jump'-en Sie durch eine schwebende Stadt und kreieren Sie Ihre eigenen Stunts, um Ihre Fans zu faszinieren.
Springen Sie von einem Wolkenkratzer, nutzen Sie Ihre schnellen Reflexe, um den lauernden Abgründen dieser schwebenden Stadt beizukommen. Alle Augen sind auf Sie gerichtet. Sie erhalten 100 Punkte für jeden eroberten
Pfeiler bei Ihrem Fall. 1000 Punkte erhalten Sie, wenn Sie die Seite des Gebäudes während Ihres Falls küssen. Drehen und winden Sie sich und treffen Sie den Punkt genau zwischen zwei Anzeigetafeln, um von Ihrem Publikum gefeiert zu werden.
Aber auch wenn gute Reflexe wichtig sind, so wird Ihnen schnelles Denken und Handeln wirklich den Sieg einbringen. Nur einen Block entfernt stehen einige Protestierer und wollen Ihnen Ihren Sport untersagen. Sie können Ihren Kurs verlassen, ihnen direkt ins Auge blicken und ihnen den Mittelfinger zeigen. Die werden vor Wut nicht mehr weiterwissen, aber die Punktrichter werden Ihnen zu Füssen liegen. Jetzt müssen Sie nur die Landung ordentlich hinbekommen, ansonstent enden Sie als lebloser Sack voller gebrochener Knochen.
Eigenschaften
80 Level führen Sie durch eine Stadt voller schwebender Anzeigetafeln und Gebäude und Sie können sogar einem Berg auf Zentimetern nahekommen.

Einzigartiges Spielgeschehen, in dem Sie Ihre eigenen Stunts erfinden können.

Geben Sie Ihren Fans Ihr Bestes zur Schau und beleidigen Sie protestierende Demonstranten mit eindeutigen Gesten.

Und mit einer Farbdose können Sie auf offizellen Gebäuden für Zusatzpunkte Ihre eigene Signatur hinterlassen.

Spezieller Meditationsmodus hilft Ihnen sich zu entspannen - inklusive gratis Anti-Meditationsmodus, um leicht mit dem relaxen aufhören zu können.
Systemvoraussetzungen
Betriebssystem: Windows XP/Vista

Prozessor: 1.5 GHz Prozessor

Speicher: 1GB

Grafik: 3D Karte mit 128MB Grafikspeicher

DirectX®: 9.0c
Copyright ©2004-2009 by Dejobaan Games, LLC
Hilfreiche Kundenreviews
Auszeichnungen