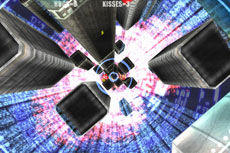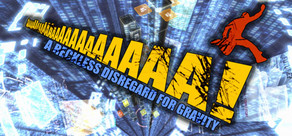 BASE jump through a floating city, creating your own stunts to delight your fans. Use quick reflexes to negotiate the intricate tangle of girders that make up the floating city. Flip protesters off for points!
Releasedatum: 3 sep 2009
HD-video bekijken
AaaaaAAaaaAAAaaAAAAaAAAAA!!! kopen
Pakketten die deze game bevatten
AaaaaAAaaaAAA!!! + The Wonderful End of the World kopen
Bevat 2 items: The Wonderful End of the World, AaAaAA!!! - A Reckless Disregard for Gravity
Downloadbare inhoud voor dit spel
Recensies
"Aaaaa! verbaasde me met zijn luidruchtige viering van onbezorgdheid verlicht met harde neonlichten... Ging lekker snel!"

PC Gamer (Nov '09)

"...charmeerde ons vanaf het moment dat we onze bèta hadden gespeeld..."

EDGE Magazine (Sep '09)

"Aaaaa! is nog steeds een origineel en vaak hilarisch stukje werk dat je geloof in het gebied van indie-gaming zal vernieuwen."

Destructoid

"Aaaaa! is een simpel concept dat spectaculair is uitgevoerd."

Indie Games - The Weblog

"We hadden uren besteed aan dit verrassend meeslepende basejump-simulator, die briljant de lol, die Dejobaan gehad moest hebben toen ze het spel maakten, uitdrukt."

Gamasutra's Best Of 2009 (top 5 PC Games Honorable Mention)
Info over het spel
Basejump door een zwevende stad en creëer je eigen stunts om je fans tevreden te stellen.
Je duikt van een wolkenkrabber af, vertrouwend op snelle reflexen om door de ingewikkelde wirwar van balken te komen. Alle ogen zijn op jou gericht terwijl de jury je score optelt. Honderd punten omdat je die stutten knuffelde toen je viel. Duizend punten voor die kus op de zijkant van dat gebouw. Al draaiende stop je de draad door de naald tussen die twee reclameborden, waardoor je gejuich van je fans krijgt.
Maar alhoewel reflexen belangrijk zijn, is het snel denkwerk dat je de overwinning geeft. Eén blok verder weg zie je een menigte die demonstreren tegen je sport. Je maakt een beslissing in een fractie van een seconde. Je gaat van het parcours af, staart ze rechtstreeks in hun ogen, en laat je middelvinger zien. Zij worden woest, maar de juryleden vinden het helemaal geweldig, waardoor je naar eerste plek schuift. Nu is het enige wat je nog moet doen is zien te landen zonder als een losse zak gebroken botten te eindigen.
Kenmerken
80 levels die je door steden vol zwevende reclameborden en gebouwen neemt, en je centimeters van een berg vliegen.

Unieke gamemechanismen laten je eigen stunts creëren om te scoren.

Geef je fans een duim omhoog voor punten, of irriteer demonstranten met onbeleefde gebaren.

Pak een spuitbus en markeer gebouwen van de overheid voor een extra uitdaging.

Speciale meditatie-modus die je helpt ontspannen, met een gratis anti-meditatie-modus die je helpt om te stoppen met ontspannen.
Systeemeisen
OS:Windows XP/Vista

Processor:1.5 GHz processor

Memory:1GB

Graphics:3D card with 128MB video memory

DirectX®: 9.0c

Copyright ©2004-2009 by Dejobaan Games, LLC
Nuttige klantrecensies
Prijzen