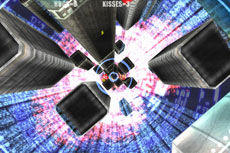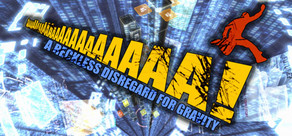 BASE jump through a floating city, creating your own stunts to delight your fans. Use quick reflexes to negotiate the intricate tangle of girders that make up the floating city. Flip protesters off for points!
Utgivningsdatum: 3 sep, 2009
Se HD-film
Köp AaaaaAAaaaAAAaaAAAAaAAAAA!!!
Paket som innehåller detta spel
Köp AaaaaAAaaaAAA!!! + The Wonderful End of the World
Innehåller 2 saker: The Wonderful End of the World, AaAaAA!!! - A Reckless Disregard for Gravity
Nedladdningsbart innehåll för detta spelet
Recensioner
"Aaaaa! imponerade på mig med sitt högljudda firande av obetänksamhet upplyst av skrikiga neonljus... Vilken kick!"

PC Gamer (nov '09)

"...förtrollade oss från ögonblicket vi startade vår beta..."

EDGE Magazine (sep '09)

"Aaaaa! är ändå ett originellt, ofta roligt verk som kommer förnya din tilltro till indie-spelscenen."

Destructoid

"Aaaaa! är ett enkelt koncept som lyckats spektakulärt."

Indie Games - The Weblog

"Många timmar spenderades med att spela den här förvånansvärt tilltalande BASE-hoppningssimulatorn, som briljant förmedlar det roliga Dejobaan måste ha haft när de skapade den."

Gamasutra's Best Of 2009 (top 5 PC Games Honorable Mention)
Om spelet
BASE jumpa dig genom en svävande stad medan du skapar dina egna stunttricks för att behaga dina fans.
Du dyker från en skyskrapa, förlitande på dina snabba reflexer som tar dig igenom den komplicerade härvan av balkar som utgör den svävande staden. Allas ögon är på dig medan domarna markerar dina poäng. Hundra poäng för att krama de exponerade stöttepelarna. Tusen poäng för att kyssa sida utav en byggnad. Vridande och vändande trär du tråden på en nål mellan två reklamskyltar, vilket förtjänar dig jubel från dina fans.
Snabba reflexer må vara viktiga men det är snabbt tänkande som tar hem vinsten. Ett kvarter bort ser du en folkmassa utav demonstranter som nedvärderar din sport. Du tar ett snabbt beslut och bryter ur kurs, du stirrar de i vitögat och ger de fingret. De exploderar i en skur av raseri, men domarna älskar det vilket får dig att hamna på första plats. Allt du behöver göra nu är att landa utan att bryta varenda ben i din kropp.
Innehåll
80 nivåer som tar dig genom städer av svävande reklamskyltar och byggnader, och som flyger dig bara några centimeter nära ett berg.

Unik spelmekanik som låter dig skapa dina egna stunttrick för poäng.

Ge dina fans tummen upp för poäng eller irritera demonstranter med otrevliga gester.

Grabba tag i en sprayflaska och tagga regeringsbyggnader för en extra utmaning.

Speciellt meditation läge som hjälper dig att slappna av, med gratis anti-meditation läge som hjälper dig med att sluta vara avslappnad.
Systemkrav
Operativsystem:Windows XP/Vista

Processor:1.5 GHz-processor

Minne:1GB

Grafik:3D-kort med 128MB grafikminne

DirectX®: 9.0c
Copyright ©2004-2009 by Dejobaan Games, LLC
Hjälpsamma kundrecensioner
Priser