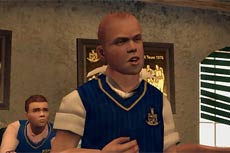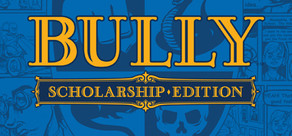 Το Bully: Scholarship Edition λαμβάνει χώρα στο νέο Αγγλικό οικοτροφικό σχολείο ονόματι Ακαδημία Bullworth και διηγείται την ιστορία του άτακτου 15 χρόνου Jimmy Hopkinsas ο οποίος περνάει μια φαιδρή και αδέξια εφηβεία.
Ημερομηνία κυκλοφορίας: 21 Οκτ, 2008
Δείτε βίντεο υψηλής ευκρίνειας
Σχετικά με το παιχνίδι
Το Bully: Scholarship Edition λαμβάνει χώρα στο νέο Αγγλικό οικοτροφικό σχολείο ονόματι Ακαδημία Bullworth και διηγείται την ιστορία του άτακτου 15 χρόνου Jimmy Hopkinsas ο οποίος περνάει μια φαιδρή και αδέξια εφηβεία. Κερδίστε τους αθληταράδες στο dodge ball, κάντε φάρσες στους στιλάτους, σώστε τους σπασίκλες, φιλήστε το κορίτσι και τέλος περιηγηθείτε στην κοινωνική ιεραρχία του χειρότερου σχολείου που υπάρχει.
Περιλαμβάνει όλο το soundtrack, περιέχοντας 26 original κομμάτια.
Μετά την αγορά και την λήψη θα βρείτε το soundtrack στο φάκελο Steam εδώ: [Steam\steamapps\common\bully scholarship edition\Bully Original Soundtrack]. Συνήθως ο φάκελος steam βρίσκεται στο C:\Program Files\Steam
Απαιτήσεις συστήματος
OS: Windows XP / Windows Vista

Processor: Intel Pentium 4 (3+ GHZ) / AMD Athlon 3000+

Memory: 1 GB RAM

Graphics: DirectX 9.0c Shader 3.0 supported, Nvidia 6800 or 7300 or better, ATI Radeon X1300 or better

DirectX Version: DirectX 9.0c

Hard Drive: 4.7 GB free space

Sound Card: DX9-compatible

Input: Keyboard, Mouse, Xbox 360 Controller supported
Other Requirements; Software installations required including DirectX . Partner Requirements: Please check the terms of service of this site before purchasing this software. You must accept the license available online at rockstargames.com/eula. Non-transferable access to special features such as exclusive, unlockable, downloadable or online content, services, or functions may require single-use serial code, additional fee and/or online account registration (13+). Access to special features may require internet connection, may not be available to all users, and may, upon 30 days notice, be terminated, modified, or offered under different terms.
The content of this videogame is purely fictional, and is not intended to represent or depict any actual event, person, or entity. The makers and publishers of this videogame do not in any way endorse, condone or encourage engaging in any conduct depicted in this videogame. Unauthorized copying, reverse engineering, transmission, public performance, rental, pay for play, or circumvention of copy protection is strictly prohibited. Rockstar Games 622 Broadway, New York, NY 10012 © 2005-2013 Rockstar Games, Inc. Rockstar Games, the Rockstar Games , Bully, Bully: Scholarship Edition, Take-Two Interactive and their respective logos are trademarks and/or registered trademarks of Take-Two Interactive Software, Inc. in the U.S.A. and/or foreign countries. The ratings icon(s) and all other marks and trademarks are properties of their respective owners. All Rights Reserved. Portions of this software are included under license ©2007 Emergent Game Technologies, Inc.
Χρήσιμες κριτικές χρηστών