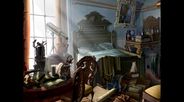 Explore a fantastic vision of the Victorian era in The Clockwork Man, an epic hidden-object game.
Data di rilascio: 10 ago 2011
Guarda video HD
Acquista The Clockwork Man
Pacchetti che includono questo gioco
Acquista The Clockwork Man Bundle
Includes: The Clockwork Man and The Clockwork Man: The Hidden World
Informazioni sul gioco
Esplora una fantastica rivisitazione dell'era Vittoriana con The Clockwork Man, un rompicapo epico. A cavallo del secolo, in un universo parallelo, le macchine a vapore sono diventate fondamentali per la vita di tutti i giorni .
L'ultima di una lunga stirpe di ingegneri e inventori, Miranda Calomy ha sempre dimostrato abilità per la risoluzione di problemi in modo creativo. Quando una strana lettera da parte di suo nonno arriva al suo appartamento a Londra, Miranda mette da parte i suoi progetti e parte per una avventura intorno al mondo. Riuscirà a compilare tutte le parti per la più grande invenzione del mondo prima che sia troppo tardi?
Unisciti a Miranda e Sprocket per un viaggio con ingegnose sfide e rompicapo in una ambientazione Steampunk.
Caratteristiche Principali:
Scorrimento Magnifico e scene Zoomabili
Centinaia di oggetti Vittoriani dipinti a mano
Avventura & rompicapo
Un sistema di suggerimenti innovativo : Sprocket, il Robot!
Rigioca all'infinito i tuoi livelli preferiti con la modalità Gioco libero
La posizione degli oggetti cambia nei replay.
Musica e doppiaggi in tema con l'atmosfera
Requisiti di sistema (PC)
OS: Windows XP, Vista, 7
Processor: 1.6 GHz or better
Memory: 512 MB or more
Hard Disk Space: 150 MB
Video Card: 32-bit DirectX 7.0 compatible video card or higher
DirectX®: 7.0
Requisiti di sistema (MAC)
OS: OS X version Leopard 10.5.8, Snow Leopard 10.6.3, or later.
Processor: 1.6 GHz or better
Memory: 512 MB or more
Hard Disk Space: 150 MB
Requisiti di sistema (Linux)
OS: 32-bit Ubuntu 6+ or Fedora 6 / Open Suse 10.2 / Mandriva 2007 (Kernel 2.6, GLIB 2.4, GTK 2)
Processor: 1.6 GHz
Memory: 512 MB
Hard Drive: 130 ΜΒ
Recensioni utili dai clienti
Titolo:
The Clockwork Man
Genere:
Indie
,
Casual
Sviluppatore:
Total Eclipse
Editore:
Total Eclipse
Data di rilascio:
10 ago 2011
Lingue:
| | Interfaccia | Audio completo | Sottotitoli |
| --- | --- | --- | --- |
| Italiano | | | |
| Inglese | | | |
| Olandese | | | |
| Francese | | | |
| Tedesco | | | |
| Giapponese | | | |
| Coreano | | | |
| Portoghese | | | |
| Spagnolo | | | |
| Svedese | | | |
Mostra tutte e 10 le lingue supportate