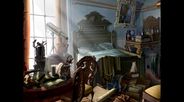 Explore a fantastic vision of the Victorian era in The Clockwork Man, an epic hidden-object game.
Data de lançamento: 10/ago/2011
Assistir ao vídeo em HD
Comprar The Clockwork Man
Pacotes que incluem este jogo
Comprar The Clockwork Man Bundle
Includes: The Clockwork Man and The Clockwork Man: The Hidden World
Sobre o jogo
Explore uma visão fantástica da era vitoriana em The Clockwork Man, um jogo épico de objetos escondidos. Na virada do século, em um universo alternativo a tecnologia movida a vapor se tornou dominante em quase todas as tarefas da vida.
A mais nova em uma longa série de engenheiros e inventores, Miranda Calomy sempre teve um talento especial para a solução criativa de problemas. Quando uma estranha carta de seu avô chega a seu apartamento em Londres, Miranda deixa de lado seus planos e embarca numa aventura global. Pode ela conseguir juntar as partes para a maior invenção do mundo antes que seja tarde demais?
Junte-se a Miranda e Sprocket em uma jornada incrível de desafios de caça objetos e quebra-cabeças intrigantes em um tema vitoriano.
Principais características:
Rolagem deslumbrante e cenas com zoom
Centenas de itens vitorianos pintados à mão
Enigmas de aventura e lógica
Um sistema inovador de dicas: Sprocket, o robô!
Jogue seus níveis favoritos inúmeras vezes com o modo Freeplay
Posição de cada objeto muda cada vez que você joga.
Trilha sonora e vozes atmosféricas.
Requisitos do sistema – PC
OS: Windows XP, Vista, 7
Processor: 1.6 GHz or better
Memory: 512 MB or more
Hard Disk Space: 150 MB
Video Card: 32-bit DirectX 7.0 compatible video card or higher
DirectX®: 7.0
Requisitos do sistema – Mac
OS: OS X version Leopard 10.5.8, Snow Leopard 10.6.3, or later.
Processor: 1.6 GHz or better
Memory: 512 MB or more
Hard Disk Space: 150 MB
Requisitos do sistema - Linux
OS: 32-bit Ubuntu 6+ or Fedora 6 / Open Suse 10.2 / Mandriva 2007 (Kernel 2.6, GLIB 2.4, GTK 2)
Processor: 1.6 GHz
Memory: 512 MB
Hard Drive: 130 ΜΒ
Análises úteis de usuários
Título:
The Clockwork Man
Gênero:
Indie
,
Casual
Desenvolvedor:
Total Eclipse
Distribuidora:
Total Eclipse
Data de lançamento:
10/ago/2011
Idiomas:
| | Interface | Dublagem | Legendas |
| --- | --- | --- | --- |
| Inglês | | | |
| Holandês | | | |
| Francês | | | |
| Alemão | | | |
| Italiano | | | |
| Japonês | | | |
| Coreano | | | |
| Português | | | |
| Espanhol | | | |
| Sueco | | | |
Ver todos 10 idiomas disponíveis