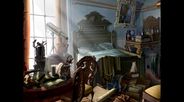 Verken een fantastische visie van het Victoriaanse tijdperk in The Clock Man, een episch spel met verborgen voorwerpen.
Releasedatum: 10 aug 2011
HD-video bekijken
Pakketten die deze game bevatten
The Clockwork Man Bundle kopen
Includes: The Clockwork Man and The Clockwork Man: The Hidden World
Info over het spel
Ontdek een fantastich beeld van de Victoriaanse tijd in The Clockwork Man, een episch spel rondom verborgen objecten. Aan het einde van het millenium, in een alternatieve tijdslijn, is de stoomaangedreven techniek dominant geworden in bijna alle onderdelen van het dagelijkse leven.
De laatste persoon van een lange generatie van technici and uitvinders, Miranda Calomy heeft altijd al een talent gehad voor het creatief oplossen van problemen. Toen een vreemde brief van haar grootvader bij haar flat in Londen arriveerde, zette Miranda Calomy al haar plannen opzij en begon ze aan een wereldavontuur. Kan ze het voor elkaar krijgen om de onderdelen van 's werelds grootste uitvinding samen te stellen voordat het te laat is?
Vergezel Miranda en Sprocket op een wonderbaarlijke reis vol verborgen uitdagingen met objecten en hoofdbrekende puzzels in een Steampunk omgeving.
Hoofd kenmerken:
Prachtige scenes waarin je kunt scrollen en in- en uitzoomen
Honderden handgeschilderde Victoriaanse objecten
Avontuur & puzzels met logica
Een innovatief hint systeem: de robot Sprocket!
Speel je favoriete levels steeds opnieuw in de Freeplay mode
De locatie van objecten verandert wanneer je het spel opnieuw speelt.
Sfeervolle muziek en voice acting
Systeemeisen (PC)
OS: Windows XP, Vista, 7
Processor: 1.6 GHz or better
Memory: 512 MB or more
Hard Disk Space: 150 MB
Video Card: 32-bit DirectX 7.0 compatible video card or higher
DirectX®: 7.0
Systeemeisen (Mac)
OS: OS X version Leopard 10.5.8, Snow Leopard 10.6.3, or later.
Processor: 1.6 GHz or better
Memory: 512 MB or more
Hard Disk Space: 150 MB
Systeemeisen Linux
OS: 32-bit Ubuntu 6+ or Fedora 6 / Open Suse 10.2 / Mandriva 2007 (Kernel 2.6, GLIB 2.4, GTK 2)
Processor: 1.6 GHz
Memory: 512 MB
Hard Drive: 130 ΜΒ
Nuttige klantrecensies
Titel:
The Clockwork Man
Genre:
Indie
,
Casual
Ontwikkelaar:
Total Eclipse
Uitgever:
Total Eclipse
Releasedatum:
10 aug 2011
Talen:
| | Interface | Spraak | Ondertiteling |
| --- | --- | --- | --- |
| Nederlands | | | |
| Engels | | | |
| Frans | | | |
| Duits | | | |
| Italiaans | | | |
| Japans | | | |
| Koreaans | | | |
| Portugees | | | |
| Spaans | | | |
| Zweeds | | | |
Alle 10 ondersteunde talen weergeven