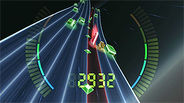 You are a Data Jammer, an elite virtual commando tasked with one purpose: Infiltrate the virtual Vaults of Ouroboros, the Military Industrial Complex, and take down The System!
Çıkış Tarihi: 24 Ekim 2011
HD Videoyu İzle
This item does not have support for your local language. Please review the supported language list before purchasing
Data Jammers: FastForward Satın Alın
Oyun Açıklaması
Data Jammers: FastForward eski moda çizgi dünyasının imkansız yarış pistleriyle sürekli hareket eden, üç boyutlu sürüş ve yıkım oyunudur. Çevik karekteriniz daha tehlikeli düşmanlarla ve büyük gardiyanlarla yol boyunca karşılaştıkça, aklınızı karıştıran bit akımlarının ortasında dünya dışı ses manzaralarıyla geliştirilmiş tuhaf geometrik ortamlar göreceksiniz!
Siz veri bozucusunuz...özellikle bir D.E.O.V. (Dijital Etkin Optik Veri), tek bir amacı olan sanal bir komando: Ouroboroların sanal kasası olan Askeri Sanayi Kompleksine gizlice sızın ve sistemi çökertin!
Derin şebeke. Issızlık. Sadece dünyadaki Karanlık Güçler tarafından kullanılan, gizli veri akımlarının alt kademe matrisleri, yani "Ağın arkasındaki ağ" hakkında bazı küçük söylentiler duydunuz. Şimdi, uçsuz bucaksız Pulsar Şehri'ndeki birkaç gezintiden sonra gerçeği biliyorsunuz --Ouroborolar hayatta! Büyük Şebeke Gardiyanlarını alt ederek ve bu şeytani suçluların anlaşma yapmak ve ezmek için kullandıkları kötü sırlarını ortaya çıkararak Özgürlük'ü korumak için, hiçe sayılarak, İyi Adamlar'a çalışmak üzere eğitildiniz.
Brainpipe: A Plunge to Unhumanity, Weird Worlds: Return to Infinite Space, Dr. Blob's Organism ve Strange Adventures in Infinite Space oyunlarının yapımcılarından.
Kilit özellikler:
Ruhunuzu rahatlatan, çılgın, serbest oynanış
Dikkat çekici 3B görüntüler ve ses
Akıl karıştıran yarış pistleri
Bölüm başına artan zorlu ortamlar, yaratıklar ve tehlikeler
Anlaması ve oynaması kolay
Canlı oyun oturumları
Mükemmel tekrar oynanabilirlik
Uygulamalı oyun öğretimi
Oyun kollarını ve eski moda klavyeleri destekler.
Sistem Gereksinimleri
Minimum:

OS:XP
Processor:Pentium 4 2GHz
Memory:512 MB RAM
Graphics:Intel GMA 950
DirectX®:dx80
Hard Drive:128 MB HD space
Sound:16-bit stereo sound
Recommended:

OS:XP, Vista or Win7
Processor:Core 2 Duo or better
Memory:1024 MB RAM
Graphics:NVidia GeForce 8 series or better
DirectX®:dx90
Hard Drive:128 MB HD space
Sound:16-bit stereo sound
Data Jammers: FastForward © Copyright 2011 Digital Eel. All rights reserved.
Yararlı müşteri incelemeleri
Başlık:
Data Jammers: FastForward
Tür:
Aksiyon
,
Bağımsız Yapımcı
Geliştirici:
Digital Eel
Yayımcı:
Digital Eel
Çıkış Tarihi:
24 Ekim 2011
Diller:
| | Arayüz | Seslendirme | Altyazı |
| --- | --- | --- | --- |
| İngilizce | | | |