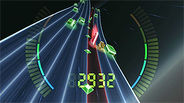 You are a Data Jammer, an elite virtual commando tasked with one purpose: Infiltrate the virtual Vaults of Ouroboros, the Military Industrial Complex, and take down The System!
Data de lançamento: 24 Out, 2011
Ver vídeo HD
Acerca do Jogo
Data Jammers: FastForward é um jogo de corridas tridimensional e de destruição com um mundo com pistas inimagináveis. Manuseie entre canais de bits ambientes geometricamente bizarros reforçados através de ambientes sonoros de outro mundo enquanto você encontra alguns habitantes perigosos, alguns perigos e ainda chefes poderosos ao longo do caminho!
Você é um "Data Jammer"... mais especificamente um "D.O.O.D (Digital Operative, Optical Data)", um comando de elite com um único fim: infiltrar-se em "virtual Vaults of Ouroboros", Complexo Militar-Industrial e destruir O Sistema ("The System")!
The Deep Grid. The Wilderness. Você ouviu uns rumores sigilosos sobre "uma rede por trás da rede"; uma matriz sub-cibernética com fluxos de dados secretos utilizados unicamente pelos Dark Powers [maus da fita] do mundo. Agora, após algumas viagens de risco para lá da vasta Pulsor City, você detém a verdade - Ouroboros existe! Desafiado, você treinou para trabalhar para os Good Guys [bons da fita] no intuito de preservar Freedom derrotando para isso os desonestos "Grid Guardians", expondo assim os segredos sinistros dos maus da fita, que por sua vez os usam para oprimir e conspirar.!
Desenvolvido pelos criadores de Brainpipe: A Plunge to Unhumanity, Weird Worlds: Return to Infinite Space, Dr. Blob's Organism, e Strange Adventures in Infinite Space.
Características principais:


Frenética jogabilidade de arcade que lhe leva a uma indução ZEN

Áudio e vídeo 3D que o faz prender ao ecrã

Pistas de corrida que vão para lá da sua mente

Criaturas, perigos e ambientes cada vez mais desafiadores em cada nível

Jogabilidade fácil

Sessões de jogo rápidas

Capacidade de recomeçar muito boa

Tutorial de fácil acesso

Com suporte a controlador de jogo e ainda ao teclado da velha guarda.

Requisitos do Sistema
Minimum:

OS:XP
Processor:Pentium 4 2GHz
Memory:512 MB RAM
Graphics:Intel GMA 950
DirectX®:dx80
Hard Drive:128 MB HD space
Sound:16-bit stereo sound
Recommended:

OS:XP, Vista or Win7
Processor:Core 2 Duo or better
Memory:1024 MB RAM
Graphics:NVidia GeForce 8 series or better
DirectX®:dx90
Hard Drive:128 MB HD space
Sound:16-bit stereo sound
Data Jammers: FastForward © Copyright 2011 Digital Eel. All rights reserved.
Análises úteis de clientes
Título:
Data Jammers: FastForward
Género:
Ação
,
Indie
Programador:
Digital Eel
Editora:
Digital Eel
Data de lançamento:
24 Out, 2011
Idiomas:
| | Interface | Vozes | Legendas |
| --- | --- | --- | --- |
| Inglês | | | |