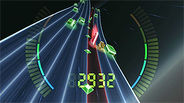 You are a Data Jammer, an elite virtual commando tasked with one purpose: Infiltrate the virtual Vaults of Ouroboros, the Military Industrial Complex, and take down The System!
Julkaisupäivä: 24. loka, 2011
Katso HD-video
Tietoja pelistä
Data Jammers: FastForward on jatkuvasti liikkuva kolmiulotteinen ajo- ja tuhopeli, joka asettuu retro-tyyliseen rautalankamaailmaan täynnä mahdottomia ajoratoja. Aja pitkin monimutkaisia bittivirtoja merkillisessä geometrisessä maailmassa, samalla kun ketterä ajoneuvosi kohtaa vaarallisia asukkaita, esteitä ja pomovartijoita!
Olet Data Jammer.. tarkemmin sanottuna D.O.O.D (Digitaalinen Operoija, Optinen Data), virtuaalinen eliitti-kommando jolla on yksi tarkoitus: soluttaudu militaristiseen teollisuuskompleksiin, Ouroboroksen holviin ja pura sen järjestelmä!
Syvä Verkko. Erämää. Olet kuullut huhuja ''verkosta verkoston takana''; alikybermatriksi täynnä salattuja datavirtoja jota maailman pimeät voimat käyttävät hyödykseen. Usean vaarallisen retken jälkeen, Pulsor Cityn tuolla puolen, tiedät totuuden. Ouroboros on olemassa!. Vastataksesi tähän uhkaan, olet kouluttautunut työskentelemään Hyville tyypeille. Päihitä katalat Verkon vartijat ja paljasta heidän uhkaavat salaisuutensa, joita nämä roistot käyttävät juonitteluun ja alistamiseen!
Brainpipe: A Plunge to Unhumanity, Weird Worlds: Return to Infinite Space, Dr. Blob's Organism, ja Strange Adventures in Infinite Space -tekijöiltä.
Keskeiset ominaisuudet:
Zen-tyylinen nopeatempoinen arcade-peli
Kiehtovat 3D-visuaalit ja äänet
Mieltähipovat ajoradat
Jatkuvasti haastavat ympäristöt, eliöt ja esteet per taso
Helppo oppia ja pelata
Rivakat peli-istunnot
Erinomainen uudelleenpelattavuus
Ohjaava opetusohjelma
Tukee peliohjainta ja vanhaa kunnon näppäimistöä.
Järjestelmävaatimukset
Minimum:

OS:XP
Processor:Pentium 4 2GHz
Memory:512 MB RAM
Graphics:Intel GMA 950
DirectX®:dx80
Hard Drive:128 MB HD space
Sound:16-bit stereo sound
Recommended:

OS:XP, Vista or Win7
Processor:Core 2 Duo or better
Memory:1024 MB RAM
Graphics:NVidia GeForce 8 series or better
DirectX®:dx90
Hard Drive:128 MB HD space
Sound:16-bit stereo sound
Data Jammers: FastForward © Copyright 2011 Digital Eel. All rights reserved.
Hyödylliset arvostelut
Nimi:
Data Jammers: FastForward
Lajityyppi:
Toiminta
,
Indie
Kehittäjä:
Digital Eel
Julkaisija:
Digital Eel
Julkaisupäivä:
24. loka, 2011
Kielet:
| | Käyttöliittymä | Puhe | Tekstitykset |
| --- | --- | --- | --- |
| englanti | | | |