Every activity in Puzzle Pirates is a uniquely fun puzzle: be it sailing, gunning, or hauling treasure, your own puzzling skill determines your success!
Release Date: Aug 31, 2011
July 29th, 2014
For months, merchants from the Empire have reported an unusual number of ships missing or destroyed in previously quiet waters. Those lucky to survive the attacks report "Giant Snakes" emerging from the sea. The Brotherhood of Applied Cryptozoology has confirmed these were kraken attacks!

This legendary sea monster was once only a whispered rumor - the mysterious source for Kraken's Blood. Now, talk is swirling around pirate inns, claiming there are vast treasures to be found in the kraken's lair. A new mysterious material, Kraken's Ink, has been discovered. A local alchemist was seen purchasing large amounts of the material to transform it into Kraken's Blood!




Be warned! Large ships cannot approach the kraken, as the beast will quickly send them to Davy Jones' Locker. Ships traveling to a Kraken's Lair should stock one lifeboat for each pirate aboard. Ye can find this commodity at yer local shipyard. This will allow the crew to approach the kraken in small, maneuverable rowboats. Avoid the tentacles and collect treasure!

Furnisher owners are enthusiastic about the new sea monster hunt and advertisements for specialty rowboats are starting to appear:

Krazy Karen's Kraken Kraze Klearance!
Kustomize yer rowboat on yer next Kraken Konfrontation!

Bumper Boats!
Chum Boats!
Harpoon Boats!
Powder Boats!
Speed Boats!

*Rowboat Kits last 15 login days.

Kraken's Lairs is a new Sea Monster Hunt. If yer on a Doubloon Ocean, ye will need a bravery badge. Pirates on Cerulean will need a subscription to participate.

3 comments
Read more
July 18th, 2014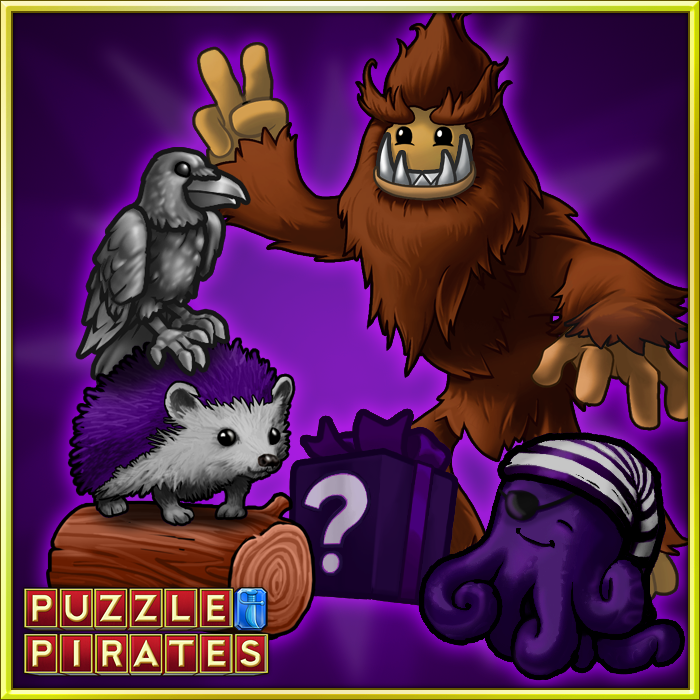 This year's Plum Mystery Boxes are bursting with new items for ye pirates! Grey ravens and plum hedgehogs and mysterious sasquatch - oh my! A close cousin to the pink yeti, the sasquatch pets love hugs and only bite sometimes. Lucky pirates may spot a plum octopus with sleeping cap, plum painted ships, along with plum-colored trinkets, furniture, clothing and chroma!

From now until 3:00 PM PDT on July 28th , 2014 you'll receive a free Plum Mystery Box for every $9.99 you spend on doubloons, or every month of subscription time you purchase!

For more information about the full contents of the 2014 Plum Mystery Box, as well as the official rules, please click here. The Plum Mystery Boxes are only available for a limited time, so don't let a walking carpet stand in your way!
1 comments
Read more
About the Game
Brace yourself for swashbuckling puzzle action as you pillage your way to glory across the briny deep!
Create and customize a pirate, collect booty, and join a player-run crew of cutthroats! Every activity in Puzzle Pirates is a uniquely fun puzzle: be it sailing, gunning, or hauling treasure, your own puzzling skill determines your success!
Key features
Co-operative Piracy: Sail the seas with your friends and pillage brigands and merchants aboard your very own pirate ship!

A Plethora of Puzzles: Play more than 20 puzzles and mini-games, representing various piratey exploits, such as Swordfighting and Sailing!

Sail to Adventure!: Explore a living world filled with thousands of other players! Hunt dangerous Sea Monsters and voyage to lost treasure-filled realms, such as the Haunted Seas!

Booty!: Customize your pirate with a bounty of different clothing items and equipment!

Player-Run Economy: Run your own shop and produce weapons, ships and other goods for sale. Band crews together under a mighty "Pirate Flag" and become governor of a pirate haven.

Free to Play!: Puzzle Pirates is free to play, no subscription is required to enjoy everything the game has to offer!

PC System Requirements
OS: Windows 98, ME, 2000, XP and Vista, 7

Processor: 500 MHz

Memory: 256 MB

Hard Disk Space: 100 MB

Java: Version 1.5

Mac System Requirements
OS: OS X version Leopard 10.5.8, Snow Leopard 10.6.3, or later.

Processor: 500 MHz

Memory: 256 MB

Hard Disk Space: 100 MB

Java: Version 1.5

Helpful customer reviews
Title:
Puzzle Pirates
Genre:
Adventure
,
Casual
,
Free to Play
,
Massively Multiplayer
,
Strategy
Developer:
Three Rings
Publisher:
Three Rings
Release Date:
Aug 31, 2011
Languages:
| | Interface | Full audio | Subtitles |
| --- | --- | --- | --- |
| English | | | |
| German | | | |
| Spanish | | | |
Awards
Best PC Puzzle/Rhythm Game, Metacritic, 2005

Editor's Choice Award, IGN, 2004

Webby Award for Games, 2004

Technical Excellence and Audience Choice awards at the Annual Independent Games Festival, 2004