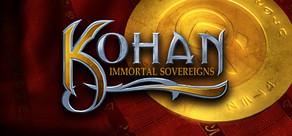 Si deseas devolver a tu raza la gloria que le corresponde, deberás resolver el misterio de su destrucción.
Fecha de lanzamiento: 15 Mar 2001
Comprar Kohan: Immortal Sovereigns
Paquetes que incluyen este juego
Comprar Kohan Warchest
Incluye 3 artículos: Kohan: Immortal Sovereigns, Kohan: Ahriman's Gift, Kohan II: Kings of War
Acerca del juego
Kohan: Immortal Sovereigns es el primer juego de la innovadora y galardonada saga de estrategia en tiempo real. Ganador del "RTS Game of the Year" de las revistas PC Gamer y Computer Games, Immortal Sovereigns es un juego de estrategia en tiempo real que transcurre en un mundo de fantasía donde asumes el papel de un inmortal conocido como Kohan. Su raza una vez dominó el mundo, pero fue devastada por una serie de cataclismos. Como inmortal, has despertado en un mundo diferente al que una vez conociste. Ahora debes lidiar con la gloria pasada, la adversidad del presente y el destino de tu futuro. Si vas a devolver a tu raza su legítima gloria, debes resolver el misterio de su destrucción.
Características Principales:
Una completa campaña para un jugador
Modo multijugador para hasta 8 jugadores que pueden jugar en uno de los cuatro bandos, todos luchan por la supremacía de un mundo devastado por la guerra
Más de 40 unidades únicas
Batalla en múltiples entornos, que incluyen un exuberante bosque, ondulantes colinas y estériles desiertos
Innumerables hechizos mágicos que van desde bendición protectora hasta devastadoras bolas de fuego
Un editor completamente funcional con generador de mapas aleatorios que permite a los jugadores crear sus propias campañas, escenarios individuales y hasta mapas de deathmatch
Requisitos del sistema
SO: Windows 98 / 98SE / Me / 2000 / XP / Vista / 7
Procesador: Pentium IV a 1.5 GHz o AMD Athlon equivalente
Memoria: 256 MB de RAM
Disco Duro: 700 MB de espacio libre
Gráficos: nVidia GeForce 3 / ATI Radeon 8500 con 64 MB de VRAM o equivalente con drivers 100% compatibles con DirectX 9.0b
Versión de DirectX®: 9.0b
Sonido: Dispositivo 100% compatible con DirectX 9.0b con altavoces o auriculares
©2001 Strategy First Inc. All rights reserved. Kohan: Immortal Sovereigns is a trademark of TimeGate Studios. All rights reserved. All other trademarks and copyrights are the properties of their respective owners.
Análisis útiles de usuarios