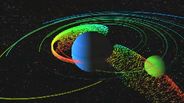 Teremts és pusztíts eddig elképzelhetetlen léptékben!
Megjelenés dátuma: 29 Ápr 2011
Nézd meg a HD videót
27 augusztus 2014
Get instant access to the Universe Sandbox ² Alpha on Steam for Windows, Mac, and Linux and pre-order the finished game.

Available for purchase at
http://universesandbox.com/2

While you buy though our website (via the Humble Bundle people), you'll redeem your copy on Steam and the game will appear in your Steam library.

Universe Sandbox ² is in alpha and very much unfinished, but it already blows away the original version with improved physics, climate simulations, material properties, terraforming, and awesome collisions.

We welcome you to join us on this journey as we continue to add and improve the sequel over the next year.
1 megjegyzés
Tovább
Értékelések
"A Universe Sandbox ragyogó sikere abban áll, hogy a játékos isteni hatalommal bírva teremthet vagy pusztíthat, közben szinte elkerülhetetlenül tanulva valamit univerzumunk fizikai jellemzőiről."
87/100 – PC Gamer
"A rendelkezésre álló változók és eszközök széles skáláját használva rendkívül nyakatekert fizikabemutatókat alkothatsz meg, akaratod alá hajtva a kozmosz törvényeit..."
80% – bit-gamer
A játékról:
Teremts és pusztíts eddig elképzelhetetlen léptékben a tökéletes űrszimulátorban.
Használd hatalmad fekete lyukak teremtésére, galaxisok összeütköztetésére és a gravitáció manipulálására, csupán néhány kattintással. A csillagászat még sosem volt olyan interaktív vagy szórakoztató, mint ebben a csillagászok által az univerzumunk rejtelmeinek megfejtésére használt szoftverek ihlette játékban.
Teremts egy hatalmas holdat a Szaturnusz gyűrűinek széttépésére, vagy indíts útnak egy vándorcsillagot, hogy kiszakítsa pályáikról a Napunk körül keringő bolygókat. A katasztrofális rombolás után teremts saját naprendszert és oszd meg azt barátaiddal.
Fő jellemzők:
Interaktív, valós idejű, több égitestes gravitáció-szimulátor

Bármely objektum bármely tulajdonsága bármikor megváltoztatható

Valódi fizika, valódi adatok, valódi mértékegységek, valódi tudomány

Objektumok összehasonlítása bármely szimulációk között táblázat módban

Anaglyph 3D szemüvegek és 3D DLP televíziók támogatása

Beépített oktató és lépésenkénti tevékenységek

Több mint 70 valódi és fiktív szimuláció

Kiterjedt szerkesztő és készítőeszközök, melyekkel könnyen elkészítheted saját szimulációid

A legújabb, Universe Sandbox 2.x verzió, Steam teljesítményekkel
Rendszerkövetelmények
Operációs rendszer: Windows 7 / Vista / XP Service Pack 3

Processzor: 1.5 GHz processzor

Memória: 1 GB RAM

Merevlemez-terület: 250 MB

Videokártya: DirectX 9 szintű videokártya

Hang: DirectX 9 kompatibilis hangkártya
Hasznos vásárlói értékelések