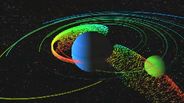 Create and destroy on a scale you've never imagined!
Дата на излизане: 29 април 2011
Преглед на HD видео
This item does not have support for your local language. Please review the supported language list before purchasing
Закупуване на Universe Sandbox
Рецензии
"This is where Universe Sandbox succeeds brilliantly: players experience godly power to create or destroy, while almost unavoidably learning something about the physical properties of our universe."
87/100 – PC Gamer

"Using the vast range of variables and tools at your disposal you can create some enormously convoluted displays of physics, bending cosmic laws to your will..."
80% – bit-gamer
Относно играта
Create and destroy on a scale you've never imagined with the ultimate space simulator.
Harness the power to create black holes, collide galaxies, and manipulate gravity with just a few clicks. Inspired by the software astronomers use to unlock the mysteries of our universe, never before has astronomy been so interactive or so much fun.
Spawn a massive moon to tear apart Saturn's rings or launch a rogue star to rip the planets from their orbits around our sun. After unleashing catastrophic destruction, create your own solar system and share it with friends.
Key Features
Interactive, real-time, n-body gravity simulator

Change any property of any object at any time

Real physics, real data, real units, real science

Compare the objects in any simulation with chart mode

Supports anaglyphic 3D glasses and 3D DLP televisions

Built in tutorials and step-by-step activities

Includes 70+ simulations both real and fantastical

Extensive editing and creation tools make it easy to build your own simulations
Системни изисквания
OS: Windows 7 / Vista / XP Service Pack 3

Processor: 1.5 GHz Processor

Memory: 1 GB RAM

Hard Disk Space: 250 MB

Video Card: DirectX 9 level graphics card
Полезни рецензии от клиенти