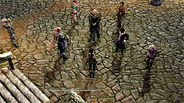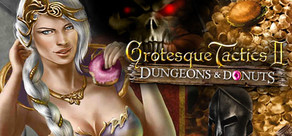 Dans ce successeur du célèbre Grotesque Tactics une parodie de RPG, vous ferez l'expérience d'un RPG-histoire ironique avec des dialogues-puzzles humoristiques, dans le style de Monkey Island.
Date de parution: 21 nov 2011
Visionner la vidéo HD
Acheter Grotesque Tactics 2 - Dungeons and Donuts
Packages qui comprennent ce jeu
Acheter Grotesque Tactics Complete Pack
Inclut les 3 articles suivants : Grotesque Tactics: Evil Heroes , Grotesque Tactics 2 – Dungeons and Donuts, Holy Avatar vs. Maidens of the Dead
21 février 2014
We're excited to announce the official Steam release of the latest entry in the Grotesque Tactics series: Holy Avatar vs. Maidens of the Dead!

If you're a fan of the great parody RPG style writing and gameplay of the series, this newest adventure is sure to thrill you! If you're fond of killing zombies, the novelty is fresh in your mind, fresh as a corpse hell-bent on recruiting you to their undead ranks, then that fondness will follow you here.

Wait no longer, pick up your copy today, 50% off for one week only! And don't forget to join the official steam group and lure...I mean invite more of your friends to try and talk about the game!
0 commentaires
Lire la suite
À propos du jeu
Grotesque Tactics 2: Dungeons & Donuts est le successeur de la célèbre parodie du jeu de rôle Grotesque Tactics. Faites l'expérience d'un jeu de rôle humoristique dans le style de Monkey Island ainsi que d'un système de combat stratégique où les membres de votre équipe sont sous contrôle simultané.
Notre histoire commence alors que les citoyens du royaume de Glory célèbrent leur victoire sur Dark Church. Alors qu'ils célèbrent la victoire dans les catacombes de leurs ennemis, ils sont soudain entourés d'un brouillard qui les fait disparaître les uns après les autres. Ceux qui en réchappent se barricadent dans les catacombes. Alors que le temps passe, les rations viennent à manquer et les survivants commencent à penser au pire. C'est alors que les chevaliers de Glory, des mercenaires, et des Elfes, se réunissent en guildes pour mener le combat. Mais elfes, mercenaires et chevaliers ne s'entendent pas forcément et sont plus préoccupés par leurs querelles internes que par le mal qui s'étend dans les catacombes.
Principales caractéristiques :
Faites l'expérience du combat tour à tour humoristique.
Rejoignez des amis et créez votre propre guilde pour défaire les boss.
Faites preuves de diplomatie pour éviter que les membres de la guilde ne se battent entre eux.
Chaque membre dispose d'une arborescence de talents, de spécialisations et d'aptitudes.
Vous pouvez choisir parmi différentes factions : hauts elfes, mercenaires ou royaume de Glory.
Chaque faction dispose d'une fin alternative qui dépend des décisions prises en cours de jeu.
L'histoire se moque gentiment des jeux de rôle populaire comme Oblivion, Gothic et du Seigneur des anneaux.
Devenez un maître de guilde respecté en collectant de l'or et en construisant une solide réputation.
Les rations sont rares et sont une monnaie d'échange. Récoltez les rations, prenez des leçons de cuisine et composez des plats succulents comme des larves, du saucisson d'araignée ou des soupes de zombie !
Différents niveau de difficulté : débutants comme les experts vont apprécier le jeu.
Configuration requise
Operating system:Windows® XP / Vista™ / Windows® 7
Processeur : Processeur 2.0 GHz
Mémoire vive : 1 Go de RAM
Disque dur : 1 Go d'espace disque disponible
Carte graphique : Carte graphique shader model 2.0 compatible Direct X 9.0c (nVidia GeForce 5/FX/ATI Radeon 9500 Series/ATI X700 ou meilleure)
Son : Carte son avec DirectX 9.0c
DirectX® : DirectX® 9.0c
2011 © Meridian4. All rights reserved. Grotesque Tactics 2 – Dungeons and Donuts is a trademark of Silent Dreams. All rights reserved. All other trademarks and copyrights are the properties of their respective owners.
Évaluations intéressantes des utilisateurs
Titre:
Grotesque Tactics 2 – Dungeons and Donuts
Genre:
Aventure
,
Stratégie
,
RPG
,
Indépendant
Développeur:
Silent Dreams
,
Headup Games
Éditeur:
Meridian4
Date de parution:
21 nov 2011
Langues:
| | Interface | Son | Sous-titres |
| --- | --- | --- | --- |
| Anglais | | | |
| Allemand | | | |