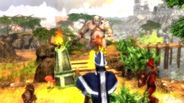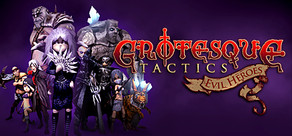 Grotesque Tactics es un RPG táctico realmente divertido que combina elementos de los populares western y los RPG asiáticos para consolas.
Fecha de lanzamiento: 15 Oct 2010
Ver vídeo en alta definición
This item does not have support for your local language. Please review the supported language list before purchasing
Comprar Grotesque Tactics: Evil Heroes
Paquetes que incluyen este juego
Comprar Grotesque Tactics Complete Pack
Incluye 3 artículos: Grotesque Tactics: Evil Heroes , Grotesque Tactics 2 – Dungeons and Donuts, Holy Avatar vs. Maidens of the Dead
Comprar Meridian4 Complete Pack
Incluye 62 artículos: Gumboy - Crazy Adventures™, RIP - Trilogy™, Vigil: Blood Bitterness™, Tank Universal, Space Trader: Merchant Marine, Penguins Arena: Sedna's World, Larva Mortus, Obulis, Chains, Nikopol: Secrets of the Immortals, Crash Time 2, Greed: Black Border, Gumboy Crazy Features, RIP 2 Strike Back, RIP 3: The Last Hero, Avencast: Rise of the Mage, Chrome, Chrome - SpecForce, Future Wars, Grotesque Tactics: Evil Heroes , Post Apocalyptic Mayhem, Scratches - Director's Cut, Still Life, Still Life 2, Syberia, Syberia II, Wasteland Angel, Post Mortem, Grotesque Tactics 2 – Dungeons and Donuts, Robin Hood: The Legend of Sherwood, Post Apocalyptic Mayhem: DLC - Chaos Pack, Stellar Impact, Stellar Impact - Support Ship DLC, Stellar Impact - Carrier Ship DLC, Stellar Impact - Artillery Ship DLC, Frontline Tactics - Sniper, Frontline Tactics - Close Quater Combat Soldier, Frontline Tactics - Medic, Frontline Tactics - Woodland Camouflage, Frontline Tactics - Ninja Camouflage, Frontline Tactics - Desert Camouflage, Frontline Tactics - Snow Camouflage, Frontline Tactics - Tiger Camouflage, Frontline Tactics - Golden Guns, Syder Arcade, Holy Avatar vs. Maidens of the Dead, Return to Mysterious Island, Return to Mysterious Island 2, Nostradamus: The Last Prophecy, Dracula: The Resurrection, Dracula 2: The Last Sanctuary, Dracula 3: The Path of the Dragon, Haegemonia: Legions of Iron, Haegemonia: The Solon Heritage, Iron Storm, Rhiannon: Curse of the Four Branches, Salammbô: Battle for Carthage, The Egyptian Prophecy: The Fate of Ramses, The Cameron Files: The Secret at Loch Ness, Necronomicon: The Dawning of Darkness, Selknam Defense, Space Hack
21 febrero 2014
We're excited to announce the official Steam release of the latest entry in the Grotesque Tactics series: Holy Avatar vs. Maidens of the Dead!

If you're a fan of the great parody RPG style writing and gameplay of the series, this newest adventure is sure to thrill you! If you're fond of killing zombies, the novelty is fresh in your mind, fresh as a corpse hell-bent on recruiting you to their undead ranks, then that fondness will follow you here.

Wait no longer, pick up your copy today, 50% off for one week only! And don't forget to join the official steam group and lure...I mean invite more of your friends to try and talk about the game!
0 comentarios
Leer más
Análisis
"Este juego es una explosión de humor con guiños comprensivos en los momentos adecuados."
80% – GAMING XP
"El humor es muy novedoso en el aburrido género de las tácticas y la fantasía, además los sofisticados escenarios de combate rápido son sin duda sublimes."
81% – DemoNews
"Con sangre, sudor y lágrimas e incluso más humor, el jugador viajará al mundo del Reino de la Gloria y permanecerá atrapado en él."
80% – Spieletester.com
"Grotesque Tactics es una joya indie de manual. Posee todas las virtudes de muchos juegos de gran presupuesto: encanto, ingenio y originalidad."
75% – Gamestar
Recién actualizado
¡NUEVO Y MEJORADO!
¡AHORA CON LOGROS DE STEAM!
Acerca del juego
Grotesque Tactics es un RPG satírico y guiado por la historia con un sistema de combate dinámico. Un grupo de 10 antihéroes lucha en un mundo grotesco que combina las características y los tópicos de juegos de rol-estrategia occidentales y asiáticos como Final Fantasy Tactics, Heroes of Might & Magic y Fire Emblem.
Grotesque Tactics cuenta con un gracioso argumento y un montón de diálogos divertidos, burlándose de algunos de los juegos de rol más exitosos como Oblivion, Gothic y El Señor de los Anillos.
Para proteger el reino de la despiadada "Iglesia Oscura", la cual ha asesinado a todos los héroes y caballeros del reino, deberás reclutar a dudosos soldados y rescatar a celosas doncellas, quienes te seguirán durante los combates como tus admiradoras
Características
Batallas tácticas por turnos con divertidas animaciones jamás vistas en un RPG
Miembros del grupo de lo más variado, incluyendo el arrogante Holy Avatar, el sediento de sangre Vampire Solitaire, la dulce pero irascible Angel Angelina y muchos más
Maravillosas aldeas y siniestras y oscuras mazmorras
Doncellas ligeras de ropa para ser rescatadas de las garras de monstruos despiadados
Enormes jefes finales con un alto nivel de detalle y muy cabreados
Elementos clásicos de los juegos de rol: misiones, tesoros, comercio, subidas de nivel y equipamiento para un grupo de héroes únicos
Múltiples y divertidas opciones de diálogo y rompecabezas basados en conversaciones al estilo de aventuras gráficas clásicas como Monkey Island o Maniac Mansion
*En el ajedrez, un grotesco es un tipo de problema o estudio que se caracteriza por una muy improbable posición inicial, especialmente una en que un reducido número de blancas se deben enfrentar a un mayor ejército de negras. Los grotescos tienen, por lo general, una tónica humorística.
Requisitos del sistema
SO: Windows® XP / Vista™ / Windows® 7
Procesador: 2.0 GHz
Memoria: 1 GB de RAM
Gráficos: Compatible con Direct X 9.0c y Shader Model 2.0 (nVidia GeForce 5/FX/ATI Radeon 9500/ATI X700 o superior)
DirectX®: DirectX® 9.0c
Disco Duro: 700 MB de espacio libre
Sonido: Compatible con DirectX 9.0c
2010 © Meridian4. All rights reserved. Grotesque Tactics – Evil Heroes is a trademark of Headup Games. All rights reserved. All other trademarks and copyrights are the properties of their respective owners.
Análisis útiles de usuarios