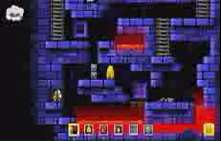 小鸡快跑(Toki Tori)的游戏体验是两种游戏类型的合成。虽然它看上去像一个主机平台游戏,但它实际上是一个益智游戏。游戏过程中,玩家需要用一组固定数量的工具拾起一关中的所有鸡蛋。虽然玩家可以使用诸如传送门、冰冻枪和速成岩™等道具,但是玩家必须先行谨慎的观察和计划。其余工具将逐步地在通过四个独特世界、80+ 关卡的游戏过程中加入。 各种各样的道具和武器 分布在 4 大世界的 80 个关卡 数十小时的游戏体验 全年龄段——简单和困难关卡可用 引人入胜的音乐和音效 Steam 成就 全屏高清图像 着色渲染效果 5.
发行日期: 2010年1月28日
观看所有 2 段宣传片
7月29日
Six months after the Two Tribes reboot, we're SUPER happy to announce our new 2D shooter / platformer RIVE!

Thanks for all the support everyone, the game's coming to Steam of course!

Check out the trailer: https://www.youtube.com/watch?v=lDRvMMpDwtk

More details here: http://twotribes.com/message/rive/

As always, do let us know what you think!

Collin
14 条评论
了解更多
6月30日
Hi all,

It's nearly the end of the Steam Summer Sale. If you still need to complete your Two Tribes game collection, now would be a great time :)

http://store.steampowered.com/sub/29144/

Happy shopping!

Collin
12 条评论
了解更多
关于游戏
小鸡快跑(Toki Tori)的游戏体验是两种游戏类型的合成。虽然它看上去像一个主机平台游戏,但它实际上是一个益智游戏。游戏过程中,玩家需要用一组固定数量的工具拾起一关中的所有鸡蛋。虽然玩家可以使用诸如传送门、冰冻枪和速成岩™等道具,但是玩家必须先行谨慎的观察和计划。其余工具将逐步地在通过四个独特世界、80+ 关卡的游戏过程中加入。
各种各样的道具和武器

分布在 4 大世界的 80 个关卡

数十小时的游戏体验

全年龄段——简单和困难关卡可用

引人入胜的音乐和音效

Steam 成就

全屏高清图像

着色渲染效果

5.1 环绕原声

可用鼠标、键盘以及手柄控制
系统需求(PC)
操作系统:Windows XP/Vista/7

处理器:英特尔奔腾 4 / AMD 速龙 XP 1.5 Ghz 或更高

内存:1 GB RAM (Vista) 512MB (XP) 或更高

显卡:DirectX 9 兼容,128MB VRAM

DirectX®:DirectX 9.0c

硬盘所需空间:200 MB 可用空间

游戏控制器:Microsoft Xbox 360 控制器或者兼容控制器
系统需求(MAC)
运行 OS X 版美洲豹系统且基于英特尔的 Mac
系统需求(Linux)
Processor: Intel Pentium 4 / AMD Athlon XP 1.5 Ghz or higher
Memory: 1 GB RAM
Graphics: Hardware accelerated graphics card with 128 MB VRAM and working OpenGL 2.1 drivers(*).
Hard Drive: 200 MB of free space
Controller: Gamepad support (uses: SDL2)

*NOTE: Attempts have been made to allow the game to run on OpenGL 1.4
or 1.5, so long as the following extensions are available:
- ATI_separate_stencil
- ARB_vertex_buffer_object
- EXT_framebuffer_object or ARB_framebuffer_object
Copyright © 2009 - 2013 Two Tribes Publishing B.V. All Rights Reserved.
有价值的用户评测