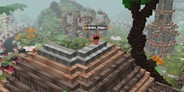 Your blocks, your castle, your world! Build anything you can dream up and explore with other players! Cubic Castles is a mini-MMO that combines the best of block-building and 3D platform action! Create fantastic parkour challenges, explore worlds made by other players, or even make new friends- the only limit is your imagination.
Release Date: Aug 13, 2014
Watch HD video
August 14
Yesterday's launch was our trial by fire! Please forgive our rocky start as we adjust to the higher numbers of players on our servers. We are doing our best to get everything running smoothly.

To celebrate our launch on steam we have a giveaway for 50,000 Cubits! Like Cubic Castle on Facebook and share the giveaway to enter

Cubic Steam Launch 50,000 Cubit Giveaway!
13 comments
Read more
August 13
I've edited this announcement so it's a little more current.

The servers are mostly stable now and running fairly well for most players. There is still occasional downtime and we continue to optimize / improve / and fix problems as they come up, but in most cases they should be running fairly well.

In order to update the servers we sometimes do have to restart them. So if you lose connection just try a little while later. Most of our restarts are pretty quick. (<10 mins) Also look for broadcasts in game or announcements on the forums for scheduled downtime.
23 comments
Read more
About the Game
3D Platforming Meets Open World Voxel Building!
Cubic Castles is an online game where you build worlds from cubes and other items. What kind of worlds? Anything you want! Role playing, 3D-platform gaming, or other challenges! What you make is up to you. Want to make a punishing parkour with slippery ice and deadly spikes? No problem! Or maybe a simple house on a hill overlooking a lake? That's easy too! Even after only a few days the open beta saw players create many fantastic and varied worlds!

Features:
Massively multiplayer in one large, persistent world.
You share the world with everyone! Find a plot of land, put a castle down, and start creating!

Super-playable 3D Platform Action
Cubic Castles operates with a fixed camera that you control, and the gameplay is anything you want it to be, from action platforming to artistic design.

Customizable Characters
Create your own unique look with hats, shirts, plants, glasses, and more!

Mining Resources
Mine resources in a variety of world biomes including forests, arctic wastelands, deserts, mountain ranges, and tropical islands, all with different resources you can use. More to come!

Intuitive Crafting
Just drag your raw resources and tools into a workbench to see what you can build.

Crazy Obstacles
Accelo-rings, mechanical spikes, quicksand, lava, warp doors, and tons more!

Generous Economics
Forget the grind! Our pricing is fair and reasonable. And cubits even pop out for free as you mine.

Active Community
We just launched the open beta, and already there's a very active, vocal community. And we're listening!
System Requirements
Minimum:


OS: Windows 7

Processor: Core 2 Duo or higher. Athlon 64 or higher

Memory: 4 GB RAM

Graphics: 1024x768, DirectX 10

DirectX: Version 10

Network: Broadband Internet connection

Hard Drive: 50 MB available space
Helpful customer reviews
Title:
Cubic Castles
Genre:
Action
,
Adventure
,
Casual
,
Free to Play
,
Indie
,
Massively Multiplayer
Developer:
Cosmic Cow LLC
Publisher:
Cosmic Cow LLC
Release Date:
Aug 13, 2014
Languages:
| | Interface | Full audio | Subtitles |
| --- | --- | --- | --- |
| English | | | |