RPG Tycoon is a simulation game that puts you in control of a newly established Kingdom. The previous leader of the Kingdom left its followers in despair and it's up to you to grow your Capital and reclaim the title of the most honoured Kingdom in the land!
Release Date: Aug 4, 2014
Watch all 2 trailers
Early Access Game
Get instant access and start playing; get involved with this game as it develops.
Note: This Early Access game may or may not change significantly over the course of development. If you are not excited to play this game in its current state, then you may want to wait until the game progresses further in development. Learn more
What the developers have to say:
Why Early Access?
"During the process of greenlight, I'd had some great feedback from the community and it helped me develop the game further and make changes that people wanted before they'd even had a chance to play the game. I'd love for that to continue with their hands on it."
How long will this game be in Early Access?
"I'd like it to release by the end of the year at the latest, assuming development continues the way possible. The longest I'd want to take is early 2015."
How is the full version planned to differ from the Early Access version?
"The full version will differ greatly. Originally I was using place holder graphics. Since then I've switched the design style slightly to better suit what I've been aiming for and there's an entire roadmap of features on the way that will greatly increase what the player continue, and even after release I'd love to keep building on the project."
What is the current state of the Early Access version?
"The current version is early alpha with the basic game mechanics in place. I'd like players who really want to test out and support the development get involved."
Will the game be priced differently during and after Early Access?
"Yes, it'll be much cheaper during early access to support the development and then raise in price gradually as content is developed before a final price at release. It will still however be fairly priced throughout."
How are you planning on involving the Community in your development process?
"I'll be opening up methods to submit suggestions and feedbacks, interact regularly with the community and steps are already in place to help build support for the game such as language interpretation to open the game up to users in other countries." Read more
September 19
Hello,

So it's been a busy couple of weeks here as work has been focused on getting everything ready for this release.

Priority has completely been placed on bug fixes and optimisation with this new update. As I've previously mentioned, I've been listening to feedback and I'm aware of the bugs that people were experiencing since the game has released.

With that said I'm happy to announce that this update comes with a large amount of changes to the way that the game runs. Lots of the systems have been re-written and optimised to remove most of the game-breaking bugs that some of you have been experiencing and should significantly improve frame rates on all systems.

From your feedback I've wanted to get a stable build of the game available, many of you are expecting the public release to be completely bug-free. So with this said any upcoming feature updates from this point will be pushed first to the new "public_beta" build for those who want to test new features before they become available to everyone and aren't necessarily bothered by the chance of bugs. When this build is then bug-fixed and bug free it will then be release to the default build and pushed to those who want a completely stable version of the game.

In other-words:

The public_beta will have new content updated regularly but will possibly have bugs.

The default build will be updated much less regularly but be as bug free as possible.
The new update also includes the first stage of the Weapons system. Your kingdom now has an inventory, during quests Heroes may recover weapons which you can either sell instantly for half of their value, or keep the items and equip them to heroes from within your inventory.
The next few updates as we try to reach 0.2 will focus on the game economy adding new buildings, new ways to earn money and better development of your kingdom. Such as a weapons shop to sell the weapons you recover to adventurers and better management of stores as well as a resource management system. (I'm toying with the idea of supply buildings such as a groggery where grog is created and then ported to your tavern)
Obviously due to the game being incomplete, there's still a few UI issues and design problems that I'm aware of and I'll be working to fix them in coming updates but all of the issues that were previously halting gameplay should now have been repaired. As always, thanks so much for the support and hopefully you'll all be pleased with this update.
Update Notes:
New Features:
New Weapons System allowing players to recieve weapons to their Kingdoms inventory and equip them to Heroes to increase base stats.

Added Confirm Boxes to Various Areas of the Game for players who are often unsure with their decisions the first time, alternatively this just aids from "accidental clicking".

Animated Logo on the Main Screen to feel more "Indie"

Added Equipment info to Hero menu
Balance:
More Renown Earned From Quests
Optimisation:
Optimised Walk Animations & Pathfinding with Improved Performance. Characters should no-longer get stuck or lost.

Optimised New Game Option after Exiting to the Main Menu and Starting a New Game.

Optimised Save and Load Game.

Brought UI objects onto seperate layer. Such as Adventurer Speech and Progress Bars.

Reworked Build Mode to Optimise Peformance.

Reworked Depth Sorting to be better on Performance (Still some issues here & will remain working on it)

Further Optimisation to Handling of In-Game Data

Top Menu no longer jumps into place

Game Now Pauses when in Build Mode
Bug Fixes:
Fixed "double road placey" problem

Fixed bug that stopped players progressing when returning from a quest with more than three heroes

Fixed a Bug that stopped Heroes from Wandering Around once they entered the Kingdom

Fixed duplication bugs with Heroes in the Quarters.

Fixed bug where clicking on the "View" option in the Hero Menu would only show the last hired Hero.

Fixed a bug that caused Hero's Speed Stats to default to 0 upon load of a previous savegame.

Fixed a bug that caused mutliple copies of quests and settlements to be created upon load of a previous save.

Fixed other game-breaking bugs.
As always, loading a previous savegame will cause issues. So please start a new game or CLEAN YOUR DATA
3 comments
Read more
September 6
Hello,

As much as I'd love to announce that there's a new update available unfortunately I've been busy this week tying up previous commitments that end this month so I've had less time than I'd liked to work on development.

In the time I have had I've continued working on the re-write to how buildings are implemented and placed into the game-world as I'm aware of some rather game-breaking bugs and freezing issues. So priority in the time I've had this week has been on developing optimisation to better handle this. I can announce that the game now fluidly runs when placing building, which is a huge improvement performance-wise. I've also noticed with this that the game seems to be freezing less.

There's a fair bit of content I'd still like to work on before reaching 0.1.7. I'd really like to start work on the weapons system, which will allow heroes to retrieve weapons and items from the quests that you send them on. The weapons they find will automatically enter into the kingdoms treasury, which you will then be able to decide whether or not to equip these weapons to your heroes or put them on sale in the weapon store, which adventurers would then visit much like they do the potion shop.

I think this will add a nice new bit of depth to the game and hopefully allow for a bit more customisation to your play style should you prefer to buff your kingdom or your heroes.

I'm not sure how long this will take, but I'll be prioritising the optimisation and bug fixing first and try to get a test build up during the week so people can be playing with a more stable build of the current game.

So watch this space for that and as always, thanks to all of you for your support.
5 comments
Read more
About the Game

RPG Tycoon is a simulation game that puts you in control of a newly established Kingdom. The previous leader of the Kingdom left its followers in despair and it's up to you to grow your Capital and reclaim the title of the most honoured Kingdom in the land!
In RPG Tycoon you hire Heroes to work for you. The Heroes you hire will undertake Quests for you, doing good deeds for the Kingdom, spreading word of your power and they may even pick up a few things to help you out on the way.
It's your job to manage the Kingdom and let the Heroes do all the hard work for you.
Development Progress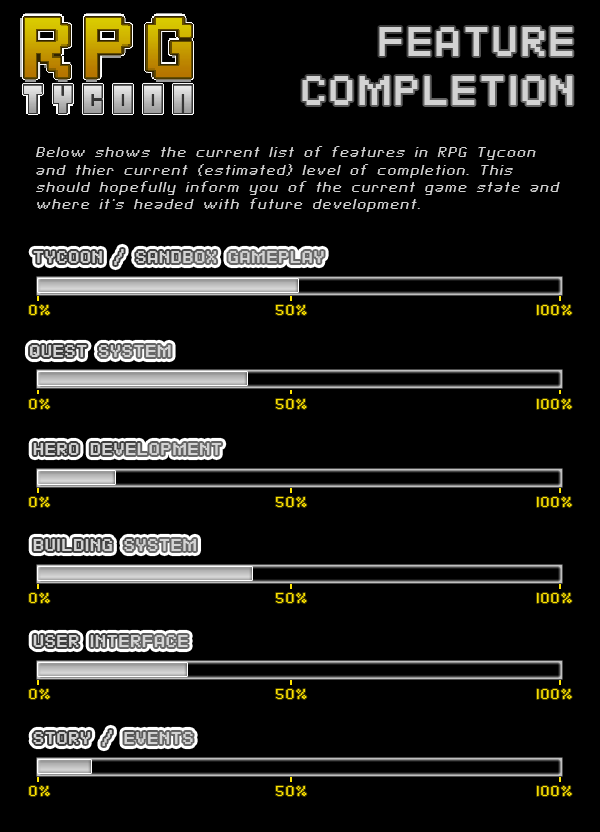 Current Features
Customisation - Currently kingdom naming! Extending further to Heroes/Quests etc. during development.

Kingdom Building - Start from scratch and develop the capital the kingdom needs but probably doesn't deserve...

Core Quest System - Earn money and develop your kingdom through quests. Because grinding, questing fun!

Quest Combo System - Experiment with different combinations of Settings in quests to discover the most beneficial outcomes.

Heroes System - Hire Heroes for your kingdom, send them on quests and develop their skills.

Hero Classes - Hire different classes of hero and affect quest outcome.

Random Map Generation - Each new game will start with a slightly different Kingdom layout for you. (Currently just Tree allocation but extending further later)

Adventurers - Grow your kingdom and witness adventurers visit to see what you've got on offer.

Research - Once the kingdom develops, use books in the library to grow your kingdom further and discover new technologies.

Story / Game Events - Witness and react to the world around you as it grows alongside your kingdom and discover rival kingdoms to compete against in the land.

Original Soundtrack - Currently 3 music tracks developed specifically for RPG Tycoon to enjoy while you play.

NO MICROTRANSACTIONS - Microtransactions suck. Purchase the game and you won't find any of them here. Ever.

References - Pop culture is fun! So are Easter eggs... and chocolate... and lots of other things...

These are just a few of the features currently in place at the moment. The rest of the game will continue to grow and change as development advances.
Planned Features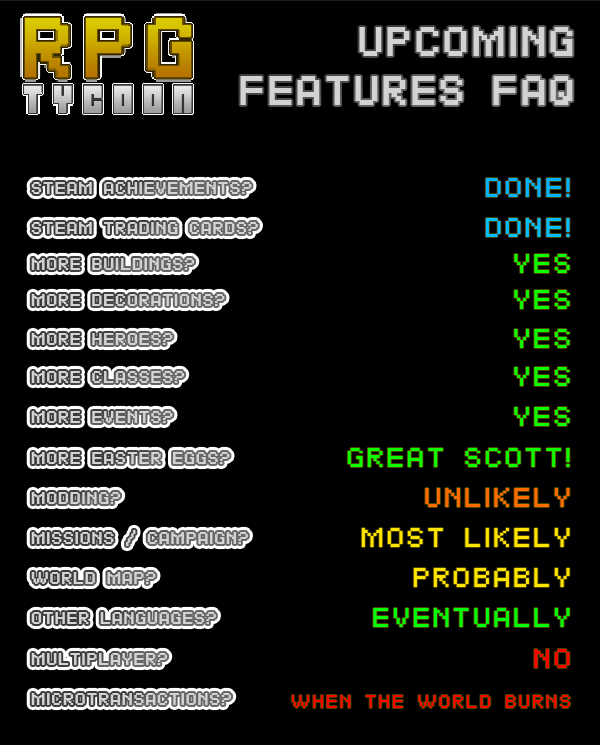 Understanding the Inspiration
RPG Tycoon is inspired by games like Theme Hospital, Theme Park, Roller Coaster Tycoon and Game Dev Tycoon to name a few. We wanted to take some of my favourite things about games like this and apply it to some of our favourite things about RPG's (Levelling Up, Resource Management, Stats etc.) to create a game that people will enjoy.
PC System Requirements
Minimum:


OS: Microsoft® Windows® XP, Windows Server 2008, Windows Vista® Home Premium, Business, Ultimate, or Enterprise (including 64 bit editions) with Service Pack 2, Windows 7, or Windows 8 Classic

Processor: 2.33GHz or faster x86-compatible processor, or Intel Atom™ 1.6GHz or faster processor for netbook class devices

Memory: 512 MB RAM

Graphics: Maximum Resolution Support: 1920 x 1080

Hard Drive: 44 MB available space

Sound Card: Any
Mac System Requirements
Minimum:


OS: Mac OSX v10.6

Processor: Intel Core Duo 1.83GHz or faster processor

Memory: 512 MB RAM

Graphics: Maximum Resolution Support: 1920 x 1080

Hard Drive: 44 MB available space

Sound Card: Any
Helpful customer reviews
Title:
RPG Tycoon
Genre:
Adventure
,
Indie
,
RPG
,
Simulation
,
Strategy
,
Early Access
Developer:
Skatanic Studios
Publisher:
GSProductions Ltd.
Release Date:
Aug 4, 2014
Languages:
| | Interface | Full audio | Subtitles |
| --- | --- | --- | --- |
| English | | | |