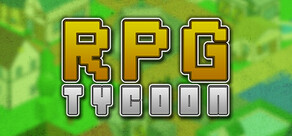 RPG Tycoon is a simulation game that puts you in control of a newly established Kingdom. The previous leader of the Kingdom left its followers in despair and it's up to you to grow your Capital and reclaim the title of the most honoured Kingdom in the land!
Release Date: Aug 4, 2014
Early Access Game
Get instant access and start playing; get involved with this game as it develops.
Note: This Early Access game may or may not change significantly over the course of development. If you are not excited to play this game in its current state, then you may want to wait until the game progresses further in development. Learn more
What the developers have to say:
Why Early Access?
"During the process of greenlight, I'd had some great feedback from the community and it helped me develop the game further and make changes that people wanted before they'd even had a chance to play the game. I'd love for that to continue with their hands on it."
How long will this game be in Early Access?
"I'd like it to release by the end of the year at the latest, assuming development continues the way possible. The longest I'd want to take is early 2015."
How is the full version planned to differ from the Early Access version?
"The full version will differ greatly. Originally I was using place holder graphics. Since then I've switched the design style slightly to better suit what I've been aiming for and there's an entire roadmap of features on the way that will greatly increase what the player continue, and even after release I'd love to keep building on the project."
What is the current state of the Early Access version?
"The current version is early alpha with the basic game mechanics in place. I'd like players who really want to test out and support the development get involved."
Will the game be priced differently during and after Early Access?
"Yes, it'll be much cheaper during early access to support the development and then raise in price gradually as content is developed before a final price at release. It will still however be fairly priced throughout."
How are you planning on involving the Community in your development process?
"I'll be opening up methods to submit suggestions and feedbacks, interact regularly with the community and steps are already in place to help build support for the game such as language interpretation to open the game up to users in other countries." Read more
Available: August 4th, 2014
This game will unlock in approximately 1 week, 4 days and 19 hours
July 22nd, 2014
Hi All,

Great to be reading some of your comments. It's already begun helping to shape the game ready for the release early next month.

The newest screenshot on the store page (0.1.35) will pretty much show off all of the new features I've added over the past few days getting ready for Alpha Version 0.1.4 when the game releases here on Steam.

Some of the new features include:

Custom Building Placement

Pathing

Decorative Objects

Quest History

Firing Heroes from your kingdom.

Researching new abilites, buildings, objects and various other items for your kingdom.
That's just a small amount of features that have been added to the game already since the steam deadline was set. There's still a few things left to add and I'll be working on getting the game to a good point before release.
Thanks so much to everyone who has already pre-purchased the game on the website and I look forward to you seeing the latest version of the game when it launches in August.
Regards,
SkatanicStudios
1 comments
Read more
July 17th, 2014
Here's a few answers to some of the questions I've been getting over the past couple of days while I get the game ready for release on Steam.


How much is RPG Tycoon going to cost?
At launch it will be $4.99 with a 10% discount for the first week. From then on it will remain that price whilst it's in early access alpha until enough content is added to warrant a raise in price. The game will never cost more than $9.99 at its final release.
Why early access?
I think as an indie developer it's important to get feedback from the people that will play and enjoy your game without access to big market data it's a great way to get quick and current information back about what works and what doesn't to help make something that lots of people can enjoy. It's nice to be able to be supported whilst I'm developing the game and I think fortunately the game suits the model too, but it's only really worth investing in if you want to support the product. If not I'd suggest waiting a while.
Will you pay me to review your game?
No.
What if I only say good things about it?
No. I do not negotiate with journalists.
I can promise you you'll get an increase in sales if I can take a cut?
I like to trust and be honest with the internet, leaving it to make up its own mind about my game without the help of Yogsdiscovery, MCN's or similar. If people like the game and think it's good then I expect they'll probably just play it and if not, then it's my fault for making a bad game isn't it?
Can I upload game-play footage of your game and monetize it?
Sure. Just be sure to mention how awesome the game is, or if you tear it to shreds be sure to mention that it's still in alpha and only being developed by one guy. Please... Pretty please? Cut me a little slack.
Will you send me a review code for Steam?
Possibly. The game is fairly cheap though, it would be nice if you could support it but if for whatever reason there's some circumstance where you really feel it doesn't justify a small donation from you then feel free to send me an email and we might be able to work something out.
Is your game DRM Free?
Yup. See, if you really want to play it but don't want to support the game then someone has probably uploaded it somewhere...
Will there be multiplayer?
No. RPG Tycoon is a single player experience.
Why is it only in English?
Because I'm an idiot and I only speak English.
Seriously, there's no other language options?
There may be, possibly. The game would be fairly easy to translate as most of the main dialogue and text in the game is loaded externally so most of it could be translated. But the game isn't finished yet and I'd like to focus on getting as much content in as possible first. So it's very possible that later down the line other language options will be added if the circumstances are right.
Will there be achievements?
Possibly. Because the game is built in Adobe Air it's a little difficult to work with the Steam API. There's a few things in place that might make it work and if I can get that working then yes! I love extra achievements and it would be very cool to do that. If I don't manage to get it working I'll probably end up integrating some in-game ones or something similar.
Will there be Dragons?
Does a dragon breathe fire?
How often will you update the game?
Regularly, I've currently been updating it every week with little bits. However, as the game progresses and releases wider I'll probably only update the game when the right amount of content has been added to justify an update.
Did you know that this is a bug?
Yes. Probably. If it's a regular thing. It's probably a bug I'm aware of. Whilst developing the game I happen to let a few things slip because I'm prioritising content over other things right now. It's possible in the next update I'll probably have fixed it. If for whatever reason the game seems to crash randomly once, or twice, but then doesn't next time or something happens that never used to happen that's probably something I'm less aware of and it's worth letting me know.
I have a feature request, would you like to hear it?
Sure! One of the reasons I'm using early access is to help shape the game and make bits better. So be sure to get in touch. There'll be a community discussions page for things like this when the game launches.
0 comments
Read more
About the Game
RPG Tycoon is a simulation game that puts you in control of a newly established Kingdom. The previous leader of the Kingdom left its followers in despair and it's up to you to grow your Capital and reclaim the title of the most honoured Kingdom in the land!
In RPG Tycoon you hire Heroes to work for you. The Heroes you hire will undertake Quests for you, doing good deeds for the Kingdom, spreading word of your power and they may even pick up a few things to help you out on the way.
It's your job to manage the Kindom and let the Heroes do all the hard work for you.
Key Features
Hire Heroes to work for you and send them on Quests.

Buy and Upgrade Buildings to help your Heroes and your Capital

Manage the Heroes during their quests and decide their strategy to affect the outcome

Maintain the Happiness of your Heroes and your Kingdom

Compete against the other Kingdoms in the Land to be the most famous Kingdom!

Events that unfold and quests unlock as time progresses.

Micro-mange buildings in the Capital as Adventurers visit and bring profit to your Kingdom!
The Quest System
When you want to start a new Quest you will be presented with a list of all of the possible quests currently available, some you may need to unlock.

Each quest has a set of requirements and will require different classes of Heroes to perform them successfully.

Once you've chosen a quest you'll be presented with the Approach Screen. Here you'll assign Ability Points into specific areas such as Food, Weapons, Stealth, Awareness etc... that will alter how your Heroes attempt each quest and ultimitely affect the outcome of each Quest.

As the Quest progresses Heroes will earn Loot Points, Influence Points and Damage Points. Each of these will factor into your rewards at the end of each quest. During the stages of the quest you'll be tasked to select the Hero you wish to act in command and the strategy they'll take during each stage.

The overall outcome of each quest will depend on the quest requirements and your selected strategies. Sometimes offering huge rewards and special items.
These are just a few of the features currently in place at the moment. There's an entire roadmap of features as the game continues development such as different classes of heroes, a world map with world events, narrative quest-lines, bigger kingdoms and more!
RPG Tycoon is inspired by games like Theme Hospital, Theme Park, Roller Coaster Tycoon and Game Dev Tycoon to name a few. I wanted to take some of my favourite things about games like this and apply it to some of our favourite things about RPG's (Levelling Up, Resource Management, Stats etc.) to create a game that people will enjoy.
PC System Requirements
Minimum:


OS: Microsoft® Windows® XP, Windows Server 2008, Windows Vista® Home Premium, Business, Ultimate, or Enterprise (including 64 bit editions) with Service Pack 2, Windows 7, or Windows 8 Classic

Processor: 2.33GHz or faster x86-compatible processor, or Intel Atom™ 1.6GHz or faster processor for netbook class devices

Memory: 512 MB RAM

Graphics: 128MB of Graphics Memory

Hard Drive: 19 MB available space

Sound Card: Any

Additional Notes: Adobe Air is required
Mac System Requirements
Minimum:


OS: Mac OSX v10.6

Processor: Intel Core Duo 1.83GHz or faster processor

Memory: 512 MB RAM

Graphics: 128MB of Graphics Memory

Hard Drive: 19 MB available space

Sound Card: Any

Additional Notes: Adobe Air is required
There are no public reviews for this product yet
You can write your own review for this product to share your experience with the community. Use the area above the purchase buttons on this page to write your review.
Title:
RPG Tycoon
Genre:
Adventure
,
Indie
,
RPG
,
Simulation
,
Strategy
,
Early Access
Developer:
Skatanic Studios
Publisher:
GSProductions Ltd.
Release Date:
Aug 4, 2014
Languages:
| | Interface | Full audio | Subtitles |
| --- | --- | --- | --- |
| English | | | |