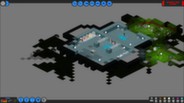 Isomer is an isometric strategy game inspired by classic turn based games from the 90s and many other more recent survival titles. It's open ended, sandbox and each world is procedurally generated leading to an almost unlimited number of different worlds to explore, mine, loot and conquer.
Release Date: Jul 11, 2014
Watch HD video
Early Access Game
Get instant access and start playing; get involved with this game as it develops.
Note: This Early Access game may or may not change significantly over the course of development. If you are not excited to play this game in its current state, then you may want to wait until the game progresses further in development. Learn more
What the developers have to say:
Why Early Access?
"Isomer is currently under heavy alpha development. We are continuing to release regular updates to add new features and expand on existing content already present.

Any reported bugs we will work to actively fix as well as adjusting gameplay balance, features and content to improve Isomer over time.

We love hearing your feedback on our forums and actively seek to incorporate changes and new features into upcoming builds so come and get involved with the development of Isomer!"
How long will this game be in Early Access?
"A few months, enough time to polish and balance all of the mechanics and add all the features we originally planned."
How is the full version planned to differ from the Early Access version?
"Fundamentally it will be very similar to how the alpha is now. Where it will differ is in the level of graphical polish, number of features and overall feel."
What is the current state of the Early Access version?
"The current build is mature, stable and has all the core gameplay mechanics in place. Over time each will get more attention and incremental improvements as we look to reach 1.0"
Will the game be priced differently during and after Early Access?
"We are offering Isomer at a reduced price during our Early Access phase to allow as many people as possible to contribute to the development of the game."
How are you planning on involving the Community in your development process?
"Community feedback and suggestions are extremely important to us. We are making the game we always wanted to play, but we want the community to enjoy playing it as much as we do. We actively seek to incorporate feedback and suggestions quickly into upcoming builds." Read more
August 31
The most commonly seen questions I've seen on the Isomer Steam community and officials forums have related to tutorials .. specially the lack there-of. In previous builds, Isomer would start off without much (or even any) explanation or back story. One minute you're generating a world, the next BAM! You're on that world with a few bewildered workers wondering exactly why their commander is having so much trouble with that mouse thing they're holding.

Well worry no more, in the build that was released earlier today (0.8.10.1) my focus has been adding tutorials and help screens. More than 30 different tutorials are now in the game (can you catch them all?) and will trigger depending on what's currently happening. My hope this will answer a lot of questions, help new players and provide some background to some of the hidden mechanics in Isomer.

On top of this I've made the title screen more snazzy (ooo procedural nebulae...) and made a number of general tweaks. Spawn pads will now heal units standing on top of them which makes them much more useful, especially for static guard posts. Unit decision making and movement has been improved to make sure any unit that side steps to get a shot at an enemy will face in the correct direction when they step back to their original position. Furthermore, combat instructions are always prioritised even when a unit or group of units is moving making control more intuitive.

Lastly, some weapons have had their accuracies tweaked to balance the game a bit more. Hint - use more lancers ;-)

Here's the full change log for build 0.8.10.1:

New: Enemy units rank 4 or above now have special rank decorations.
New: Added 31 tutorials to the game.
New: Spawn pads now heal units standing on top of them.

Improved: If a unit moves as a result of a combat side step, on returning to their original location they will turn back to where they were originally facing.
Improved: Improved title screen background and added an Early Access badge.
Improved: Made Alien Blaster Heavy Rifle less accurate (Good -> Average).
Improved: Lancer weapons have been made more accurate (Average -> Good).
Improved: Units assigned an attack order will prioritise this above all other instructions.

Bugfix: Fixed erroneous logging of prefab config files being missing.


As usual the update can be downloaded from the launcher or automagically via Steam.
3 comments
Read more
August 15
After a few days of downtime following the crunch involved in getting Isomer ready for Steam, I have just released a new Isomer build. Build 0.8.9.1 focuses on enhancing enemy bases in a number of ways and fixes bugs reported on the forums from the last build.

So, what's new with enemy facilities? Firstly there's a new block called an alarm control core - this block can be found in some enemy bases and controls all the alarm sensors throughout this facility. Destroying a base alarm control will disable all the sensors and alarms in the building making it easier to assault the powercore without interruption.




Secondly, enemy bases can now extend underground! Previously no enemy base could have any part of it below the ground, as of this build several buildings have extensive underground rooms and corridors adding to exploration and discovery.




Aside from this, two entirely new enemy buildings have been added and more than ten others have been tweaked and updated
1 comments
Read more
About the Game
Isomer is an isometric strategy game inspired by classic turn based games from the 90s and many other more recent survival titles. It's open ended, sandbox and each world is procedurally generated leading to an almost unlimited number of different worlds to explore, mine, loot and conquer.

You play the role of the commander of an alien force sent to a distant planet tasked with setting up a mining outpost. You land with a dropship and a complement of minions who will mine for resources, build fortifications and blast any unwitting humans who venture too close. Each world has it's own distribution of biomes, resources and enemy facilties staffed with angry defenders keen on evicting you from their planet!

How long will you survive? What will you find on each world? How large will you build your base and armies?
System Requirements
Minimum:


OS: Windows XP

Processor: Pentium 4 3.0Ghz

Memory: 2 GB RAM

Graphics: A screen resolution of at least 1024x768

DirectX: Version 9.0c

Hard Drive: 500 MB available space

Additional Notes: Minimum dual core processor recommended
Recommended:


OS: Windows 8

Processor: Intel Core i5

Memory: 4 GB RAM

Graphics: Dedicated graphics card

Hard Drive: 1 GB available space
Helpful customer reviews
Title:
Isomer
Genre:
Action
,
Indie
,
Strategy
,
Early Access
Developer:
Ionising Software
Publisher:
Ionising Software
Release Date:
Jul 11, 2014
Languages:
| | Interface | Full audio | Subtitles |
| --- | --- | --- | --- |
| English | | | |