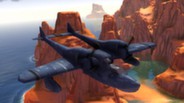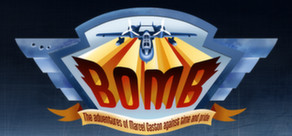 Cool aircraft, big guns, dogfight thrill, single player, multi player, modding support, moustaches and ladies. You'll like it.
Release Date: Aug 1
Watch HD video
Early Access Game
Get instant access and start playing; get involved with this game as it develops.
Note: This Early Access game may or may not change significantly over the course of development. If you are not excited to play this game in its current state, then you may want to wait until the game progresses further in development. Learn more
What the developers have to say:
Why Early Access?
"BOMB single player mode is complete and fully enjoyable, but we took the decision to release the game in early access to improve the multiplayer mode and the balancing of aircrafts, along with fixing some unexpected bugs."
How long will this game be in Early Access?
"We are expecting an early access period of 3 months."
How is the full version planned to differ from the Early Access version?
"More contents, like more maps, more skins, more cockpits. We have not yet decided if the modding tools will come at the same time as the final version or a bit later."
What is the current state of the Early Access version?
"The game is complete and almost bug-free, but still need some polish."
Will the game be priced differently during and after Early Access?
"There is a 25% discount during the early access."
How are you planning on involving the Community in your development process?
"We are open to all kind of suggestion to make the game better, as we already do, as soon as they do not involve a major modification of the game spirit." Read more
September 9
The Mk IIIf version is on-line.

It contains various fixes and minor gameplay and UI enhancements asked by the community on the forums.
More will come soon, such as additional in-mission checkpoints.

The change log:

Improved the AI mid-air collision avoidance code.

The player aircraft is now stabilized during in-mission dialogs when the camera looks at other aircraft.

Added axis value viewer in the input configuration menu (see picture below)

Added a confirmation menu before leaving the game during gameplay.

Fixed a minor bug with the Xbox controller triggers.

Fixed a menu bug in skirmish mode.

0 comments
Read more
September 5
It's been a while since the last update, mainly because we were working hard on the Linux port, which is almost completed.

The Mk IIIe is a maintenance update, containing a few enhancements and optimizations.

The changelog:

Level loading is now faster, especially during a map change.

Fixed the bug of the guns firing after a loading.

The screen saver no more pops up when playing the game.

The control settings menu buttons are now a bit larger.

The camera when using the W.I.P mouse control has been changed.
0 comments
Read more
Reviews
"I can't see myself abandoning hard-drinking wino hero Marcel 'La Moustache' Gaston before his story's done."
Rock Paper Shotgun

About the Game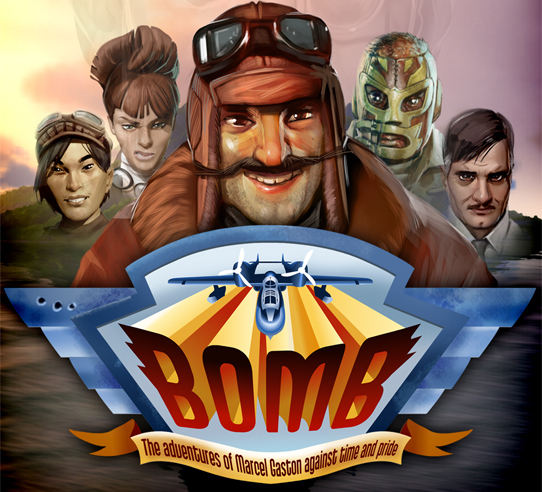 BOMB
is a pure dogfighting game, mixing elements of both arcade and simulation, easy to handle while providing convincing flight dynamics.
Forget all serious WW2 air combat games and take part of an epic adventure in an unique world: fly heavily armed aircraft and fight air pirates, destroy ships, tanks, and even zeppelins ! BOMB is first of all a game made for Fun !
Fight against your friends in dogfight, team dogfight and race multi-player modes, with up to 16 players.
Key Features
Platform: Windows. (Linux and Mac versions will come later)

An epic adventure with over 17 missions.

3 different environments: desert, fjords and pacific atolls.

Multiplayer modes: deathmatch, team deathmatch, race, and more to come.

Joystick focused gameplay, but playing with a gamepad is fine too.

Modding tools will be provided soon after release.
System Requirements
Minimum:


OS: Windows Vista

Processor: Intel Core 2 Duo 6800

Memory: 2 GB RAM

Graphics: GeForce 300 Series/Radeon HD 5800/Intel HD 4xxx

DirectX: Version 11

Hard Drive: 2 GB available space
Recommended:


OS: Windows 7

Processor: Intel Core i3

Memory: 4 GB RAM

Graphics: GeForce 500 Series/Radeon HD 7800

DirectX: Version 11

Hard Drive: 2 GB available space

Additional Notes: A joystick is recommended for the full game experience
Helpful customer reviews
Title:
BOMB
Genre:
Action
,
Adventure
,
Indie
,
Simulation
,
Early Access
Developer:
La Moustache Studio
Publisher:
La Moustache Studio
Release Date:
Aug 1
Languages:
| | Interface | Full audio | Subtitles |
| --- | --- | --- | --- |
| English | | | |
| French | | | |