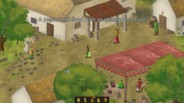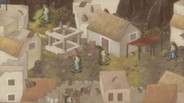 Unrest is a role playing adventure game set in a fantasy interpretation of ancient India that adapts to death, failure, and the choices you make. Play as ordinary people in a struggle for safety, freedom, and a chance at peace. Use conversation, manipulation (and rarely, violence) to achieve your goals.
Release Date: Jul 23, 2014
Watch all 3 trailers
Buy Unrest Soundtrack Edition
Buy Unrest Special Edition
Downloadable Content For This Game
August 3
We've updated the game with new visual effects to make transitions between chapters smoother. NPC's will no longer disappear without visual cues, and the endings to chapters now flow into the next more effectively.

Thanks to amazing programmer Johannes Krampf and his tailor-made script, Unrest now supports Intel graphics chips and laptops! Our thanks go out to him for going out of his way to help us. Our Friendship and Respect values are at maximum for Mr. Krampf!
0 comments
Read more
Reviews
"Ethical dilemmas reminiscent of Papers, Please."
Edge

"Its heavy focus on the story does wonders thanks to some great writing, and almost every character you meet or play will have understandable backstories, motivations and traits."
IGN

"Unrest is excellent [...] It's not often that a game I'm reviewing hooks me so hard that I play it through twice."
Indie Games

Special Edition
About the Game
Set in a fantasy interpretation of ancient India, Unrest is an adventure RPG focused on story and choices. Play as five ordinary people who are struggling to get by in the famine-stricken city-state of Bhimra.
Brave poverty, disease, treason, political and social upheaval. Face unique burdens and gripping dilemmas as you struggle to survive in each chapter...but choices made to help one character may well make life harder for another.
In Unrest, there are no heroes of legend, there is no mystical quest, and fate has not chosen you.
You're on your own.
Key Features
Diverse Characters: Play as a peasant girl faced with an arranged marriage, a priest troubled by his radical temple, a slum dweller with a dangerous past, an ambassador from a militant nation, and a mercenary captain far out of his depth - all as part of the same narrative.


Reactive Storyline: Hard decisions made in one chapter have consequences in the next. A choice made as one character may well determine the fate of another.


No Right Answers: There are no fail states in Unrest - if a character dies or fails in their objectives, that becomes part of the narrative. You can play in Iron Man mode to ensure there are no second chances, or save/load if you wish (not that we recommend it).


Complex Conversations: Unrest's dialogues are organic, branching exchanges designed to offer an unparalleled level of control and involvement to the player. You'll always know exactly what you're saying and how you're saying it, and you'll be able to see how much the person likes, fears, or respects you as a result.


Violence is Rarely the Answer: Combat in Unrest is rare and always avoidable. When faced with the possibility of death, it's up to you to decide how much you're willing to risk.


Lush Art & Music: Unrest's hand-drawn sprites and environments call to mind a living canvas, while the classical Indian soundtrack perfectly echoes the narrative's emotional core.


Mod Support: Create and share your own worlds and adventures.
Notable Mentions
Unrest is a game that makes me think of Bede, of transience and loss...Unrest captures something of the lives of people rather than the bombast of heroes and protagonists.
-
Rock Paper Shotgun
One of
Time Magazine
's games to watch for summer 2014
Pyrodactyl's promises of deep interactivity and role playing freedom have, in fact, been fulfilled -
The Cloud Monster
[Unrest] tells the kind of story that very few games are willing (or able) to tell... -
New World Notes
…seems really cool. I'm so thrilled that [Unrest] even exists –
Jesse Cox
PC System Requirements
Minimum:


OS: Windows XP SP2 or newer

Processor: 2 GHz Intel Core 2 Duo or AMD equivalent

Memory: 2 GB RAM

Graphics: DirectX 9 compatible graphics card with 1 GB memory

Hard Drive: 1 GB available space

Additional Notes: Monitor resolution of 1280x720 or greater recommended
Mac System Requirements
Minimum:


OS: OS X 10.7 or newer

Processor: 2 GHz Intel Core 2 Duo or AMD equivalent

Memory: 2 GB RAM

Graphics: OpenGL 2.1 compatible graphics card with 1 GB memory

Hard Drive: 1 GB available space

Additional Notes: Monitor resolution of 1280x720 or greater recommended
Linux System Requirements
Minimum:


OS: Only 64-bit Linux OSes are supported at the moment

Processor: 2 GHz Intel Core 2 Duo or AMD equivalent

Memory: 2 GB RAM

Graphics: OpenGL 2.1 compatible graphics card with 1 GB memory

Hard Drive: 1 GB available space

Additional Notes: Monitor resolution of 1280x720 or greater recommended
Helpful customer reviews