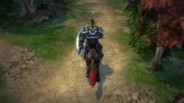 Time has come to join the dark side. Take a trip to the other side of Teana, to the part of the world that has yet remained unseen to the royal bounty hunters. Take advantage of buying the game at a reduced price available during Early Access right now!
Release Date: Aug 19, 2014
Watch HD video
Buy King's Bounty: Dark Side
Buy Kings Bounty: Dark Side Premium Edition
September 2
1. Crash that occurred when a unit linked with String of Life walked into a trap has been fixed;
2. Dark elves can be hired from Nazimus The Dark;
3. A chest that couldn't be collected in the sea near Amazonia has been moved;
4. Troops can't be hired anymore in the ghost ship on White Mountain;
5. Minor fixes in various dialogs.

1. Исправлен вылет срабатывании ловушки на юните, связанном нитью жизни;
2. Добавлены темные эльфы в магазин Назимуса Темного;
3. Перемещен неберущийся сундук в море у Амазонии;
4. Убран магазин в корабле-призраке на Белой Горе;
5. Минорные исправления в диалогах.
5 comments
Read more
August 28
Wir freuen uns, Ihnen mitteilen zu können, dass die Deutsche Version von King's Bounty: The Dark Side ab heute erhältlich ist. Sollte die Deutsche Sprache nicht gleich in Ihrem Steam Client erscheinen, starten Sie diesen bitte neu.

We are happy to announce that the German version of King's Bounty Dark Side is available starting today. If the German language doesn't show up in your Steam client, please restart Steam first.
0 comments
Read more
Premium edition
Premium edition includes Dark Side Cookies bonus DLC that features:

Clot of Darkness amulet providing bonus to money and experience

Two additional locations

Over a dozen additional quests and a new unit
About the Game
Time has come to join the Dark Journey to the other side of Teana and visit a mysterious part of the world never before seen by royal bounty hunters.
For the first time in King's Bounty series, players will be able to choose their hero's race as well as class. Become a fearless Orcs warrior, lead and heal your troops as a Demoness, or use dark magic as a fearsome Vampire.
The world is in turmoil. After winning the battle of Tristrem, arrogant elves plunder Orcish villages, desecrate holy shrines, and massacre the innocents. Orc-Baghyr, the greatest living Orc warrior, is forced to flee with a handful of loyal followers. He vows to return with a stronger force and retake his homeland!
Armies of human knights invade the land of Atrixus. A young Demoness named Neoleene, still mourning the death of her royal father, and her small unit of devoted imps is all that stands in the way of the invading horde.
Castle of the ancient Morton clan is threatened by an army of vampire hunters. Young Daert leaves home to seek allies among the other Dark races. All must join him or perish.
Fates of the three heroes are sealed. They come together in the depths of the Black Cave, where many centuries ago races of Light imprisoned Ancient Evil. The heroes exchange vows and share antique artifacts, then gather their armies and march to fight for the very survival of their race. They must unite against the Light or face extinction!
New companion system (different companions for each character);

New battle companion;

New units, artifacts, and rage abilities;

Over 100 new quests and 15 new locations.
PC System Requirements
Minimum:


OS: Windows XP (SP3 required), Vista, 7, 8

Processor: 2.6 GHz and better

Memory: 1 GB RAM

Graphics: nVidia GeForce 6600 with 128 Mb VRAM or similar AMD card

DirectX: Version 9.0c

Hard Drive: 8 GB available space

Sound Card: DirectX 9.0c compliant
King's Bounty: Dark Side © SoftClub IP Management Inc. 2014. All rights reserved.
Helpful customer reviews