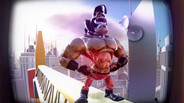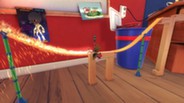 Run, jump and butt-slide into the glorious toy-filled world of Action Henk! Become a master of momentum and defy physics as you race against a band of ragged 90s action figures to once and for all prove that Action Henk is the fastest of them all!
Release Date: Jul 8, 2014
Watch all 2 trailers
Early Access Game
Get instant access and start playing; get involved with this game as it develops.
Note: This Early Access game may or may not change significantly over the course of development. If you are not excited to play this game in its current state, then you may want to wait until the game progresses further in development. Learn more
What the developers have to say:
Why Early Access?
"Action Henk is already in a stable and fully playable state, but it needs more levels, characters, tweaks and polish, and we want to do that with your help! As we wrap up Action Henk we intend to listen closely to our community, iterate, and make it the best toy-stalgic speedrunning game we can possibly create!"
How long will this game be in Early Access?
"Action Henk should be complete in roughly 6 months. We might take a bit more time to create more content as community demands."
How is the full version planned to differ from the Early Access version?
"Action Henk is already a robust experience, and we intend to more than double the current amount of levels, in addition to adding more challenges, gadgets and unlockables. Depending on community demand we're also planning on adding a level editor."
What is the current state of the Early Access version?
"With 25 levels, 2 playable characters, dedicated grappling hook levels and a whole host of medals to beat, Action Henk is ready to be played on Windows, Mac & Linux!"
Will the game be priced differently during and after Early Access?
"To support those who want to get involved during the development, Action Henk is slightly cheaper while still in Early Access."
How are you planning on involving the Community in your development process?
"We'll be keeping a close eye on our community, and listen carefully to their feedback! Only through a healthy dose of iteration we'll be able to make Action Henk the best game it can possibly be!" Read more
September 4


Two weeks ago we set out for a challenge, which was to implement online multiplayer into Action Henk before the next update. After two very hectic weeks, we're proud to announce that we managed to do it. Everyone can now try out the first version of Action Henk's multiplayer!

Because this is still an early version, the servers will only be online every Thursday and Saturday from 18:00 till 02:00 CET (11am-7pm PDT). This is to make sure that we can oversee the playtests, and keep a close eye to make sure everything functions properly. There is a possibility that we will be doing extra playtests, so make sure you join the Official Steam group to be kept up to date on any changes!

Another important announcement we need to make is that the next update will not be in two weeks. This is because we have found out that pushing out an update every two weeks doesn't give us the time to polish new features as much as we would like to. Because of all this, we will be aiming to release the next update at the end of September. This will allow us to stay focused for longer, and give you more, higher quality content at once! The bi-weekly updates basically put us in a constant state of crunch time, which our bodies can only cope with for so long. ;)

As usual, we will keep everyone up to date on our Facebook and Twitter. Be sure to like/follow us there if you want to be in on some sneak peeks!

We hope you enjoy the first multiplayer version, and stay tuned for more cool multiplayer stuff we have planned!

Features

First version of multiplayer! A level is played for a couple of minutes, and within this time you can play and retry as often as you like, its about who can set the best score during this time. If you win you get points, and the more players you beat, the more points you get. These global multiplayer points will be showcased on a global multiplayer leaderboard.
Community highlights
One of Action Henk's best players 'Qwertzoi' has been making some super helpful videos where he
explains how to do all tracks in-depth
. So if you're struggling to get those notorious rainbow medals, be sure to to listen to his advice.
3 comments
Read more
August 21


The past two weeks most of us were attending the Game Developers Conference and Gamescom in Cologne (Germany) to showcase the game to people from all over the world.
Nonetheless we still managed to get a couple of cool things in this update. We've got 64-bit Linux support, more skin-specific particles and a very, very long level.
We're also happy to announce that next week we will be showcasing Action Henk at PAX Prime at the Indie MEGABOOTH! So if you're around, make sure to drop by and chat with us!

New Platforms:

Linux 64-bit support! Leaderboards and replays now work on Linux 64-bit.
New Levels:
Marathon (Medium). This level is loooong!
Interface:
People who have identical times now also have identical ranks.

Level select list improved.
Misc:
Most of the character skins have received death particles and/or sounds for when they fall in the lava. Most skins also have their particles updated to make them stand out from each other even more. Most notably: Swan Henk, Blue Blaze Henk and Boxing Betsy.

We've had problems with the Steamworks plugin we use so we've replaced the whole thing altogether, this should reduce the number of random crashes some people had.

When you get to the character select it starts at the most recently played character/skin combination.
Fixes:
The anti-aliasing menu option now works correctly.

The alternative Henk theme now plays correctly.
Community highlights
Community member Assault brought
this video
to our attention, it's an amazing attempt at the world record on "The Drop", he absolutely nails it! This morning we also laughed at
Tengu Drop's
new video. He basically tries every hard level there is, and eventually gives up because they are way too hard for him :D
Next Update
We'll be customizing the character skins more with unique sound effects and more unique particles per skin. We're also working on something big but that'll have to wait until next update ;)
That's it again, as always we'll be on the forums and the next update will be ready for you in two weeks, we can't wait for that one!
The RageSquid team.
0 comments
Read more
About the Game
Run, jump and butt-slide into the glorious toy-filled world of Action Henk! Become a master of momentum and defy physics as you race against a band of ragged 90s action figures to once and for all prove that Action Henk is the fastest of them all! Dash across dangerous tracks and tricky constructions, earn those medals, beat those challenges, and leave your friends behind in a blaze of butt-sliding glory.


Action Henk is already a robust experience with many features currently in place:
Challenging levels: Tackle 25 unique levels filled with jumps, slides, and tricky shortcuts. Can you master every twist and jump to beat your friends and gain your rightful place on the leaderboards?

Unique gadgets: Switch up the action with dedicated grappling hook levels, forcing you to make the most out of your platforming skills while adding a whole different way to maintain your momentum.

Challenge your friends: Load up your favorite levels and race against your friend's ghosts to see who is truly the best!

Unlockable characters: Play as slightly out-of-shape Action Henk or his personal trainer Betsy and beat times and challenges to earn medals and unlock new level sets, skins, and characters! Learn from the best by taking on ghost runs of the reigning world champions in each level!

Bouncing beats: A pumping soundtrack by demoscene legend Wiklund.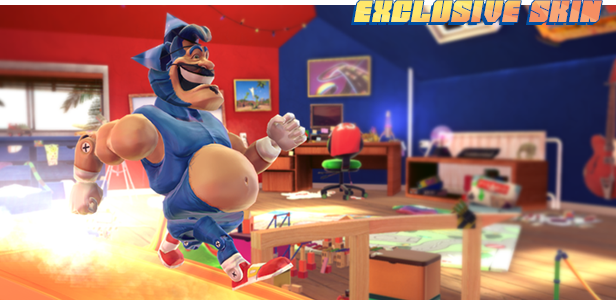 What to expect next? Updated builds will be delivered every month, bringing new tracks to race through, more challenges, more unlockable characters and more polish. We will eventually even take the game outside of the bedroom for some beautiful beach-side racing! All of that, while a constant layer of tweaks and community feedback is applied!
New levels: Over 50 different levels to master with Action Henk and his cast of speedy friends.

New scenery: We're taking Henk to the beach. A full set of outdoor levels to compliment the indoor environments!

New gadgets: More items like the grappling hook. Expect pogo sticks and perhaps even an RC truck!

New action figures: A full cast of six unlockable action figures, each with their own set of skins.

Level editor: Depending on community demand, we intend to add a fully functional level editor. Fingers crossed!

PC System Requirements
Minimum:


OS: Windows Vista, 7, 8

Processor: Intel Dual-Core 2.4 GHz

Memory: 2 GB RAM

Graphics: Nvidia Geforce GT 430/equivalent or higher

Hard Drive: 2 GB available space
Recommended:


OS: Windows Vista, 7, 8

Processor: High-range Intel Core i5

Memory: 2 GB RAM

Graphics: Nvidia Geforce GTX 560/equivalent or higher

Hard Drive: 2 GB available space
Mac System Requirements
Minimum:


OS: OS X 10.6 or higher

Processor: Intel Dual-Core 2.4 GHz

Memory: 2 GB RAM

Graphics: Nvidia Geforce GT 430/equivalent or higher

Hard Drive: 2 GB available space
Recommended:


OS: OS X 10.6 or higher

Processor: High-range Intel Core i5

Memory: 2 GB RAM

Graphics: Nvidia Geforce GTX 560/equivalent or higher

Hard Drive: 2 GB available space
Linux System Requirements
Minimum:


OS: Ubuntu 12.04 32-bit

Processor: Intel Dual-Core 2.4 GHz

Memory: 2 GB RAM

Graphics: Nvidia Geforce GT 430/equivalent or higher

Hard Drive: 2 GB available space
Recommended:


OS: Ubuntu 12.04 32-bit

Processor: High-range Intel Core i5

Memory: 2 GB RAM

Graphics: Nvidia Geforce GTX 560/equivalent or higher

Hard Drive: 2 GB available space
Helpful customer reviews
Title:
Action Henk
Genre:
Action
,
Indie
,
Racing
,
Early Access
Developer:
RageSquid
Publisher:
RageSquid
Release Date:
Jul 8, 2014
Languages:
| | Interface | Full audio | Subtitles |
| --- | --- | --- | --- |
| English | | | |
Awards