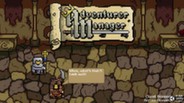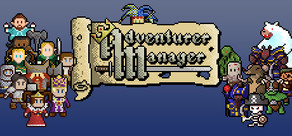 Reunite the kingdom of Adventuria and defeat the evil Illusionist Miraj by recruiting Adventurers to send on Adventures for epic loot and rewards in this RPG/Management Sim with tons of depth, randomization, and customization options!
Release Date: Apr 23, 2014
Watch all 2 trailers
Early Access Game
Get instant access and start playing; get involved with this game as it develops.
Note: This Early Access game may or may not change significantly over the course of development. If you are not excited to play this game in its current state, then you may want to wait until the game progresses further in development. Learn more
What the developers have to say:
Why Early Access?
"VAStudios mission is to maintain development transparency while involving the player and their feedback throughout our games' development cycles. Early Access allows us to deliver our games to you at a discounted rate while also enabling us to also generate some development revenue. We are a small team working on Adventurer Manager and we opted out of traditional crowd-funding methods in favor of the direct feedback and transparency that Early Access allows. While those methods allowed us to make money, it prevented us from having direct and meaningful interactions with our players. Many player suggestions have already made it into the game as we make concerned efforts to work with our players to develop an incredible game that we all want to be playing."
How long will this game be in Early Access?
"We expect Adventurer Manager to release sometime in Fall 2014."
How is the full version planned to differ from the Early Access version?
"The full version of Adventurer Manager will include as many of our Planned Features as possible as well as probably some exciting extras!"
What is the current state of the Early Access version?
"Adventurer Manager is fully playable with Adventurer levels 1-33 out of 50 obtainable with 5 Races and all 8 base Classes available. We have dozens of weapons and armors types, each with their own unique appearances. There are currently over 10 unique dungeons with dozens of nodes to explore full of random events, mini-bosses and bosses. The game receives regular updates with improvements to all existing systems as well as the introduction of brand new content. Many of our players have already put in dozens of hours so there is plenty to keep you busy!"
Will the game be priced differently during and after Early Access?
"During Early Access, Adventurer Manager will be priced at 4.99USD and we expect at release it will increase to 9.99USD to reflect the many new features that will be introduced."
How are you planning on involving the Community in your development process?
"We check our Steam and Studio discussion boards daily to answer questions and elicit feedback and suggestions from our players. Tons of player feedback and suggestions have made it into the game thus far and we expect more to come. We even work more directly with our most committed players by chatting with the daily on all aspects of the game. We respect and appreciate our community's involvement in Adventurer Manager the same as we respect and appreciate our internal team." Read more
July 18th, 2014
This build revamps the Castle Upgrade system which allows the player to select from several different upgrades that affect overall gameplay.

IMPORTANT
You will most likely need to build a couple stash modules after the update to accommodate the new system. Please me mindful of this when entering the game after this patch since the old upgrades are no longer valid.

Gameplay
- Castle Upgrades!
-- Upgrading the Castle is now done through the Castle in the world map and has many different upgrades.
-- Be mindful of which upgrades are selected early on because demolishing pieces can only be done from the top down like building blocks.
- To accommodate the upcoming University changes and bonuses for Magic Find, Gold Find and other perks.. Magic and Gold find now take the average across all Adventurers in the party. Magic find is also being tweaked a bit to accommodate this change. The end result is for MF to be more of an end game farming component.
- More animations added to the World Map.
0 comments
Read more
July 13th, 2014
Gameplay
- The Pirate Ship and Bone Graveyard are now unlocked making the new level cap 39.
- Different traps have been added to game.
- Holding alt now works for selling higher quality items in the shop.
- Adventurers sent on auto quests no longer find it worth their time to bring back common quality items. This makes it a lot easier to manage auto adventures and loot issues.
- The difficulty indicator of a manual dungeon crawl is now based off the min monster level of the dungeon, hopefully making the visual indicators flow better.
- The Jester has built a time machine and went far into the future where a magical device called a keyboard was introduced. After years of reverse engineering he has discovered the fabled ESC key! Upon sharing this with the kingdom of Adventuria they have craftfully implemented it into the UI system to allow closing windows. Rejoice! (Please report any windows where ESC doesn't seem to work properly or doesn't work at all)
- Block has been changed from a full negate effect to instead block a % of damage. This will allow better functionality in the University and class differentiation like making the Paladin absorb more damage on buffs in the future.
- Changed dungeon UI to allow better readability of fonts on different backgrounds.
- Auto Quests now require the dungeon they associate with to be cleared before being able to be taken.

Bugs
- Fixed a bug causing all saved party data to be overwritten by the members in party 1 upon closing and re-opening the game.
- Allegiance was being incorrectly saved and will probably be reset with this patch. This will affect anyone hiring the different classes, so you will have to farm back to at least Allegiance level 1 for a town to hire all the classes again. Sorry, alpha! :) All save game data is verified moved to the new file based system now.

4 comments
Read more
Reviews
"This game has the most absurd quest details and dialogue you will ever experience in your life, and it's the best thing ever."
Shoost

"If you want to buy a ticket to see a game get made in incremental stages and enjoy JRPGs, Adventurer Manager is the best choice on Steam today."
Steam1st

"Adventurer Manager (which we first glimpsed last August) is going to kick us all upstairs into the castle corner office we so richly deserve after our long toil."
Pocket Tactics

About the Game

Welcome to the Early Access for Adventurer Manager where the game is ONLY $4.99USD! Buy now before the game releases at it's FULL PRICE of $9.99! We're thrilled to be at this stage in development and to share it with you!
Why are we so thrilled?! It's because Early Access is where a lot of the boring base systems are now in place and we are going content heavy! That means that nearly every major patch will include new content and new systems and boy do we have a lot of them planned! You can see a running list in our Planned Features list at the bottom of our Store Page and expect it to change frequently. We will try our hardest to be transparent in our development process so you know what we're working on before we've released it. Also, what's more exciting is the ability for you, the player, to help shape and mold Adventurer Manager into the game you really want to be playing!
Thanks for supporting Adventurer Manager!
The evil Illusionist Miraj has murdered your parents, the King and Queen, and has taken control of the Kingdom of Adventuria. Playing as the King's sole heir, you must recruit local Adventurers to complete Adventures to regain the loyalty of the various races in the realm. Only through reuniting your kingdom will you have the power to defeat the evil Illusionist Miraj!
Create Your Ruler to begin your story!

Recruit Randomized Adventurers from 7 races and 8 classes each with their own bios, benefits, and drawbacks!

Unlock Secret Party Bonuses by organizing your Adventurers into 4 separate parties and arranging their formation front to back!

Go on Adventures from over a dozen different locations on a large world map!

Explore dozens of unique dungeons!

Automatically Complete Adventures and...

Manually Complete Adventures for bonus rewards!

Turn-based Combat with dozens of skills and spells!

Level Up your Adventurers with stat points!

Dozens of Skills from unique skill trees!

Endlessly Generated Loot to equip your Adventurers ranging from common, uncommon, rare, legendary, unique, and set items!

Dozens of Monster Types each with...

Resistances and Weaknesses to exploit.

Unique Boss and Miniboss monsters to challenge your toughest Adventurers!

Craft and Salvage Equipment to create the perfect equipment!

Upgrade Your Castle to impart benefits to all of your Adventurers!

Gain Your Subjects' Allegiance to receive upgraded Adventurers and more!

Avoid Deadly Traps or don't!

Maintain your Racial Allegiance to improve your Adventures!

Adventurer Endurance and Injuries that need time to heal!

Harsh Death Penalty where resurrecting your Adventurers isn't cheap!

Original Retro-inspired Soundtrack!

Steam Trading Cards!
(in no particular order!)
Jewelcrafting! to socket in your items!

More Castle Upgrades and town visual improvements!

Extended Level Cap to finish the story!

Adventurer University where you can educate your Adventurers!

Adventurer Relationships to make those dinner conversations awkward!

Bestiary that tracks your Monster kills to unlock information and gain bonuses against them!

Adventurer Titles to earn that give them bonuses!

UI Improvements to make the game look and feel better!

Advanced Classes to find and unlock!

Improved Item Rolling to create more item variance!

More Items and item types, who doesn't like more items?!

Ironman Mode where when your Adventurers die, they stay dead!

Achievements to track all your dead Adventurers!

Adventurer Appearance Customization to allow you to customize your Adventurers!

Queens, because this isn't just a man's world!

Adventurer Salaries, because no one wants to work for free!

More Tutorials to assist you!

and more to come!
PC System Requirements
Minimum:


OS: WinXP or later

Processor: 1.8GHz

Memory: 512 MB RAM

Graphics: Direct3D/OpenGL compatible card with at least 128MB

DirectX: Version 9.0c

Hard Drive: 150 MB available space

Sound Card: 2d sound compatible card
Mac System Requirements
Minimum:


OS: OS X 10.5 or later

Processor: 1.8GHz

Memory: 512 MB RAM

Graphics: Direct3D/OpenGL compatible card with at least 128MB

Hard Drive: 150 MB available space

Sound Card: 2d sound compatible card
Helpful customer reviews
Title:
Adventurer Manager
Genre:
Casual
,
Indie
,
RPG
,
Simulation
,
Early Access
Developer:
Vigilant Addiction Studios
Publisher:
BBEW BBEW, LLC
Release Date:
Apr 23, 2014
Languages:
| | Interface | Full audio | Subtitles |
| --- | --- | --- | --- |
| English | | | |