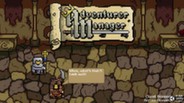 Reunite the kingdom of Adventuria and defeat the evil Illusionist Miraj by recruiting Adventurers to send on Adventures for epic loot and rewards in this RPG/Management Sim with tons of depth, randomization, and customization options!
Release Date: Apr 23, 2014
Watch all 2 trailers
Early Access Game
Get instant access and start playing; get involved with this game as it develops.
Note: This Early Access game may or may not change significantly over the course of development. If you are not excited to play this game in its current state, then you may want to wait until the game progresses further in development. Learn more
What the developers have to say:
Why Early Access?
"VAStudios mission is to maintain development transparency while involving the player and their feedback throughout our games' development cycles. Early Access allows us to deliver our games to you at a discounted rate while also enabling us to also generate some development revenue. We are a small team working on Adventurer Manager and we opted out of traditional crowd-funding methods in favor of the direct feedback and transparency that Early Access allows. While those methods allowed us to make money, it prevented us from having direct and meaningful interactions with our players. Many player suggestions have already made it into the game as we make concerned efforts to work with our players to develop an incredible game that we all want to be playing."
How long will this game be in Early Access?
"We expect Adventurer Manager to release sometime in Fall 2014."
How is the full version planned to differ from the Early Access version?
"The full version of Adventurer Manager will include as many of our Planned Features as possible as well as probably some exciting extras!"
What is the current state of the Early Access version?
"Adventurer Manager is fully playable with Adventurer levels 1-33 out of 50 obtainable with 5 Races and all 8 base Classes available. We have dozens of weapons and armors types, each with their own unique appearances. There are currently over 10 unique dungeons with dozens of nodes to explore full of random events, mini-bosses and bosses. The game receives regular updates with improvements to all existing systems as well as the introduction of brand new content. Many of our players have already put in dozens of hours so there is plenty to keep you busy!"
Will the game be priced differently during and after Early Access?
"During Early Access, Adventurer Manager will be priced at 4.99USD and we expect at release it will increase to 9.99USD to reflect the many new features that will be introduced."
How are you planning on involving the Community in your development process?
"We check our Steam and Studio discussion boards daily to answer questions and elicit feedback and suggestions from our players. Tons of player feedback and suggestions have made it into the game thus far and we expect more to come. We even work more directly with our most committed players by chatting with the daily on all aspects of the game. We respect and appreciate our community's involvement in Adventurer Manager the same as we respect and appreciate our internal team." Read more
August 13th, 2014
IMPORTANT NOTE: Due to the nature of this patch, it is highly likely all Adventurers will need to be issued a respec.

5 NEW CLASSES!
- Shaman, A STR/WIS based class capable of strong STR based melee attacks and WIS based Spellpower nukes, heals, and buffing/debuffing HP Regen.
- Warlock, An INT based class capable of strong damage over time spells, nukes, buffing/debuffing Life on Hit, and reducing the heal effect on targets.
- Enchanter, An INT based class capable of nukes, crowd control, buffing/debuffing Energy Regen, and decreasing energy costs for allies.
- Death Knight, A STR/INT based class capable of melee damage, nukes, buffing/debuffing Spellpower, and Life on Hit attacks.
- Arbalester, A DEX/INT based class capable of ranged physical damage, nukes, armor penetration, buffing/debuffing Energy on Hit, and increasing damage done vs foes.

Gameplay
- All Classes received a once over to remove many pointless buffs and debuffs. Every class had at least 1-3 skills changed in this newest pass.
- All Classes' damage tables have been adjusted. Non DPS classes should hit for far less than they used to.
- Adventurer Classes no longer have modifiers that grant different Weapon Damage and Spellpower per point of investment in their respective attribute.
- All skills are now updated with %'s that are "what you see is what you get" to better help players understand the effective power of the skill.
- Skill investment costs changed from 1,1,1,1,2,2,2,2,3,3 to 1,1,1,1,1,2,2,2,2,2 which allows for maxing 3 skills and picking up a 4th at 5 points.
- Crit damage bonus rolls on items dropped from 5-10% to 3-5%.
- Crit damage bonus in university dropped from 25% at 5/5 to 15% at 5/5 for 1h weapons and 20% for 2h weapons that can train it.
- Some skills for hybrid classes that use INT or WIS have had some skills changed to Spellpower.
- Auto adventure XP was lowered by 50%.
- Auto adventures no longer grant Ruler XP.
- The formula for calculating armor has changed slightly as was not in line with the goal. It should now require a plate helm, chest, and shield to reach max mitigation without any bonuses from University courses and/or Passives.
- Reflect Damage Mutator base amount decreased by 25%.
- Added the ability to cancel and refund the currently training University course.
- Projectile spells can now be dodged.
- Energy is now fully restored at the end of each encounter.
- Chance for ambushes while Resting has been increased.
- Poison and Chaos damage types were added to the game. Chaos is a magical based type that bypasses all Magic Resist...beware.

UI
- Beards should now appear above armor on the character detail screen.
- Adventure entry screen has had a party window added to more easily see who is in the current party and their status.
- A grey ! icon is now used instead of yellow to indicate available repeatable quests so that it is easier to locate story quests.
- If a town is being invaded it will show red crossed swords above it.
- Skill tooltips now have their damage type listed.

Art
- Made a few art changes to the Pyramid dungeon.
- Updated beard art.
- New hover images added to some University buildings.
- Lots of University icons added to the game.
- Fixed a small scaling problem with beards.
- Pharaoh's sword now correctly has a graphic.

Bugs
- Party bonuses with +Damage Bonus have been fixed.
- Fixed a bug causing unique shields to roll 1% block chance and amount.
- Invasion bosses now spawn at an appropriate level to the entering set of Adventurers.
- Fixed a bug causing the last killed Invasion boss to show as the objective when entering a new invasion.
- You can no longer rest to pop an encounter, flee, and then return to the previous room to have it count as an uncleared room. This fixes an exploit/bug with boss, miniboss, and choice encounters.
4 comments
Read more
August 10th, 2014
Hello!

Welcome to the 8th edition of AM Devlog! AM Devlogs are weekly (when we don't patch) updates on the development progress of Adventurer Manager. These Devlogs highlight our philosophy of the importance of development transparency and player feedback.

Wow, it's been a long time since there was a Devlog! The reason being is because we've been patching so damn much! I'm sure we can all agree that's a good thing as we try and bring you very regular updates to keep the game's production moving forward and to better reflect the changes we've made based on your invaluable feedback as players. We are taking this week off due to the massive patch we just released last weekend. This patch saw the introduction of a surprise and entirely new game mechanic called Invasions as well as the introduction to the long-awaited University and 2 more dungeons taking the level cap up to 45. For this edition of AM Devlog I'm going to talk briefly about some upcoming class additions and some class changes!

5 New Classes!

We've always wanted to bring you more classes and we had debated internally how we were going to do that. Originally it was just going to be more classes, then it changed to advanced classes that had to be unlocked, but now it's gone back to just more classes. Adventurer Manager is about the Adventurers and creating fun and diverse parties to experiment with so we felt the best option was to introduce more classes up front. This is not to say that we aren't still considering advanced classes or ways to alter existing classes in the University, but introducing new classes seemed like the right option due to some archetype holes that were missing (ie. one Arcane damage class and one Healer are not great options). So we were originally going to introduce 3 more classes but that number has now increased to 5! That's right, 5 new classes are coming and you may even see their early iteration sometime this week! Now let's talk about some of them!

AM has always lacked utility classes and in order to attempt to achieve better balance we gave all classes a few utility abilities. Well that is changing a bit (I'll explain more after the classes) to introduce some much needed utility classes. The first class we're introducing is the Warlock! The Warlock is a DoT'er and Debuffer and will have both single target and aoe DoT's and debuffs. One of his abilities is a debuff that reduces amount of healing received by an enemy target to help you cut down on those annoying healer mobs.

The next class is the Enchanter! Inspired by one of our favorite old-school MMORPGs, the Enchanter is all about Energy and Energy regeneration. He does almost no damage but has a single target and aoe stun as well as ways to replenish his own energy and the energy of other party members. We have avoided many Energy abilities as they are pretty powerful, but we feel that the Enchanter will find his niche in your parties!

The third class we're introducing is the Shaman! A new healer that has some hybrid qualities, the Shaman has a single target heal and an aoe heal. Other abilities are a stun and life regen buffs. The Shaman's primary weapon is the spear but is also able to use blunt weapons, light shields, and wear leather armor. This new healer should help relieve the Cleric from all of his healing duties!

The fourth class we're introducing is the Death Knight! Essentially an anti-paladin, the Death Knight trades heals for lifesteals and damaging nukes. He also can buff spellpower to benefit your casting party members as well as taunt. The Death Knight's primary weapon is the pole-arm and he wears heavy armor.

The fifth class is a mystery that will be revealed when we patch! I just know that he likes crossbows….

Skill Changes!

We've always tried to make each class have similar ability make-ups so that the classes are easier to balance. This resulted in many abilities that had little use in an effort to differentiate classes. A lot of these were buffs and debuffs that were far too situational to be useful. We're now in the process of editing all of the classes with the addition of these new ones to make them all more specialized and more unique. Not all classes will be able to buff and debuff like they use to and some will be able to do more buffing and debuffing than others. The buffs and debuffs will also be more useful, targeting Armor, ToHit, Magic Resistance, and a few others over the more Mutator specific ones. This should really make our new utility classes shine as they will find more usefulness in the party despite their lower damage. This is an ongoing process and we will continue to address the classes until we feel they are where we want them to be.

AM Team Member Feature
AM Team Member Feature is a segment in these Devlogs where every week or so I feature one of our team members who is currently working on AM. Leading off the new segment is our Composer & Sound Designer, Daniel Lopatka!




Who are you and what are your duties on Adventurer Manager?

My name is Dan Lopatka and I am the Composer/Sound designer for Adventurer Manager. My duties are just that, but I compose more than I sound design.

What are you working on right now?

I'm working on a bunch of things right now! Some may even say TOO many things…*shifty eyes* I just created sound effects for item drops – different ones for common, uncommon, rare, legendary, and mythical items. I'm also writing new music for a couple of levels, as well as re-orchestrating tunes like the Ruined Keep and Druid Grove.

What is a major feature that you have created or developed?

Music is a major feature, right?

What are your favorite aspects of working on Adventurer Manager and VAStudios?

I'd say the thing I like most about working on AM is writing in such diverse genres/styles. I mean, a couple of weeks ago, I wrote a quasi-tribal piece (Monster Camp), followed by an epic LOTR-style tune (Mountain Pass), and then a foot-stompin' bluegrass number (Undead Farm)!

Do you have anything else you'd like to share with fans and those who may be interested in AM but have yet to purchase it?

My favorite video game tunes are the ones that are so fun and memorable, you don't care if you hear them 100 times in row, which is why some of my biggest inspirations are composers like Nobuo Uematsu (Final Fantasy), Masato Nakamura (Sonic the Hedgehog), and Koji Kondo (Legend of Zelda, Mario). If you're into music like that, then I think you'll dig the Adventurer Manager soundtrack. Feel free to check out some of the tunes from the game on my SoundCloud at soundcloud.com/drlopatka


That's all for this week's edition of AM Devlog! Check back next week for more development updates!

Happy Adventuring!
Thomas Spradling
Game Designer & Producer
VAStudios
4 comments
Read more
Reviews
"This game has the most absurd quest details and dialogue you will ever experience in your life, and it's the best thing ever."
Shoost

"If you want to buy a ticket to see a game get made in incremental stages and enjoy JRPGs, Adventurer Manager is the best choice on Steam today."
Steam1st

"Adventurer Manager (which we first glimpsed last August) is going to kick us all upstairs into the castle corner office we so richly deserve after our long toil."
Pocket Tactics

About the Game
Welcome to the Early Access for Adventurer Manager where the game is ONLY $4.99USD! Buy now before the game releases at it's FULL PRICE of $9.99! We're thrilled to be at this stage in development and to share it with you!
Why are we so thrilled?! It's because Early Access is where a lot of the boring base systems are now in place and we are going content heavy! That means that nearly every major patch will include new content and new systems and boy do we have a lot of them planned! You can see a running list in our Planned Features list at the bottom of our Store Page and expect it to change frequently. We will try our hardest to be transparent in our development process so you know what we're working on before we've released it. Also, what's more exciting is the ability for you, the player, to help shape and mold Adventurer Manager into the game you really want to be playing!
Thanks for supporting Adventurer Manager!
The evil Illusionist Miraj has murdered your parents, the King and Queen, and has taken control of the Kingdom of Adventuria. Playing as the King's sole heir, you must recruit local Adventurers to complete Adventures to regain the loyalty of the various races in the realm. Only through reuniting your kingdom will you have the power to defeat the evil Illusionist Miraj!
Create Your Ruler to begin your story!

Recruit Randomized Adventurers from 7 races and 13 classes each with their own bios, benefits, and drawbacks!

Unlock Secret Party Bonuses by organizing your Adventurers into 4 separate parties and arranging their formation front to back!

Send Your Adventurers on Adventures to over a dozen different locations on a large world map!

Automatically Complete Adventures and...

Manually Complete Adventures for bonus rewards!

Turn-based Combat with dozens of skills and spells!

Level Up your Adventurers with attribute points!

Tons of Skills from unique skill trees!

Endlessly Generated Loot to equip your Adventurers ranging from common, uncommon, rare, legendary, unique, and mythical items!

Dozens of Monsters each with...

Resistances and Weaknesses to exploit.

Rare Monsters and Monster Packs each with randomized mutators!

Unique Boss and Miniboss monsters to challenge your toughest Adventurers!

Craft and Salvage Equipment to create the perfect equipment!

Upgrade Your Castle to impart benefits to all of your Adventurers!

Monster Invasions where you must defend your subjects!

Gain Your Subjects' Allegiance to receive upgraded Adventurers and more!

Avoid Deadly Traps or don't!

Adventurer Endurance that needs time to recover!

Adventurer University where you can educate and train your Adventurers!

Harsh Death Penalty where resurrecting your Adventurers isn't cheap!

Original Retro-inspired Soundtrack to groove to!

Steam Trading Cards to collect!
(in no particular order!)
Extended Level Cap to finish the story!

Bestiary that tracks your Monster kills to unlock information and gain bonuses against them!

Ironman Mode where when your Adventurers die, they stay dead!

Achievements to track all your dead Adventurers!

Adventurer Appearance Customization to allow you to customize your Adventurers!

Queens, because this isn't just a man's world!

More Tutorials to assist you!

and more to come!
PC System Requirements
Minimum:


OS: WinXP or later

Processor: 1.8GHz

Memory: 512 MB RAM

Graphics: Direct3D/OpenGL compatible card with at least 128MB

DirectX: Version 9.0c

Hard Drive: 150 MB available space

Sound Card: 2d sound compatible card
Mac System Requirements
Minimum:


OS: OS X 10.5 or later

Processor: 1.8GHz

Memory: 512 MB RAM

Graphics: Direct3D/OpenGL compatible card with at least 128MB

Hard Drive: 150 MB available space

Sound Card: 2d sound compatible card
Helpful customer reviews
Title:
Adventurer Manager
Genre:
Casual
,
Indie
,
RPG
,
Simulation
,
Early Access
Developer:
Vigilant Addiction Studios
Publisher:
BBEW BBEW, LLC
Release Date:
Apr 23, 2014
Languages:
| | Interface | Full audio | Subtitles |
| --- | --- | --- | --- |
| English | | | |