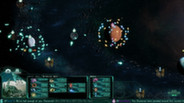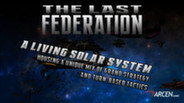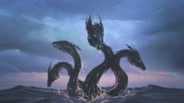 From the creators of AI War: Fleet Command comes an all-new grand strategy title with turn-based tactical combat, set in a deep simulation of an entire solar system and its billions of inhabitants. You are the last of a murdered race, determined to unify or destroy the 8 others.
Release Date: Apr 18, 2014
Watch all 3 trailers
Buy The Last Federation
DAILY DEAL! Offer ends in
Downloadable Content For This Game
September 22
Betrayal Mode lets you completely reverse the usual game flow, working as a full planetary power trying to destroy your foes, not unite them. Invasion Mode sees you working with the other races to survive slaughter by a grave new threat. Plus new ships, abilities, music, and more!

Beta Launching Today!

The beta of the expansions is now released on Steam, and in celebration of that there is a brief one-day-only 50%-off discount promotion being run on the base game. There's never been a better time to get into the game! The expansion will remain in beta until mid-November, when the game will hit version 2.0 and the expansion will be considered fully released.

What Is The State Of The Beta?

The expansion is pretty much feature complete, although we are still working on 3 of the new ships. Everything else is fully in place, although bear in mind that the tutorials for the new game modes will leave a lot to be desired on day 1. We'll use the early feedback on that to quickly get them up to snuff.

The other big thing is balance: the new game modes and new ships have been tested, but only internally, and this game is huge. So you're going to find stuff that we missed, particularly at first, and that's why we're doing a beta.

Beyond that, we'll just be going through a nice relaxed balance and bugfixing period until the full launch of the expansion in mid-November. Thank you for your support!

About The Expansion

Betrayal Mode: "I am not the Hydral you thought you knew. You thought I was content to stay on the sidelines as a minor mercenary? You thought I would work for unification from the shadows? The other races killed my people, and I will have vengeance, not unification. I will drive every last one of them out of the system, and replace them with billions of mindless servitor robots to work at my command. One day, perhaps, my servitors and I will discover a way to raise the dead."

Invasion Mode: "Nothing unites enemies like an even stronger common foe. The Obscura come from outside the solar system, and have already wiped out one of the 8 races. The remainder are scrambling to protect themselves from this grave new threat, and I myself am incredibly outclassed when I try full frontal assaults. I must rally the other races into unified action while striking from the shadows in my own ship. If we can drive the Obscura menace from the solar system, a Federation will be easily established… with whoever survives."

Features Added In The Expansion


Betrayal Mode: Ignore your ideals and conquer the solar system with armadas of your own!

Invasion Mode: Obscura invaders have already wiped out one race, and now threaten all the others. Can you rally a counterattack?

8 Boss-like Obscura ships with crazy SHMUP-style bullet patterns.

9 new fleet ships used by the AI with yet more interesting bullet patterns.

2 new solar system backgrounds to choose from.

12 new Offensive abilities, 12 new Specialty abilities, and 8 new Operational abilities.

New Quests for boosting RCI values or temporarily staving off diseases without a vaccine.

19 new achievements.

13 new music tracks!
2 comments
Read more
September 19
Version 1.042 is out, and it really does a lot of interesting things.

The biggest thing you will notice is that the speed of all the shots you fire is now doubled, making them far faster than enemy shots are. This makes it easier to hit enemy ships that are running away or doing fast passes against you, and just feels more satisfying in general, too. In general this is a lot more in keeping with other SHMUPs, I realized. This may cause some balance problems in the short term (in your favor), but if that's the case those can be ironed out. The speed of the enemy ships and shots is really well tuned, so it's just a matter of your ability to effectively deal damage to them, and their ability to take it, at this point.

A bunch of dispatches have been updated. Various ones now pay you credits again rather than costing you credits, and a couple are more powerful and more clear. There are a few other places where clarifying language has been added to help new players.

Also, this release removes a couple of exploits in edge cases with auto-resolve for battles, so that is more balanced.

Ongoing Updates

The support of the community, and the growth of it, remain amazing to me. It's been a dry spell for the last couple of months in terms of the speed of updates on the game, but we're going to be continuing to expand the improve the game via bugfixes, balance updates, and new content, and plan to do so for the foreseeable future.

As you've already seen, it won't always be on a consistent schedule, but if you're familiar with our post-release support for AI War: Fleet Command over the past 5 years, that's basically the arc that we are currently expecting here unless something unexpectedly changes. There are only two of us programmers, so when we have to divert our attention to something, there's not a lot of granularity available to us, heh.

At present we are also working on an expansion TLF (TLF: Betrayed Hope). The expansion for TLF is expected to be available for preorder through our site on Monday, with access to the current beta of the expansion. The actual full release of the expansion is expected to be in mid November, on all the existing distributors that carry the base game.

More to come soon. Enjoy!

This is a standard update that you can download through the in-game updater, or if you have Steam it will automatically update it for you. To force Steam to download it faster, just restart Steam and it will do so.
0 comments
Read more
About the Game
From the creators of AI War: Fleet Command.
Greetings, Hydral. I will be your computer for this "grand strategy campaign with turn-based tactical combat." I think that's code for "we're going to die."
Our solar system is vast and complicated, and I sense you are a little dimwitted -- so I tell you what, let's start with the simple stuff. Like escaping with this flagship you just hijacked from a bunch of angry robots. That seems important.
Please excuse my impertinence, but I believe you are the last of a murdered race, yes? My records note you Hydrals were the dictators of the solar system, so basically you had it coming. And by "it," I mean the moon that smacked into your homeworld. Hmm. So people really aren't going to like you until they get to know you. Well, only you can use the scattered remnants of advanced Hydral technology, so that's something.
Look, I'm not going to tell you what to do. My understanding is that you're trying to form the solar system's first-and-last unified federation, and that's noble enough. But right now nobody wants that except you, and you've got 8 very diverse, very angry races to either unify or exterminate. So... good luck with that. I'll help how I can.
Features
Turn-based tactical combat, with up to 5 factions competing at once.

Extremely deep simulation of an entire solar system and its billions of inhabitants. Even just watching everything unfold in Observer mode is entertaining, as nations rise and fall.

New-player-friendly ramp-up of complexity as you play, which you can disable if you're already a veteran.

Eight races each have very distinct personalities and attributes. Each one even has its own completely unique political system.

Difficulty levels split between the grand strategy and turn-based combat portions of the game, both ranging from quite casual to incredibly hardcore.

Save and reload your game with ease any time, or tough it out in ironman mode.

PC System Requirements
Minimum:


OS: Windows XP SP2 or later

Processor: 2.2Ghz CPU

Memory: 2 GB RAM

Graphics: Screen resolution at least 720px high, and 1024px wide.

Hard Drive: 1 GB available space
Mac System Requirements
Minimum:


OS: Mac OSX Intel CPU and "Leopard" 10.5 or later.

Processor: 2.2Ghz CPU

Memory: 2 GB RAM

Graphics: Screen resolution at least 720px high, and 1024px wide.

Hard Drive: 1 GB available space
Linux System Requirements
Minimum:


OS: Ubuntu 10.10 or later, although other unsupported distros may work

Processor: 2.2Ghz CPU

Memory: 2 GB RAM

Graphics: Screen resolution at least 720px high, and 1024px wide.

Hard Drive: 1 GB available space
Helpful customer reviews