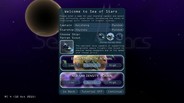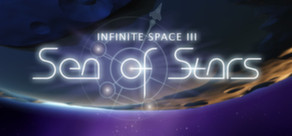 Sea of Stars is a starship roguelike, a sandbox adventure game of interstellar exploration and combat. Travel from star to star, upgrade your ship with new systems and weapons, build up your flotilla with allies and mercenaries, and take on a variety of alien menaces.
Release Date: Apr 18, 2014
Watch HD video
Early Access Game
Get instant access and start playing; get involved with this game as it develops.
Note: This Early Access game may or may not change significantly over the course of development. If you are not excited to play this game in its current state, then you may want to wait until the game progresses further in development. Learn more
What the developers have to say:
"Welcome to the Sea of Stars Early Access! We hope you enjoy poking around in our new game, and look forward to getting feedback on how to develop it further. The current Early Access build allows you to have short free-form adventures in the sandbox-like Infinite Space universe that is randomized each time you play, with a simple scoring system. You can also set up combat scenarios with any of the existing ships and weapons in the Combat Simulator. We are in process of creating more content for the game to provide more variety, and tuning the various user interfaces. Later we will add story elements such as missions, random events and quests that will give more structure to the game. The early access build will be continuously updated as we keep working on the game, and the number of cats acting as stand-ins for final art will be reduced over time. We intend to complete Sea of Stars later this year and set the (US) price of the finished game at $9.99." Read more
August 11th, 2014
This is mainly a content update - quite a bit of new content, actually. I hope you'll like it! Here's the full list:

Added three more Tchorak ship types

Added a Klakar space station (most fun in the simulator for now!)

Added WIP graphics for all stores

Added new music for stores and diplomacy messages for each race

Fixed not being able to sell more than 10 items (again)

Re-worded "unpause" to "resume"
0 comments
Read more
August 4th, 2014
Today's update is a pretty big one! Among other things it adds another race: the mysterious Tchorak. Their technology, if you can call it that, is very different from anything else in the galaxy and makes them a particularly tough adversary. Here's the full change list:

added the Tchorak, an enigmatic race of magma-dwelling rock creatures with molten asteroid ships and unique weapons

added a fighter craft for the Klakar homeworld defense, and textured their trading vessel

added texture scale/resolution settings in procedural texturing for very small/very large objects

added scripted Klakar trading vessel

added Klakar summoning beacon for quick trades and combat reinforcements

added some more names for large Garthan and Zorg ships

added indication that travel time is uncertain when traveling through nebula without the calculator

additional engine features to accommodate new weapons, e.g. missiles with curved paths

grouped pause and escape buttons in combat UI

added indicator that items were left behind on a planet

added indicator that a new ship was added to the palette (blinking)

changed Zorg fighter so the gun doesn't stick out as much

changed credits font

new Tan Ru image

new music/ambient for several location

fixed dragging items from ship to store not swapping properly

fixed radar blips being very quiet when the camera is far away

fixed escape button behaving oddly when combat is paused

fixed being able to install two repair systems

fixed right-drag on a ship not rotating combat view

fixed alliance request window getting stuck if there were more than one enemy to ally against

fixed alliance not affecting other allies (e.g. Klakar might attack friendly Muktians)

fixed a bug where destroyed ships could survive with zero hitpoints if you escaped before they exploded

fixed ship management screen lighting so it no longer depends on map orientation

fixed the game continuing if your last ship is a fighter (Ripcord). This now ends the game.

fixed missing cobalt torpedo sound
0 comments
Read more
About the Game
Sea of Stars continues the Infinite Space series of games that defined the genre of short-form space roguelikes in Strange Adventures in Infinite Space (2001) and Weird Worlds: Return to Infinite Space (2005). It compresses a galaxy-spanning starship adventure into the space of a single sitting, but as the game world is randomly generated each time you play, you will keep coming back for more. There is enough variety in items, aliens and special encounters that you will always discover something new - no two sessions play the same.

Sea of Stars begins in the Glory star system, in an area of space known as the Purple Void for its colorful nebular clouds. The long-isolated Terran colony of Hope has discovered the secret of faster-than-light travel, and an age of interstellar adventure has begun. Choose your starship and blast off into the Infinite Space in search of fame and fortune! Travel from star to star, explore planets and discover strange lifeforms and artifacts left behind by ancient empires. Find technology to upgrade your ship and gain allies to grow your flotilla. Encounter bizarre and delightful alien races, trade with them or blow them up - the decision is yours. And sometimes, you will face an existential threat to all life in the sector, and get to save the world.
System Requirements
Minimum:


OS: Windows XP

Processor: 1.8GHz

Memory: 1024 MB RAM

Graphics: 128MB OpenGL compatible

Hard Drive: 300 MB available space

Sound Card: 16-bit stereo sound
Infinite Space III: Sea of Stars Copyright 2014 Digital Eel
Helpful customer reviews
Title:
Infinite Space III: Sea of Stars
Genre:
Adventure
,
Early Access
,
Indie
Developer:
Digital Eel
Publisher:
Digital Eel
Release Date:
Apr 18, 2014
Languages:
| | Interface | Full audio | Subtitles |
| --- | --- | --- | --- |
| English | | | |