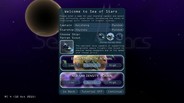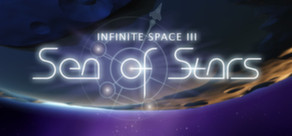 Sea of Stars is a starship roguelike, a sandbox adventure game of interstellar exploration and combat. Travel from star to star, upgrade your ship with new systems and weapons, build up your flotilla with allies and mercenaries, and take on a variety of alien menaces.
Release Date: Apr 18, 2014
Watch HD video
Early Access Game
Get instant access and start playing; get involved with this game as it develops.
Note: This Early Access game may or may not change significantly over the course of development. If you are not excited to play this game in its current state, then you may want to wait until the game progresses further in development. Learn more
What the developers have to say:
"Welcome to the Sea of Stars Early Access! We hope you enjoy poking around in our new game, and look forward to getting feedback on how to develop it further. The current Early Access build allows you to have short free-form adventures in the sandbox-like Infinite Space universe that is randomized each time you play, with a simple scoring system. You can also set up combat scenarios with any of the existing ships and weapons in the Combat Simulator. We are in process of creating more content for the game to provide more variety, and tuning the various user interfaces. Later we will add story elements such as missions, random events and quests that will give more structure to the game. The early access build will be continuously updated as we keep working on the game, and the number of cats acting as stand-ins for final art will be reduced over time. We intend to complete Sea of Stars later this year and set the (US) price of the finished game at $9.99." Read more
July 21st, 2014
Today's update brings some enhancements to the combat UI, and a few other bits:

Combat UI: click on empty space to de-select ships

Combat UI: click and hold on ship to bring up a "dial" that can be used to rotate and/or stop the ship

Combat UI: new, more visible brackets/reticles for selecting ships and targets

All ships in the game (including aliens) now have names

Some new item art
0 comments
Read more
July 14th, 2014
This is a small update to fix a bug that broke item trading at home worlds. Starship Graveyard items should now be free for the taking, and the Zorg spacemart uses coin values for trading.
0 comments
Read more
About the Game
Sea of Stars continues the Infinite Space series of games that defined the genre of short-form space roguelikes in Strange Adventures in Infinite Space (2001) and Weird Worlds: Return to Infinite Space (2005). It compresses a galaxy-spanning starship adventure into the space of a single sitting, but as the game world is randomly generated each time you play, you will keep coming back for more. There is enough variety in items, aliens and special encounters that you will always discover something new - no two sessions play the same.

Sea of Stars begins in the Glory star system, in an area of space known as the Purple Void for its colorful nebular clouds. The long-isolated Terran colony of Hope has discovered the secret of faster-than-light travel, and an age of interstellar adventure has begun. Choose your starship and blast off into the Infinite Space in search of fame and fortune! Travel from star to star, explore planets and discover strange lifeforms and artifacts left behind by ancient empires. Find technology to upgrade your ship and gain allies to grow your flotilla. Encounter bizarre and delightful alien races, trade with them or blow them up - the decision is yours. And sometimes, you will face an existential threat to all life in the sector, and get to save the world.
System Requirements
Minimum:


OS: Windows XP

Processor: 1.8GHz

Memory: 1024 MB RAM

Graphics: 128MB OpenGL compatible

Hard Drive: 300 MB available space

Sound Card: 16-bit stereo sound
Infinite Space III: Sea of Stars Copyright 2014 Digital Eel
Helpful customer reviews
Title:
Infinite Space III: Sea of Stars
Genre:
Adventure
,
Early Access
,
Indie
Developer:
Digital Eel
Publisher:
Digital Eel
Release Date:
Apr 18, 2014
Languages:
| | Interface | Full audio | Subtitles |
| --- | --- | --- | --- |
| English | | | |