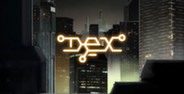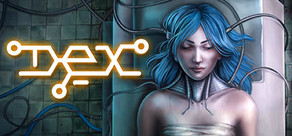 Dex is a 2D, side-scrolling, open-world cyberpunk RPG with a focus on exploration and non-linear gameplay.
Release Date: Aug 13, 2014
Watch all 2 trailers
Early Access Game
Get instant access and start playing; get involved with this game as it develops.
Note: This Early Access game may or may not change significantly over the course of development. If you are not excited to play this game in its current state, then you may want to wait until the game progresses further in development. Learn more
What the developers have to say:
Why Early Access?
"Earlier on, we offered Early Access only privately to our Kickstarter backers. Now, with the more advanced version of the game, we've decided to go with a more open Early Access so that everyone can join us on our cyberpunk journey. We want to start building a community – and we want to hear your feedback and involve you in the development of Dex."
How long will this game be in Early Access?
"We expect the final version of the game to be released by the end of 2014. However, the exact launch date and total development time will depend, to some extent, on the input and feedback we receive from the community."
How is the full version planned to differ from the Early Access version?
"The full version will include additional features (omitted in the current build) and will have full English voice acting. The full game will, of course, offer much more content and variability than the Early Access version in terms of items, NPCs, quests, locations – everything, really."
What is the current state of the Early Access version?
"The current version is limited in both content and features. Right now it is a small tour of the cyberpunk universe we are crafting. You can do a couple of quests and visit a handful of locations in the city of Harbor Prime. After that you'll be able to follow along with the development as we progress."
Will the game be priced differently during and after Early Access?
"The current Early Access version is slightly discounted compared to the full version. As we progress towards the final release, the price will gradually rise. Dex Early Access thus allows you to try the game early and for a discounted price. The Early Access price, of course, includes the final version when it is released.

So it's: buy now, play now, and receive all future updates as well as the final version for free."
How are you planning on involving the Community in your development process?
"We are eager to hear your feedback on the game! You can join forums here on Steam or our dedicated Dex forums. Tell us what you like and dislike, share your ideas about how to make Dex into fully fleshed-out RPG!" Read more
September 8
Hi everyone,

We have uploaded a new update focusing mainly on fixes. We solved the troublesome issues which could have caused the player to lose certain implants/items/skills after loading the game (or continuing after retry) and several other major issues reported in the forums, plus many minor issues.

- Fixed: Missing implants after loading game (error in item loading)
- Fixed: Missing unstackable items after loading (e.g. guns)
- Fixed: Freeze after loading saves from versions v1.0.0.2 and older
- Fixed: Quest persistence after retry
- Fixed: Not receiving cash or XP after completing certain quests (QuestComplete lua error)
- Fixed: Disabled horizontal flipping when knocked down (caused visual glitch)
- Fixed: Crouch back-kick is not interruptible
- Fixed: Jump animation interrupts turn
- Fixed: Losing items and implants after retry
- Fixed: Freeze after roll or getting knocked down
- Fixed: Medikit persistence
- Fixed: Gaining XP for killing enemies
- Fixed: Various minor visual glitches
- Fixed: Certain quest items now properly cost $0
- Fixed: Mouse cursor in main menu glitch
- Added: Disabled reloading of fully loaded gun
- Added: Vending machines have limited stock
- Added: Vending machine "Not enough cash" label
- Added: Teeter animation from idle state
- Improved: Entering room effect
- Improved: Ladder climbing visuals
- Improved: Visuals when entering interiors (black rectangle glitch)
- Improved: Improved pathfinding graph for Scrapyard

Your Dex Team
5 comments
Read more
August 29
Hello everyone!

We have uploaded a new update focused on bug-fixes, optimizations and minor changes:
- Optimization: Improved FPS in most scenes (FOV optimizations)
- Optimization: Removed performance spikes and minor lags every approx. 24 frames (garbage collection related bug)
- Fixed: Frezing when pressing roll + holster
- Fixed: Freezing while climbing when trying to roll or do combat moves
- Fixed: Ladder climb hint should show only when the action is available
- Fixed: AI visibility issues
- Fixed: Minor Visual Glitches in Junction/Labs interior
- Fixed: Minor issues with staircase in Chinese Gate
- Fixed: Elevator buttons in Scrapyard underground should by inactive by default
- Fixed: Freezing when entering/exiting Timmy's house
- Fixed: Reset combat stance when traversing between rooms
- Fixed: Clicking HUD buttons has priority over combat
- Fixed: Disappearing quick bar after Retry
- Fixed: Drag and drop trade bug
- Fixed: NPC overlap glitches
- Fixed: Emptying gun clip with a single click
- Fixed: Lockpicking started but interrupted when performed from higher distance
- Fixed: Wrong facing when lockpicking an object
- Fixed: Lockpicking freeze on mouse drag
- Fixed: Save/Load/Retry/Continue related character freezes
- Changed: Smaller land mine trigger collider
- Changed: Removed enemy from Taijo first interior
- Changed: Items from vending machines now go directly into the inventory and cost money
- Changed: Shorter AI FOV cone
- Added: You can now trigger land mines by shooting at them
- Added: Enemies now detect player when moving under their legs (crouched).
- Added: XP bar tooltip
- Added: New air roll animation
- Added: Click HP bar to open character menu
- Added: Click Weapon GUI to open inventory
- Added: Walk animation when switching scenes (interior/exterior)
- Added: Updated Help screen

This update is probably the last one related mainly to fixing issues.

Cheers!
Dex Devs

3 comments
Read more
Reviews
"Dreadlocks has left no stone unturned in its quest to craft an authentic cyberpunk world."
Strategy Informer

"Dex has a very nice look to it, if you ask me, and it's ticking all the boxes."
Rock, Paper, Shotgun

"I have enjoyed what I have seen so far and would love to see this game kick on to be a real re-awakening for an almost forgotten generation of cyberpunks."
D-Pad

About the Game
Explore the futuristic city of Harbor Prime and meets its many inhabitants, answer the challenges the city has to offer, roam the neon-lit streets, and augment your character with skills and implants.
Designed as a tribute to the classic RPGs from the '90s, updated for a modern audience, Dex invites you to become part of a living, breathing cyberpunk universe as you decide which ultimate path you will embrace.

Bullet Point Breakdown
The current Early Alpha (as of August 2014) offers:
Over ten hand-crafted locations to explore within an open-world futuristic city

Several NPCs, traders, and quests givers

A couple of side-quests

Four enemy types

Raw version of the combat system (brawler-style, arcade melee combat)

Raw version of the stealth system (field of view, backstabs)

Only a handful of hours to complete all the content present in Early Alpha

Limited character development options (several skills are implemented and around ten implants are available for augmenting your character)

Limited inventory item set (to be expanded in development)

High chance for your feedback, suggestions, and ideas to actually influence the final game

Important aspects missing at the moment:
Cyberspace and hacking functionality (A big update with this feature set will be released around September, 2014.)

Main storyline (The version you can play right now is "open world/exploration"-style with no beginning and no end – only characters to talk to or trade with, enemies to deal with, side missions and puzzles to solve, and opportunities to explore.)

No tutorial (You can access the Help screen for controls under F1. There is no tutorial yet, so as of this moment, the game is recommended for more experienced players. We intend to integrate a tutorial during the final phase of development.)
PC System Requirements
Minimum:


OS: XP SP2 or later / Vista / 7 / 8

Processor: x86-compatible 1.4GHz or faster processor

Memory: 1 GB RAM

Graphics: DirectX compatible 3D graphics card with at least 512 MB of addressable memory

DirectX: Version 9.0c

Hard Drive: 8 GB available space
Mac System Requirements
Minimum:


OS: OS X "Lion" 10.7 or later

Processor: x86-compatible 1.4GHz or faster processor

Memory: 1 GB RAM

Graphics: DirectX compatible 3D graphics card with at least 512 MB of addressable memory

Hard Drive: 8 GB available space
© 2014 Dreadlocks Ltd. All Rights Reserved.
Helpful customer reviews
Title:
Dex
Genre:
Action
,
Adventure
,
Indie
,
RPG
,
Early Access
Developer:
Dreadlocks Ltd.
Publisher:
Dreadlocks Ltd.
Release Date:
Aug 13, 2014
Languages:
| | Interface | Full audio | Subtitles |
| --- | --- | --- | --- |
| English | | | |