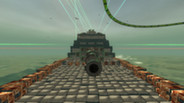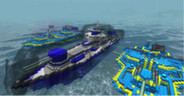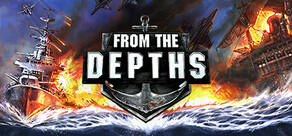 Design, build and take first-person command of battleships, planes, submarines, space ships, hot air balloons and more!
Release Date: Aug 7, 2014
Watch all 2 trailers
Early Access Game
Get instant access and start playing; get involved with this game as it develops.
Note: This Early Access game may or may not change significantly over the course of development. If you are not excited to play this game in its current state, then you may want to wait until the game progresses further in development. Learn more
What the developers have to say:
Why Early Access?
"From the Depths was released via our website on the 1st of January in a pre-alpha state and the involvement from the community was amazing. We averaged a new release every 4 days for 6 months and the experience of developing with the help of the player has been absolutely priceless. By releasing in early access on Steam we hope to grow the customer base and make sure the game is tailored to new players and veterans alike!"
How long will this game be in Early Access?
"From The Depths will be in development for approximately 6 months before the entire wish-list is included, however development will continue for as long as there are players!"
How is the full version planned to differ from the Early Access version?
"The full game will have more multiplayer support, include more story missions, a more advanced Campaign mode, and more components. Funding from the early access stage will also allow us to add a professional artist to the team to rework the graphical side of the game."
What is the current state of the Early Access version?
"Approximately 50 player tested releases in and very stable. 225 different components, not including 19 missile parts. A totally free-form designer mode, structured story missions and an extremely challenging open world Campaign mode all exist. Multiplayer is being added and is testable in an extremely early state."
Will the game be priced differently during and after Early Access?
"The price may increase slightly in the full release."
How are you planning on involving the Community in your development process?
"The forum at
www.fromthedepths.com/forum
is the main hub of interaction between developers and players. Almost every player comment is read and replied to by a developer. The vast majority of the features in the first 50 versions of the pre-alpha were added due to player request or through open discussion with the players."
Read more
September 15
Hi there :)

The main idea here was to get a working multiplayer co-op designer mode. That goal was achieved but there is still a lot of work to do on the multiplayer aspects of the game.

I've also added new engine art and implemented a new way of rendering alloy and metal blocks using a seamless tileable texture that covers a 4x4 area of blocks.

The multiplayer creative mode is not yet finished but is playable and open to everyone to test. A large number of blocks only work currently on the server side, and "join in progress" not yet added.



Summary
Multiplayer creative mode, corner blocks and alloy and metal textures look much nicer.
Bug fixes
[Bug fix] Laser transceiver connectivity bug fixed
[Bug fix] Laser firing through terrain bug fixed
[bug fix] Shells from autocannon inherit platform velocity
[bug fix] patrols to -1,-1 are now re-tasked
[bug fix] Resource no longer given for removing dead blocks
[bug fix]Crash fixed when deleting turret/spinner whilst building on it in simple build mode
[bug fix] enemies spawned in from vehicle load GUI as enemy AI will still be treated as salvage
[bug fix] connecting transceivers into turrets bug fixed
[bug fix] single player respawn bug fix from last version
[bug fix] wood pieces that the resource gatherer digs up are now low poly- performance improvements.
[bug fix] Campaign diplomatic relations reset after new game start
[bug fix] Campaign time reset after starting a new game. No more shrike bombers as first attack on a second play through
[bug fix] radar does not give the appearance of working when it is disconnected
Features
Multiplayer hosting and joining settings are saved
Auto login to last used player profile
Multiplayer co-op vehicle designer mode added
Drive maintained positive plus negative inputs together stop the drive
Build mode double tap speeds up cursor in all directions (not just W)
Simple build mode can now paint as well
Story mission select GUI prompts player to buy some resource
The 'attack salvage' option is now saved to the AI mainframe
Naval AI idle approach distance (default 50 metres) is now configurable
Suicide pill item added
Engine art completely overhauled
Art style changed for alloy and metal blocks- seamless alloy and metal pieces
new corner blocks added for alloy, metal and wood
prefab placing now shows the blocks you are going to place
prefab selection marker now more clearly shows the extent of the prefab to be selected
you can fill with larger blocks
What's next
A long over due addition of content to the single player campaign, the first boss fight of the story missions and fixing any bugs that will come up in the multiplayer creative mode, whilst adding all the rest of the features the multiplayer needs.
5 comments
Read more
August 29
In v1.51 a lot of time went into creating a building control system that would be immediately familiar to new players. Press F3 to toggle between the different building controls and I highly recommend sticking with the original mode as it offers a much higher level of precision once you learn to use it. The original build controls have also been improved in this update and you can now use keys to rotate the building orientation. Lots of different options have been opened up on the "Options menu" to allow you to select the build mode that works best for you.

Fuel injected custom jet engines have also been added but are still in development- they work but are not very well balanced at this early stage.

Multiplayer connectivity issues have been fixed which means you can play the basic multiplayer mode. No new developments on the co-op vehicle designer have been made yet.

A "knowledge base" replaces the tutorial portion of the game- it has many video links, links to the building guide, the tutorial, skirmish missions, forums and wiki

A bunch of other useful things have been added for example you can now control the tail rotor of a helicopter by setting it into "instant spin" mode where it will only spin when you have the appropriate button pressed. This could also be used for spinning melee weapons.

You can now hold shift to speed up the camera x4 in free look mode and hold E when the orbit camera is being used to freeze the camera- very useful for setting up weapons via their GUI interface.


Full change log
Look based building controls added to game, similar to other voxel games for those that like that sort of thing
Standard build mode now allows you to control orientation of block using TAB + WASDQE
Fixed a bug regarding trying to paint after selecting a prefab
Failsafe cylinder length and radius is now configurable via a GUI
Laser destabiliser now connects properly
Tutorial page turned into a full "Knowledge base" with all sorts of links to various pieces of information
Missile warner no longer picks up torpedos or other missiles that are in the water
Laser in pulse mode can destroy multiple blocks
Laser cavities no longer connect sideways
Prefabs are loaded with the color index they were saved with
You can freeze the rotation of the orbit camera in GUIs by holding 'E'
Missiles on turrets wont fire until they are within the missile controller's 'required accuracy before fire' value of the target
You can no longer build on enemy turrets
Maximum fire rate of AI set to be as fast as possible
Fuel injected jet engines added quite possibly buggy at this stage!)
Connectivity issues with the standard dedicated master server fixed
Proxy based connection option added to increase connectivity yet again, at expense of latency
[1.511] Spinners can have a variable rotation speed allowing for touch control of helicopters
[1.511] Hold shift in free view mode to speed up camera x4
[1.511] AI wireless equipment made more expensive and physical connectors made less expensive
[1.511] Maximum radius for explosive shells capped at 10 metres
What's next?
Adding more content to the campaign, more built in vehicles, a new story mission featuring a nasty boss battle and the co-op designer multiplayer mode. Look forward to hearing your thoughts on this update and what should come next!
7 comments
Read more
Reviews
"My jaw almost hit the floor when I installed a few community made vehicle blueprints. The creativity and ingenuity on display was simply incredible [...] there is no doubt that this game is going to be truly epic"
Game Ramble

"The game's physic system is especially impressive. Giant galleons feel like absolute tanks trudging through the ocean, while speedboats slice through the waves at a precarious pace [...] Combat is chaotic and intimately customizable. There is perhaps no greater pleasure than executing a successful broadside"
Denkiphile

About the Game
Summary
In From the Depths you can build and take first-person command of battleships, planes, submarines, giant terrible geese, space ships, hot air balloons and more! The game is currently in open-alpha and contains a wide range of single player content including:
A creative mode allowing you to push your designs to the limit and ensure the total annihilation of your opponents.

A campaign waged over hundreds of islands against eight factions.

A Story Mode where you can (eventually!) play 15 missions as each of the eight factions - a fantastic mixture of strategy, design and wild battles! Defend your fleet against waves of enemy forces in a series of extremely tough challenges that unlock new components.
An expansive multiplayer and co-op element is planned for the coming months!

Key Features
Design and build your fleet, fortresses and structures however you want. The alpha currently has 225 unique components blocks, not including 19 different components for making missiles, torpedoes, depth charges and bombs.

The sky's the limit, you can equip your vehicle with - cannons, lasers, mines, bombs, missiles, torpedoes, propellers, rudders, jet engines, wings, hydrofoils, hot air balloons, anchors, fire control computers, blueprint spawners, repair bots, air pumps, automated control blocks and many, many more!

Realistic physics - every block destroyed or added affects the vehicle's functionality, physics and control. Drag, inertia tensors, buoyancy and sealed compartments are all updated based on the design of your vehicle and the damage sustained.

Be part of a fantastic community (www.fromthedepthsgame.com/forum), with new releases made on average twice a week. Community organised challenges and blueprint sharing make it an extremely friendly place to hang out!

Customisable Components
The customisable components in From the Depths allow a unique level of engineering customisation:
Design custom missiles, bombs, depth charges and torpedoes by combining various warheads types, fuse types, IR seekers, laser beam riders, laser designators, thrusters, navigation algorithms, fuel pods, sonar seekers, buoyancy compartments and propellers, to deliver a truly bespoke weapon.

Design custom cannons by combining four different barrel types and lengths with autoloaders, warhead types, ammo boxes and auxiliary components to create everything from AA cannons to howitzers.

Design custom AI by combing an AI mainframe with 'AI cards' slotted into motherboard blocks. Add radar detection, laser detection and tracking and local weapon controllers to give partial or full control to AI. Create anything from a fully AI controlled aircraft carrier to a battery powered drone.

Design custom engines using crank shafts, cylinders, carburetors, super chargers, exhausts and fuel injectors. Electric engines, generators and chargers are also available for backup power supplies and drones.

Similar systems exist for the creation of anti-vehicle and anti-missile lasers, as well as drills that can cut even the largest of battleships in half.

PC System Requirements
Minimum:


Memory: 2 GB RAM

Hard Drive: 400 MB available space
Helpful customer reviews
Title:
From the Depths
Genre:
Action
,
Adventure
,
Indie
,
Strategy
,
Early Access
Developer:
Brilliant Skies Ltd.
Publisher:
Brilliant Skies Ltd.
Release Date:
Aug 7, 2014
Languages:
| | Interface | Full audio | Subtitles |
| --- | --- | --- | --- |
| English | | | |