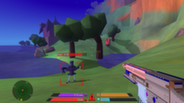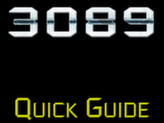 3089 is a futuristic, procedurally generated, open-world action role-playing game. All terrain, enemies, weapons, items, quests & more are uniquely generated. You are a promising robotic android design, made by the Overlord, placed on planet Xax.
Release Date: Jan 10, 2014
Watch all 2 trailers
June 16th, 2014
Hey all,

3089 is getting an update! On top of a few fixes, I've made many improvements to the underlying engine (jMonkeyEngine) as I develop the sequel: 4089. I'm making sure 3089 benefits from many of those improvements, along with contributions from the greater jMonkeyEngine community. Complete list of updates:


You can now perform a location rescue in an enemy tower (you will be teleported outside)

Improved ambient occlusion performance and visuals, particularly up close

Updated to the latest version of jMonkeyEngine, including many performance improvements

Fixed a few graphical glitches with explosions and clouds off in the distance

Fixed a bug in ray vs. sphere collision detection (may help with landing
shots)
Want to know more about the sequel, 4089? It will be a whole new, highly customizable action RPG taking place inside a large mothership inspired by the Deus Ex series! Follow its development here:
http://www.phr00t.com
Oculus Rift support is also planned for 4089!
OK, back to work!
- Phr00t
20 comments
Read more
March 11th, 2014
Hey all,

3089 has been updated! Lots of the building textures have been improved & new ones have been added. Here are some screenshots of showing off some of the latest changes:

http://imgur.com/a/0sGlX

The long awaited "snap-to-grid" building placement feature is now implemented, which should greatly help in placing aligned structures.

In celebration, Phr00t's Software is hosting another free key giveaway for both games! You can enter on Facebook here:

https://www.facebook.com/phr00ts.software/posts/10101896924529922

Keep an eye out on the Facebook page for announced winners!

3089 is now entering "maintenance" mode, where updates will address bug fixes & balancing tweaks as needed.

Here are the full list of changes in v1.3.1:

New building textures with the help of Swawa3D

Snap-to-grid building placement feature added

Added a "safe mode" when retrying the game if it crashed before

Arrow keys will now always defuse bombs again

Tweets won't be made if 3089 couldn't determine your IP address

You can no longer use the grappling hook to float up on hooked robots

You can no longer try and fly a vehicle flown by another player

Hid the other player when it is flying a vehicle

Fixed multiplayer synchronization bugs, particularly with restarting a server & vehicles

Fixed flown vehicles in multiplayer from bouncing around midair

Fixed vehicle weapon synchronization in multiplayer

Fixed an end-game condition that could constantly be re-triggered

Fixed a spelling error in one of the Xax Natives dialogs

Fixed player positioning when starting a new game after loading a player at a high level area

Other minor performance & reliability tweaks
Let me know if anything broke!
- Phr00t
32 comments
Read more
Reviews
"This game is a grand experiment in random/procedural open world generation. Worlds are beautifully generated with oceans, cliffs, canyons, fields, deserts, buildings, fog, weather, and a smooth day/night cycle. As your stats improve you will encounter cooler and tougher enemies, and difficulty scales (infinitely?) from the center. At it's core 3089 is an open-world FPS RPG in the style of Borderlands, with tons of stats that can be increased manually to support different play styles. But the procedural generation and bold, polygonal visual style provide an endless supply of unique, immersive, unpredictable new worlds to learn and explore."
10/10 – Burtz87 @ IndieDB

"The game has procedurally generated... well, pretty much everything. Missions, weapons, terrain, buildings... you never know exactly what you're in for, although you can be sure it'll be a great ride. Your choice of gameplay styles is limitless - are you a walking tank or a ninja assassin? Diplomatic schemer or ace fighter pilot? There are no hard-and fast roles, and you can mix and match and make it up as you go along."
10/10 – YetiChow @ IndieDB

"It... Is... Strange... But it makes me feel oddly nostalgic... It is by far extremely well done. But again, it's very strange... I love it :3"
10/10 – UlteriorPanzie @ IndieDB

Steam Greenlight
About the Game
3089 is a futuristic, procedurally generated, open-world action role-playing game. All terrain, enemies, weapons, items, quests & more are uniquely generated.
You are a promising robotic android design, made by the Overlord, placed on planet Xax. Your performance in common combat, support & intel scenarios is being closely evaluated. However, will you become too much for them to handle? What else on planet Xax exists that the Overlord doesn't know about?
Java Requirement
3089 requires Java 7 Update 45 (or later) to run.
On Windows, if you have issues, you may need to uninstall other versions.
You can get Java here:
http://www.java.com/getjava
Features
Limitless terrain is smoothly generated in all directions

Unique quests made from individually generated task lists

Weapon construction & customization based on individual parts

2-player co-op multiplayer; join up with your buddy to make a super-robot!

Interesting storyline with multiple endings

Cool abilities like gravity guns, time stopping, cloaking, short-range teleporting & more

Unique building features that allows blocks to be placed of any size or rotation

Friendly & aggressive robots that range from small to very large

Varied combat scenarios mixing stealth, melee and projectile weapons

Exceptional draw distance with low computer requirements

Dynamic lighting & smooth day / night transitions

Smooth weather system including dangerous lightning & realistic rain

Dynamic shadows being cast by the sun

Integrated physics engine

Compatible with Windows, MacOSX & Linux
3089 In Social Media
3089's Servers Twitter:
https://twitter.com/3089game
Facebook:
https://www.facebook.com/phr00ts.software
Developer's Twitter:
https://twitter.com/phr00t_
Looking for the prequel?
3079 on Steam:
http://store.steampowered.com/app/259620/
Make sure to watch the Quick Guide video next to the trailer!
PC System Requirements
Minimum:


OS: Windows XP

Processor: Dual-core Processor

Memory: 2 GB RAM

Graphics: Dedicated 3D Hardware

Hard Drive: 100 MB available space

Sound Card: OpenAL Compatible

Additional Notes: Java 7+ Required (uninstall old versions)
Mac System Requirements
Minimum:


OS: OSX 10.7.3+

Processor: Dual-core Processor

Memory: 1 GB RAM

Graphics: Dedicated 3D Hardware

Hard Drive: 100 MB available space

Sound Card: OpenAL Compatible

Additional Notes: Java 7+ Required (from http://www.java.com/getjava)
Linux System Requirements
Minimum:


OS: Any distribution supporting Java 7+

Processor: Dual-core Processor

Memory: 1 GB RAM

Graphics: Dedicated 3D Hardware

Hard Drive: 100 MB available space

Sound Card: OpenAL Compatible

Additional Notes: OpenJDK 7+ or Java 7+ Required
Helpful customer reviews
Title:
3089 -- Futuristic Action RPG
Genre:
Action
,
Indie
,
RPG
Developer:
Phr00t's Software
Publisher:
Phr00t's Software
Release Date:
Jan 10, 2014
Languages:
| | Interface | Full audio | Subtitles |
| --- | --- | --- | --- |
| English | | | |