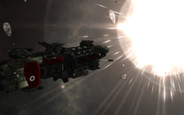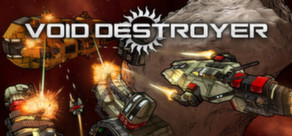 A desolate asteroid field on the edge of the solar system erupts in war. Your troops rely on you to take the battle to the enemy. Build up defenses and fleets, repair and upgrade your command ship, lead your forces to reclaim and conquer territory.
Release Date: Jan 15, 2014
Watch all 3 trailers
Early Access Game
Get instant access and start playing; get involved with this game as it develops.
Note: This Early Access game may or may not change significantly over the course of development. If you are not excited to play this game in its current state, then you may want to wait until the game progresses further in development. Learn more
What the developers have to say:
"Void Destroyer - Early Access Status - approximately 1/3 to 1/4 of the finished game at very near to release quality.

Early Access gives me - as a developer - the opportunity to reach a wider audience, more community feedback, additional funding and media attention. I see Early Access as an incredible opportunity that has to be maximized - I won't waste this opportunity by dishonesty, apathy or laziness. I will continue to actively develop the project and listen and interact with the community.

Early Access gives you - as a player - the opportunity to enjoy the game (right now). See and help it grow via your support, both financially as well as on the community level.

Since January 2011 Void Destroyer has been freely available for download - in the form of a demo. In its pre-alpha and now Beta states the project has been frequently updated with new features and content. Many issues have been resolved and features tweaked and added via community feedback.

When the project received funding via Kickstarter in July of 2013 and then became Greenlit a few months later, my focus changed from new features to the polish the existing content to be release quality, because I want you - the player - to enjoy the game and recommend it to your friends.

As of January 2014 it is in a state that I - as the developer - feel is ready to be commercially available. Right now approximately 1/3 to 1/4 of the game's "story" mode game play is completed and within this portion of the story, the game offers nearly all of the intended features at "release" and that they are in a fairly polished state (90% to 95% polish).

Adding new content (new story missions, new ships, and some new features) will be the priority post the resolution of the issues encountered via the by the community that Early Access brings. The game is primed to focus on rapid development now that most of the game features are nailed down and release ready.

Void Destroyer is a "labor of love" a project that I can't envision not working on. I will continue adding new features and content to the game even post the "official release." And hope to create a lasting impression on gaming history.
Risks and Challenges:
Void Destroyer is largely an effort of a single developer - me - the risk inherent in this type of development is not encountering all of the possible bugs. This is because when I play test the game (which I do constantly) I don't always do things that players do. This is because I simply can't put myself into the mind of a player - knowing what I know of the inner workings of the game. Thus some bugs might be overlooked by my testing. If this happens - kindly post the issue on the forums and I will (as I have always in the past) work diligently on solving the issue as soon as it is discovered." Read more
September 11
We are a step closer to release - a portion of the planned achievements have been added to the game and can now be unlocked.

The first batch of achievements are "story" achievements - achievements that are unlocked via playing through the game's story. They are in a way - fairly obvious - though there are a few that are branches of the main story and/or somewhat unusual player actions/choices. There are also a few that are unlocked via playing instant action scenarios. More will be added as the story aspect of the game gets completed and instant action scenarios are finalized.

Achievements are in a basic state - a few of them aren't possible to unlock yet. I have to tweak some missions and code to watch for the event(s) that unlock them. That will be soon fixed along as well as - hopefully - the addition of achievements that are more "game play mechanics" based, unlocked via playing a certain way, defeating enemies and other stats.

I know that value of achievements can vary greatly among players, even to the point that some of you don't care about them at all. Still I hope that for those that do care about achievements - they are an added value to the game and a increase of your enjoyment of it. The game offers challenging missions so I hope that seeing an achievement pop up after a conquest gives you guys an added boost of satisfaction.

As always thank you for supporting the project.


Paul

PS: I haven't spent a great deal of time thinking of achievements and what value they bring to players (reletively speaking - compared to the time I've spent thinking about other aspects of the game) . So I mainly have my own game playing as a guideline and what I imagine they mean to other players, so it would be greatly appreciated if you let me know your thoughts through feedback on the forums.
2 comments
Read more
August 22
Hey guys - here's what's been happening since the last update rollup.


New story content - about 2 hours worth

New instant action scenario

Earlier story content revised/updated/improved

Story/dialog/mission writing updates/edits/tweaks thanks to an outsider writer

5 new ships (3 new ships - 2 variants)

Added new build able defensive platforms for the "rock guys" faction

"Mines" can be "built" the way that stations are

New HUD elements (target related)

Resource request system - have more than one base? Transfer some resources via cargo ships

Multi controller support. For those with HOTAS and/or wanting to use a two joysticks at the same time

Redone station upkeep

Numerous enhancements, tweaks and bugs fixed - change log
What's next:
We are about 2 or 3 more updates until the story line is complete - I'm not entirely sure because I'm not exactly sure how it all ends. Once the story line is complete - focus will be given 100% to art related assets polish and misc issues. Also I'm hopeful that Steam Achievements should be nearing the horizon.
Other happenings:
Check out this new art:
http://steamcommunity.com/sharedfiles/filedetails/?id=300193174
This is the basis of new Steam banners/capsules for the store and related pages. I have it set as my desktop background :) If you want the 1080p version here's a link to
download it
.
Thanks for supporting the project!
Paul
0 comments
Read more
About the Game
A desolate asteroid field on the edge of the solar system erupts in war. Your troops rely on you to take the battle to the enemy. Build up defenses and fleets, repair and upgrade your command ship, lead your forces to reclaim and conquer territory.
Gameplay:
The seat of a fighter, the bridge of a cruiser and a tactical battle map are your tools of war. Void Destroyer puts you in command and gives you ultimate freedom to control your forces and wage war.
If you ever wanted to directly control your forces in a real time strategy game or be able to build ships and command to your wing-men and fleets in a space combat simulator like you can in a RTS - this is the game for you. Void Destroyer combines elements from space combat simulators and real time strategy games. No longer are you limited on how to control and command. Battles are waged on your terms, you are given the tools. How you use them is up to you.
Jump into a fighter to engage in dogfights, then switch into a frigate to take out an enemy corvette. Build defensive platforms to augment the security of your base. Issue commands to your attack ships to distract enemy defenders to allow your marine frigates to board an enemy's base. Defend and oversee asteroid mining craft to have the resources necessary to support your fleets.
By combining elements of two genres, enemies can be more brutal, fights can be larger and you can overcome greater challenges.
Think there's not enough time? Use time dilation (slow down time) to make time for tactics.
Features:
A mixture of space combat and real time strategy games - two games in one

A story line, opportunities, plot twists, boss fights, and many surprises

Pilot ships - from small drones to heavy cruisers

Instant ship switching - all ships are pilot-able

Multitude of weapon systems in the hands of both friends and foes

Tactical Mode - easily issue orders and manage your forces

Build platforms

Build ships

Research new technology

Upgrade your command ship

Asteroid mining

Flight engine combines six degree of freedom with Newtonian physics balanced to allow for dogfights

Pilot via joystick or mouse (mouse flight - includes two different modes)

Command view - camera and mouse controls optimized for controlling turrets and piloting larger ships

If the role of a pilot isn't your thing - you can let the ship's crew do their job

Capture enemy bases and ships

Mod support - "mod nearly everything" philosophy

Instant Action scenarios - unlocked via playing the main game/story mode

Battle Editor - create your own maps, unlimited game play on your own terms

Unlock system - as you research new ships and defeat enemy ships, they become available for use in the battle editor

Formations - pre-defined and customizable

Community input valued by a responsive developer
Post Commercial Release Planned Features:
The initial commercial release focuses on a single player experience with a story line, however with resources from the commercial release planned updates include:
Sandbox mode - non-linear game play - become a privateer - pirate, bounty hunter, trader, or warlord

First person shooter elements - taking base invasions to a new level

Multi-player support

Continuous improvement of features and game play elements - support doesn't stop just at release
Note: some of the above might take the form of a paid DLCs and expansions
Void Destroyer is a "labor of love" a project that I can't envision not working on. I will continue adding new features and content to the game even post the "official release." And hope to create a lasting impression on gaming history.
System Requirements
Minimum:


OS: Windows XP

Processor: Intel Core i3 or equivalent

Memory: 2 GB RAM

Graphics: GeForce 9800 or later

DirectX: Version 9.0c

Hard Drive: 500 MB available space

Additional Notes: Works with most Intel graphics cards, but not recommended.
Recommended:


OS: Windows 7

Processor: Intel Core i5 or better

Memory: 4 GB RAM

Graphics: GeForce GTX 550 or better

Hard Drive: 500 MB available space
Helpful customer reviews
Title:
Void Destroyer
Genre:
Action
,
Early Access
,
Indie
,
Simulation
,
Strategy
Developer:
Iteration 11
Publisher:
Iteration 11
Release Date:
Jan 15, 2014
Languages:
| | Interface | Full audio | Subtitles |
| --- | --- | --- | --- |
| English | | | |