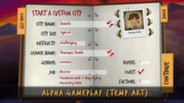 Rebuild a ruined city in this post-apocalyptic mix of strategy and simulation. Manage survivors, scavenge for food and supplies, deal with rival gangs, illness, interpersonal strife and zombie attacks.
Release Date: May 16, 2014
Watch HD video
Early Access Game
Get instant access and start playing; get involved with this game as it develops.
Note: This Early Access game may or may not change significantly over the course of development. If you are not excited to play this game in its current state, then you may want to wait until the game progresses further in development. Learn more
What the developers have to say:
"Hi, I'm Sarah, the developer. Rebuild is in Early Access, which means it's still missing quite a bit of content (see the details below) and might have a few bugs in its place. But the base game is very playable, and I've been told fun too!

I'll be updating monthly and aim to finish by the end of 2014. I've been working with fans and playtesters from the very beginning, because I'm making this game for the fans of my previous Rebuild games. And for you! So I'll be watching the forums and listening to player feedback, and your input is very important to me. I try my best to reply to everyone personally, but I hope you understand that I also have a game to write here!

So if you want to be part of a team and help me make a great game, welcome aboard!" Read more
Buy Rebuild: Gangs of Deadsville
Buy Rebuild: Gangs of Deadsville - Deluxe Edition
Buy Rebuild: Gangs of Deadsville - Deluxe Upgrade
Rebuild: Gangs of Deadville owners can purchase the Deluxe Edition upgrade to receive the additional content from the Deluxe Edition.
About the Game
It's been a few years since the zombpocalypse turned the world's cities into graveyards and sent the few survivors into hiding. Now you must gather them up and restore civilization to a ruined city, one building at a time.
Rebuild
is a strategy sim game with a good helping of narrative and dark humor. It's a thoughtful game that'll make you fond of your survivors before you send them to their deaths for the greater good. As you expand your fort to new buildings, you'll decide between farms or fortifications; housing or hospitals; churches or... bars? You'll have to make tough decisions to fend off raiders, illness, starvation, and madness. And the dead are still out there wandering the streets, hungrier than ever.
Gangs of Deadsville is the third installment of my Rebuild series, and the first one available on Steam. It's a much larger scale game; in some ways I'm finally finishing the game I imagined when I started the original Rebuild 1.
Deluxe Edition
The deluxe edition includes the base game, plus desktop versions of the original Rebuild 1 and Rebuild 2 (including mobile content). These were previously only available in browsers and on mobile devices but you can now play them in fullscreen on PC & Mac! They're located (for the time being) in your Rebuild Gangs of Deadsville game folder. Search your computer for "rebuild1" or "rebuild2" to find them.
The deluxe edition WILL include 5 bonus professions for your main leader, and 5 corresponding unique items. These will be available soon!
The deluxe edition WILL also include a PDF artbook featuring the art of Rebuild. This will be delivered when the game is complete.
Features in the game now
4X style strategy and city (re)building

Endless replayability with randomized cities and events

Survivors with individual personalities, skills, perks, and stories

Rival NPC forts with their own agendas, friendly or otherwise

Interactive zombie and faction attacks

Play in either real-time or turn-based and swap on the fly

Half a book's worth of text events (the other half coming soon)

Strategic fort defense (interactive attacks coming soon)

5 skills: defense, leadership, scavenging, building, engineering

20 survivor jobs: scavenge for food, kill zombies, farm, fish, trade, bartend...

35 node research tree

50 building types with unique uses and/or scavengeable resources

50 survivor traits: Melee Training, Green Thumb, Light Sleeper...

60 types of equipment (though they all look like crowbars right now...)
Coming soon in regular monthly updates
Campaign Mode, a progressive journey through a dozen cities of increasing size and difficulty

Hundreds of new random events (many already written, I just need to hook them up!)

Longer multi-event plotlines for each faction

New zombie types and smarter, more dangerous faction raiders

Survivor relationships & children

Hundreds of new survivor faces and mix & match outfits

Equipment that actually looks like what it says it is

A proper ending to the game, and some other secret ways to win

Making Impossible actually impossible... or at least harder

Balancing and tweaking of every aspect of the game based on YOUR feedback!
PC System Requirements
Minimum:


OS: Windows XP +

Processor: 1.6Ghz

Memory: 1 GB RAM

Graphics: Most cards. Check here: http://helpx.adobe.com/x-productkb/multi/stage3d-unsupported-chipsets-drivers-flash.html

Hard Drive: 200 MB available space
Mac System Requirements
Minimum:


Processor: 1.6Ghz

Memory: 1 GB RAM

Graphics: Most cards. Check here: http://helpx.adobe.com/x-productkb/multi/stage3d-unsupported-chipsets-drivers-flash.html

Hard Drive: 200 MB available space
Copyright Sarah Northway & Northway Games
Helpful customer reviews
Title:
Rebuild: Gangs of Deadsville
Genre:
Indie
,
Simulation
,
Strategy
,
Early Access
Developer:
Northway Games
,
Sarah Northway
Publisher:
Northway Games
Release Date:
May 16, 2014
Languages:
| | Interface | Full audio | Subtitles |
| --- | --- | --- | --- |
| English | | | |