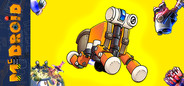 A sentimental robot heals her planet by planting trees, helped by an existentialist shuttle and giant talking laser turrets. That's the premiss of McDROID, a cute yet challenging mix of old-school arcade shooter and modern RTS with robots, critters, mutation, chatty machines, 60s rock and giant strawberries.
Release Date: Sep 5, 2014
Watch HD video
August 6th, 2014
We are now locked to earth time.

There is no turning back!

Press releases are sent on monkey's back.

It is September 5th!
9 comments
Read more
June 20th, 2014
Summer Sales are upon us! Yay! Frenzy!
So imagine releasing McDROID during the last days, that would be bad.
So we're postponing but this time I'll put "summer" instead of a date so that you folks don't get that jarring feeling.

A lot has happened since the last update so here is what we've been up to so far:


All lines of dialogues now have my voice as temp and I did casting with actors. I replaced some parts with their voices but our testers don't like them so we keep at it. In fact I may extend the casting to the gaming community, maybe some of you would like to have their voice in a game?

New sounds: dSonic is now redoing most of the sounds of McDROID, we're keeping the cute fun stuff, like the sneezing and other gross Lobber Monster sound, but a few monsters, lasers and walk is redone and now synched up, which doesn't seem like much but is a huge deal. The game really feels anchored in its reality. For example the angry worm now sounds wormier and angrier, the repair sounds like clockwork, it's very very cool.

We've had so many problems with UI that I've decided one day to tear it out, some will remain: the HUD, some buttons, but most of it is now replaced by 3D objects. So you have this wooden post sign with electric wires sticking out and a mechanical button bolted to the side, the button opens when you click on the sign and the camera zooms in so you can see what it says, it can be static information like an image or some text or interactive data. Those sign are scattered around the levels to provide help, but also serve as level selector.

The level selector UI is gone, I hated it, clunky ugly, so I made a 3D level instead, with those signs. Signs are cool because they scatter the information in a very organic manner, like the Mario games. And in fact, because we have persistence, you can re-decorate your level selector. Plus the planet is in the middle, which grows trees as you heal her. Finally I hid a few goodies in the selector.

The research UI is also gone, it was ugly, so now it's a laboratory level where you can "shop" for tech, and persistence here as well so you can decorate, we'll eventually expend on the idea of persistent levels, in updates after release, which should be this year ;).
Here is what it looks like: Video

I added an armored safe, so you're like a burglar in Payday and crack those with your weapons. They are very very tough and contain lots of goodies.

The title screen always bothered me but I never knew why. Then I this graphics designer from Australia, Dan, who showed me the Picmin box art and suggested I separate the buttons and title from the background action in a similar way. I did it, it's animated and cute, I like it.

2 weekends ago I went to the Muir Woods with a friend and these tall vertical structures, the redwood trees, looked so peaceful and majestic that I wanted them in McDROID. The could have replaced the pine trees but I wanted dynamic elements, I wanted to grow trees in the game, because that was the initial vision, a tree-planting robot, so I turned the fertilizer into a majestic redwood and ... you'll see how they grow, it's really nice.

Monsters now leave remains but that was too gruesome, at the end of a level you ended up with 100s of carcasses on the ground, and all that geometry was bogging the game down so now when you pick up the soul (aka score orb) the carcass disappears. After all, you're not on your planet to kill things, but to liberate them from Somanto's mutations (gotta love rationalization).

Big monsters carcasses can be mine for loot, it's a bit grim, but fun.

The Angry worms, which is the one with the fur, was way too tough, and it wasn't satisfying to play because your lasers seemed ineffective, so I made them weaker, still their bite is super deadly.

For some reason co-op kept getting new bugs, that's fixed, and one of them was bogging down the game in later levels, fixed too.

Performance is slightly improved due to extended use of LOD. I even LODed the landscape.

Steam leaderboard
The quality of the game has somehow taken a quantum leap so we will have something very special when it is released.
Bye for now and have a good Sumer Sale!
2 comments
Read more
About the Game
Doggy-robot McDROID and her friend SHUTTLE crash land on their way home to Planet M. The entire fauna has been mutated by something and the Planet no longer speaks - she is very ill. Plant trees, build, defend and outwit critters on your way to heal your Planet's hearts with the help of your research lab, your upgrades and your pet bots. And don't let these giant strawberries rot.
A fast-paced, tough as nails Arcade Tower Defense, McDROID will challenge both your trigger finger and your wits as you multitask like a robotic spider-doggy: running, shooting, building your base, controlling, healing, harvesting, repairing, planting, upgrading and researching - all at the same time.
Defend your shuttle against a variety of crazed alien species as they mutate, corrupt the ground or even turn your crops against you. Load up on guns, bring up to 3 friends and take the battle to the enemy. If it gets too crazy, turtle up behind your defensive perimeter and assume direct control of the turrets.
Features:
Space age cartoon graphics.

Not 40s, not 50s, not 80s but 60 rock!

Research new upgrades and weapons. Do you focus on improving your lasers first or branch out into bliss engine as you climb through the research trees?

Drop in/Drop out Co-Op: if you're overwhelmed in single campaign, have some robot-buddies join you.

Persistent base building: Complete a level on Normal and you can play on in Challenge and Nightmare modes. Your base and economy will carry over but will have to withstand much deadlier attacks!

Harvest the only sensible resource of the future: Unfeasibly large strawberries.

Cloud saving lets take your progress with you between computers

Achievements awarded for tasks ranging from tricky to insane.

Find the decals and paint to customize your McDROID, they are scattered about.
PC System Requirements
Minimum:


OS: XP

Processor: core 2 duo

Memory: 2048 MB RAM

Graphics: nvidia 660 Ti

DirectX: Version 9.0c

Network: Broadband Internet connection

Hard Drive: 1024 MB available space
Recommended:


OS: 7

Processor: i7

Memory: 4096 MB RAM

Graphics: nvidia 7800 GT

DirectX: Version 9.0c

Network: Broadband Internet connection

Hard Drive: 1024 MB available space
Mac System Requirements
Minimum:


OS: 10.7

Processor: core 2 duo

Memory: 2048 MB RAM

Graphics: nvidia 6800 GT

Network: Broadband Internet connection

Hard Drive: 1024 MB available space
Recommended:


OS: 10.8

Processor: i7

Memory: 4096 MB RAM

Graphics: nvidia 7800 GT

Network: Broadband Internet connection

Hard Drive: 1024 MB available space
McDROID and Elefantopia are copyright 2013 of Elefantopia inc.
There are no public reviews for this product yet
You can write your own review for this product to share your experience with the community. Use the area above the purchase buttons on this page to write your review.
Title:
McDROID
Genre:
Action
,
Indie
,
Strategy
Developer:
Elefantopia
Publisher:
Elefantopia
Release Date:
Sep 5, 2014
Languages:
| | Interface | Full audio | Subtitles |
| --- | --- | --- | --- |
| English | | | |