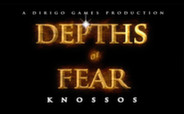 Depths of Fear :: Knossos, a Greek-themed, 1st Person, Roguelike stealthy action-adventure where you play as Theseus out to kill the rampaging horror the Minotaur. Succeed in the beast's slaughter or learn the meaning of fear trying. You will run. You will hide. You will fight. You will die.
Release Date: Apr 24, 2014
Watch all 2 trailers
Reviews
"This is a fun game that will keep you on your toes and get your heart and adrenalin pumping. This is a game that everyone should try."
9.2/10 – WatchTower Gaming

"Like a surreal and low budget horror film discovered on an obscure television channel during a night that has lasted too long, it's jarring, hugely imperfect and strangely alarming. I've happily lost myself in it for two evenings now."
Rock, Paper, Shotgun

"The overall design speaks not just to its retro-ish style but also its place among recent horror games. Depths of Fear: Knossos is a fairly small game in scope, simple and focused in a way that big budget, kitchen sink AAA titles are not, and to a large degree that is a relief."
7/10 – Bloody Disgusting

-66% Off for a Limited Time!

Collect the beasts of ancient Greece!
About the Game
Depths of Fear :: Knossos
is a Greek-themed 1st person adventure game with stealth, action and edge-of-your-seat elements within rogue-like procedurally generated levels. You will run. You will hide. You will fight. You will die.
The fate of Athens is in your hands as you step into the role of legendary Greek hero Theseus. Offering yourself for tribute unto the corrupt King Minos, you embark upon a perilous quest deep beneath the city of Knossos to slay the twisted mythical beast - The Minotaur. But, before you can complete this hero's journey you must steadfast the trials of ever-changing creature-filled labyrinths. Collect gold to deal with Daedalus, building up your armory whilst seeking out the mythological medallions that unlock a master sword, the only weapon known that can pierce the Minotaur's cursed flesh. May the gods of Greece be with you, son of Poseidon!
An ever changing Labyrinth: Each stage in Depths of Fear is crafted to never be the same twice creating a constant state of tension of the unknown.

Face the Beasts of Ancient Greece: Survive encounters against 8 immortal legendary creatures: Saytr, Cerberus, Centaur, Manticore, Griffin, Medusa, Hydra and the horror of the Minotaur.

Diverse Gameplay: To survive one must learn when to sneak through the shadows, when to run and when to engage in combat as they attempt to survive each rung down into in the darkness.

Knowledge is Power: Appease the gods by finding their books and earning their favor for special powers such as lightening from Zeus, Speed from Hermes, Earth shaking might from Poseidon or the illuminating light of Apollo.

Build an Arsenal: Loot the labyrinths for gold to purchase 8 trusty weapons that range from Blades and Clubs to the Trident and Crossbow. Use these weapons to secure the 8 creature medallions that unlock the only weapon known that can slay the legendary beast Minotaur.

Challenge the Unknown: When the adventure ends, the game has just begun. Beneath the skull a never-ending challenge awaits in the entrance of the unknown that provides countless replay value. How far down can you make it?

Unique & Adaptive soundtrack: Featuring a tension-based music system, the soundtrack (recorded with mind-altering 70's era synthesizers) adapts to your situation.
System Requirements
Minimum:


OS: Win Vista / Win 7, 8

Processor: 2.0GHz x86/64/Intel Core 2 Duo E6750 2.66 GHz / AMD Athlon II X2 245e

Memory: 2 GB RAM

Graphics: 128MB GForce 6600 or better

DirectX: Version 9.0

Hard Drive: 2 GB available space

Sound Card: DirectX compatible sound card
Recommended:


OS: Win Vista / Win 7, 8

Processor: 2.0GHz x86/64

Memory: 4 GB RAM

Graphics: 256MB GForce 8600 or better

DirectX: Version 9.0

Hard Drive: 4 GB available space

Sound Card: DirectX compatible sound card
All trademarks referenced herein are the properties of Dirigo Games and their respective owners. Digital Tribe Games © 2014. All Rights Reserved.
Helpful customer reviews
Title:
Depths of Fear :: Knossos
Genre:
Action
,
Adventure
,
Indie
Developer:
Dirigo Games
Publisher:
Digital Tribe
Release Date:
Apr 24, 2014
Languages:
| | Interface | Full audio | Subtitles |
| --- | --- | --- | --- |
| English | | | |