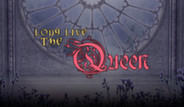 Rule the world or die trying! Being a Princess is not an easy job. Being a Queen is even harder. Especially when you're only fourteen years old, and the reason you've inherited the throne is that your royal mother has just met an untimely end. Now power is up for grabs.
Release Date: Nov 8, 2013
Watch HD video
February 14th, 2014

We've pushed out a small update which adds some new features and fixes a handful of typos. This is not a content update, no new plot has been added.

More details:

Skills screen clearly lists what skills are affected by current mood
Skip button appears on dialogue you've seen before (hide/show button toggled in preferences)
Failed study attempts (when your penalties meant you gained less than ten points and therefore got no skilltext) should now display a message explaining that you were too moody to learn properly
Version number visible on preferences screen
'Save Story' at an ending renamed to 'Show Log'

Please let us know if you run into any problems.
10 comments
Read more
Reviews
"Each time the protagonist dies, you find yourself coming back with a vengeance, determined to try a new strategy, a different approach to her upbringing. It's borderline addictive. It's also likely to make a monster out of you. By the end of my first successful playthrough, I had summarily butchered everyone who even thought about looking at us funny, forced the princess into a continuous state of docility and lied my way through every social encounter possible. Was it evil? Yes. Was it glorious? Definitely."
http://indiegames.com/2012/06/review_long_live_the_queen_han.html

"Somehow it never occurred to my princess, whom I'd lovingly crafted into a tense, paranoid warlord, that she shouldn't empty a box of mysterious mailcandy into her mouth. You would think studying poison and espionage would have saved me from this espionage poison, but instead, a list of other skills, skills I never studied, princess skills, were key to avoiding this fate. I guess that's the lesson: you can't build a successful Arya without adding a little Sansa."
PCGamer

"If you're the sort who can sink your teeth into a full afternoon of tabletop strategy, you'll be happy here. Long Live The Queen is a slow-paced, cozy evening kind of game, good for folks who like numbers and critical thinking. And death. Pink frosted, chubby cheeked death."
The Mary Sue

Steam Greenlight
About the Game

Rule the world or die trying!

Being a Princess is not an easy job. Being a Queen is even harder. Especially when you're only fourteen years old, and the reason you've inherited the throne is that your royal mother has just met an untimely end.

Now power is up for grabs. You may be the official heir, but much of the country's nobility would love to steal the throne for themselves. Aggressive neighbors will take advantage of any weakness to enlarge their borders at your expense. And that's not even mentioning the magical dangers which are lying in wait...

Can you survive long enough to reach your coronation?

THE QUEEN IS DEAD, LONG LIVE THE QUEEN
PC System Requirements
Minimum:


OS: XP, Vista, 7, 8

Processor: 1.2 Ghz

Memory: 256 MB RAM
Linux System Requirements
Minimum:


OS: x86 or compatible processor
Helpful customer reviews