Fight The Dragon is a USER CREATED Hack'n Slash RPG where players can team up and tackle exciting adventures made by other users in our in-game Adventure Construction Kit (ACK).
Release Date: Mar 27, 2014
Watch all 2 trailers
Early Access Game
Get instant access and start playing; get involved with this game as it develops.
Note: This Early Access game may or may not change significantly over the course of development. If you are not excited to play this game in its current state, then you may want to wait until the game progresses further in development. Learn more
What the developers have to say:
"
Adventurers Wanted!
You get access to Fight The Dragon in an early, unfinished but very playable state, where you can go adventuring in SP, Local Split-screen and online MP games as well as create, play and share your own adventures with other players.
This is your chance to get in early and help us shape the final features and content for Fight The Dragon.
Ongoing Development
Fight The Dragon development is in high gear and we are adding new features weekly, fixing bugs promptly and listening to our users feedback and using that to improve the game.
We have a long list of features and content we plan to add and here are just a few of them that are already in development...
- New character classes
- Customisable character skins and heads (including Steam Workshop)
- More enemies and more enemy behaviours
- More loot & weapons including ranged player weapons
- More content for the Adventure Construction Kit
- Procedural dungeon system for alternate gameplay mechanic
- Online PvP death-match arena (battle out your best characters)
+ LOTS MORE
A regularly updated current & planned feature list and FAQ can be found here...
http://steamcommunity.com/app/250560/discussions/0/558751660786031250/
Come join us on this awesome adventure and help us make Fight The Dragon the ultimate short form Hack'n Slash game!"
Read more
Buy Fight The Dragon Two Pack
Buy Fight The Dragon Four Pack
July 31st, 2014
We've finally made the time to create a new gameplay trailer - just in time for us to showcase at PAX Prime in Seattle at the end of August.
http://steamcommunity.com/sharedfiles/filedetails/?id=293838218
If you are going to be in Seattle for PAX, please come visit us, say hello and check out Fight The Dragon!
0 comments
Read more
July 17th, 2014
Welcome to Alpha 4.1


New Enemy Mutators
Mutators are a new system that randomly assigns new attributes and behaviours to enemies. It's designed to increase replayability in existing maps, as well as make our combat more interesting in general.
A mutated rat and skeleton:
http://steamcommunity.com/sharedfiles/filedetails/?id=283876484
Mutated enemies have a coloured glow as well as a HUD element on the health bar, so you'll have some idea of what to expect when fighting the enemy.
While Mutators are assigned to enemies randomly, creators can help guide the system by marking enemies for mutation. Any enemies marked for mutation will be prioritised by the system and will receive mutators when possible.
As characters level up, the number of mutators they see in any adventure will increase.
New Static Spawner enemy types
Static spawners are special props that can be placed by creators that will spawn enemies in-game, and can be killed by players. As a Creator, you can adjust the spawn rate, maximum number of enemies alive at once, and pick from a few enemy options to customise the experience for players.
A spawner set to spawn Rats and Skeletons:
http://steamcommunity.com/sharedfiles/filedetails/?id=287189186
New network aware loot drops
Loot dropped from your inventory while in a networked game will now be network aware! This means that other players will be able to see the loot and pick it up, allowing you to share loot amongst your party. Loot that is network aware will glow blue, it will also say who dropped the item when inspecting it on the ground.
A networked item. Notice the blue glow and "Dropped By" information:
http://steamcommunity.com/sharedfiles/filedetails/?id=282882175
Loot dropped from enemies in a multiplayer game will still only be visible to you and will still glow yellow.
New LAN server option
Included with every install is a new standalone server executable. Look for the server in the following folder…
FightTheDragon/FightTheDragon_Lan_Server_Win32
Running the executable will start a server and display an IP address, allowing you to connect to that IP address from the LOCAL SERVER tab in the "Online" menu in-game. The standalone server can only be run on a Windows machine, but we are including it for all platforms in case players on OSX or Linux has access to a Windows box to host a server on.
By running a server locally, you'll have dramatically reduced ping times ( 5-10ms in our case ), obviously making gameplay a lot smoother and more predictable. It feels like you're playing split-screen!
Alpha 4.1 Change List
New
New network aware loot

New online player arrows to show which direction other players are

World map now auto expands indefinitely

New LAN server

New enemy mutator system

New enemy spawner types

New throwing hatchets for fighters

Raised level cap to 40

Added extra modifiers for Dual Daggers and Dual Swords

Added new game hints on loading screen

Changes/Improvements
Check adventures on game start to ensure any owned by the player are marked as owned by player

Improved game cleanup when game fails to launch when steam client is not available

Wall props now raise and lower at 1/4 height increments to allow for proper placement

Reimplemented bad word checker for NPC dialogue and Adventure description text

No more re-spawning the character on every online server change - YAY!

All armour attachments on an enemy will now flash correctly when hit, not just the base skin

Improved character and enemy movement jitters in online play
Fixes
Fixed spear not being equipable on Rogue

Fixed spear attack secondary effect using wrong direction

Fixed being able to rate 3 Sprockets adventures when in online mode

Fixed Vsync option being ignored on LOW quality settings

Fixed animation issue when attacking in online games

Fixed online missing game icons

Fixed being able to secondary attack immediately after switching weapons

New shields being dropped will no longer have modifiers for 2 handed weapons

Fixed being able to shift click/ [Y] in inventory when in a category list

Fixed pause menu and special attack UI showing controller info when online using mouse & KB

Fixed not being able to click on special attacks or potions UI when in online mode if not host

Fixed being able to reach the visual boundary of the world map

Fixed character model not updating visually when equipping a piece of loot in a slot that has nothing in it

Fixed ability to DONATE in Loot Shrine when currently in "PICK REWARD" mode

8 comments
Read more
About the Game
Build, Explore, Battle & Loot in this GAUNTLET inspired USER CREATED hack'n slash
Create & share Adventures like a true Dungeon Master of old!
Fight The Dragon is a
USER CREATED
Hack'n Slash RPG where players can team up and tackle exciting adventures made by other users in our in-game Adventure Construction Kit (ACK).
Our Latest Dev Let's Play 7 Video... 1st August 2014
http://steamcommunity.com//sharedfiles/filedetails/?id=294385674
See all of our Dev Let's Play videos here...
http://steamcommunity.com/app/250560/discussions/0/43099721603885411/
Players can play single player, local split-screen (2 players) or online multiplayer (4 players) to complete 10-15 minute adventures in a non-linear order, which allows players to jump in for a quick fix or play multiple adventures over longer play sessions. Collect loot, level up, conquer enemies and become a master adventurer!
Become the ultimate Dungeon Master you always dreamed of being!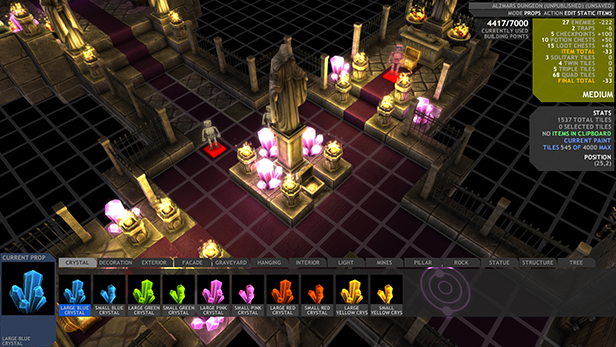 Fight The Dragon ships with a highly flexible in-game Adventure Construction Kit (ACK) that allows players to design, play and share their own adventures with other players on all platforms around the world.
The ACK (as is the gameplay) is designed to be as intuitive to use via a gamepad as it is via mouse and keyboard. Creators are able to sculpt and paint environments, place props, enemies, NPCs, Traps, checkpoints and other key game elements including hooking up basic logic systems for switches/gates and traps.
The Fight The Dragon community have already published over 1600 fantastic adventures, which means we have hundreds of hours of gameplay already created.
ACK FEATURES
Great assortment of Melee, Ranged and Mini-Boss Enemies

Large selection of textures to paint environments with

Static & Dynamic props including realtime lights, traps, bridges & more

Super intuitive editor allowing rapid design

In editor play testing at any time
Dragon Battle Arena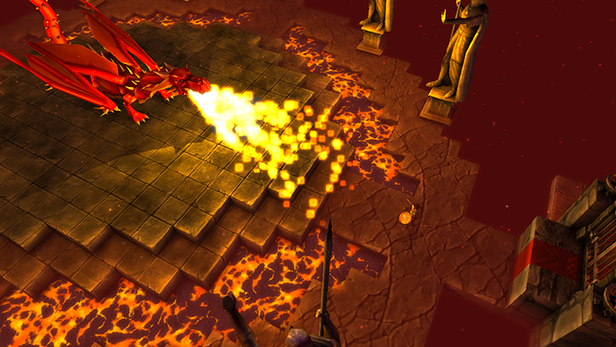 As heroes complete adventures and reach milestones, they earn tickets that allow them to go "Fight The Dragon" in the ultimate dragon battle arena.
Every player has their own dragon to fight, and each dragon has MEGA HP, so killing your dragon will require many encounters and a lot of skill. The damage you do to your dragon is persistent between play sessions, so collect as many tickets as you can and go battle it out! Each ticket grants the player 3 lives, but be warned, there are more ways to die in the dragon arena than just the dragon, so stay alert!
Key Game Features
In-Game Adventure Construction Kit – Create and share Adventures!

Over 100 hours of unique gameplay created by our community so far!

Action packed Hack-and-Slash Adventuring in your own creations

Female and Male versions of all of our classes

Local Drop-In Split-Screen Co-Op

Up to 4 player online Co-Op (cross platform)

LAN server for local 4 player Co-Op

Intense Dragon Fights with special dragon loot

Full gamepad support & Big Picture support
State Of the Game - FAQs
Game - Current State & FAQ
http://steamcommunity.com/app/250560/discussions/0/558751660786031250/
Adventure Construction Kit - Current State & FAQ
http://steamcommunity.com/app/250560/discussions/0/558751812695879447/
PC System Requirements
Minimum:


OS: Windows XP+

Processor: Intel i3+ or equivalent

Memory: 1 GB RAM

Graphics: Nvidia 8000, Radeon HD3000, Intel HD 4000+

DirectX: Version 9.0c

Hard Drive: 500 MB available space
Recommended:


OS: Windows 7+

Processor: Intel i5+ or equivalent

Memory: 2 GB RAM

Graphics: NVidia 560+ or equivalent

DirectX: Version 9.0c

Network: Broadband Internet connection

Hard Drive: 1 GB available space
Mac System Requirements
Minimum:


OS: OSX 10.6+

Processor: Intel i3+

Memory: 1 GB RAM

Graphics: Nvidia 8000, Radeon HD3000, Intel HD 4000+

Hard Drive: 500 MB available space
Recommended:


OS: OSX 10.6+

Processor: Intel i5 or equivalent

Memory: 2 GB RAM

Graphics: NVidia 560+ or equivalent

Network: Broadband Internet connection

Hard Drive: 1 GB available space
Linux System Requirements
Minimum:


OS: Ubuntu

Processor: Intel i3+ or equivalent

Memory: 1 GB RAM

Graphics: NVidia only

Hard Drive: 500 MB available space
Recommended:


OS: Ubuntu

Processor: Intel i5+ or equivalent

Memory: 2 GB RAM

Graphics: NVidia only

Network: Broadband Internet connection

Hard Drive: 1 GB available space
Fight The Dragon - (C) 2014 3 Sprockets, All rights reserverd
Helpful customer reviews
Title:
Fight The Dragon
Genre:
Indie
,
RPG
,
Early Access
Developer:
3 Sprockets
Publisher:
3 Sprockets
Release Date:
Mar 27, 2014
Languages:
| | Interface | Full audio | Subtitles |
| --- | --- | --- | --- |
| English | | | |
Awards
Best in Play
- GDC Play 2014