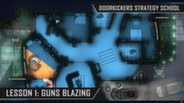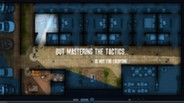 Door Kickers is an innovative realtime strategy game that puts you in charge of a SWAT team and lets you command them during a tactical intervention. Analyze the situation, plan team routes, choose equipment and breach points and coordinate multiple troopers to reach the hostage room before the bad guys get to press that trigger.
Release Date: Sep 3, 2013
Watch all 2 trailers
Early Access Game
Get instant access and start playing; get involved with this game as it develops.
Note: This Early Access game may or may not change significantly over the course of development. If you are not excited to play this game in its current state, then you may want to wait until the game progresses further in development. Learn more
What the developers have to say:
"
Door Kickers
is currently in Alpha and discounted in price by an estimated 5$. Some features are missing but the fun and addiction are already in! With your help and support we can make this
the ultimate SWAT Team Command Simulator!
In the current build (Alpha 9) you can play 57 handcrafted levels, use the mission generator and check the gameplay and tactical options. Each subsequent version will bring gameplay advances, new tactical options and sandbox improvements.
By contributing with your voice and money now you can help shape this game into the
kickass strategy game
that you'll love for
years to come!
.
Next planned build - Alpha 10:
- engine support for larger levels

- pan & zoom

- new game modes

- new bad guys

*all content subject to change
"
Read more
July 9th, 2014
We just issued a small update fixing some annoying bugs reported during beta (thanks everyone for the feedback).

Fixes:
- Fixed crash that would sometimes happen when deleting a path.
- Fixed crash when changing between some mods.
- Upside-down movie when exporting from replays.
- Resolutions with refresh rates below 59hz are now taken into consideration.

Other:
- Pressing any key skips the initial KHG logo.
- No longer waiting for a key press before going to the main menu.
2 comments
Read more
June 21st, 2014
Beta is here and with it the new face and soul of Door Kickers.

https://www.youtube.com/watch?v=TR6hb5WQVQg

No fear, its still the same game, but - as promised - it's got major improvements, over and under the hood. Starting with the new Menu makeup, going through the changed equipment unlocking and Squad Levelup, and getting to the improved tactical options in game, we feel its a much better experience.

Yes, we did say Squad Levelup. Back when we first put the Doctrine Tree out we knew some things didn't really click together, and your feedback confirmed we're on the same page.
The new system works as follows:
-troopers start with innate, random ability values. In the future, more might be added.
-they levelup based on XP and get a flat set of improvements with each rank. In the future, there will be some player control over trooper improvements.
-the squad levels up via the sum of XP received by ALL troopers
-Squad Levelup unlocks the trooper classes and gains you Doctrine Points to use in the Doctrine tree
-the new mission challenges give extra XP
-oh, yeah, the squad and troopers should all reset with the new version

Speaking of your troopers, you can now quasi-customize them by replacing them with others from the available pool. In the future, you will also be able to completely edit the names and use your custom pictures!
Going into the actual game, you might notice the troopers are much better at following the path and orders sequence and its much easier to predict now what you will see from each waypoint.

You can also have waypoints that interact with objects from a distance, so if you want for example to have a trooper open the door from the side, that's easy to plan in advance now.

Also, a new and handy auto-go-code is available now, the wait for clear order. Troopers ordered to do so will stay in place until all hostiles have been pacified or left their field of view, and continue afterwards. Its a handy tool, but it will put a half a second delay in your advance, so use it where appropriate only.


Since the game plays a little different, we're especially keen to hear your thoughts on the new build and features, so don't forget to write!


What else is New and Important in the Beta version of Door Kickers:
--------------------------------------------------------------------------------------------------------------
Features:
- Challenges: in addition to the 3-star system, you can now complete challenges for each level. These do not count towards unlocking weapons but do gain your troopers XP.
- Plan saving: all paths up to the first "Play" command are saved and restored when restarting the map, also called the Daimaju feature.
- Unlockable items: items are now unlocked using the Stars currency.
- Unlockable classes: trooper classes (assaulter/breacher/etc.) are now unlocked by leveling up your squad.
- 8 new firearms.
- 3 new armor types.
- 8 new maps.
- Many improvements to enemy AI.
- Line of sight preview when drawing a path.
- Proper feedback indicators for enemies that are about to execute a hostage + added countdown timers for executioners.
- Feedback for the range of all sounds. Can be switched off in options.
- Added indicators for shield area of cover.
- Added enemy tooltips that show their equipment and intentions.
- When the line of fire is blocked by a friendly unit, a proper graphical indicator is rendered.
- The VIPs in "Protect the VIP" scenarios must be activated by proximity in order to be able to control them.
- Can customize the name/appearance of your troopers (wip, for now you can only loop through all the troopers in the database).
- Can now change resolution from the in-game video options.
- Support for more .wav formats. Previously an unknown format would crash the game.
- Added reverb sound effects (wip).
- Added new graphics/sounds effects (ejecting bullet shells, rain, fire etc.).
- Graphical updates to many maps, including the training ones.
- Improved overall graphics.
- Can now disable map zooming/panning from the options menu.
- Arrested enemies auto-move outside the line of fire between a swat and a fellow enemy.
- Selecting between paths that are over-imposed is now much easier.
- It is now possible to switch between pages in the Single Mission selection screen, via the small buttons on the bottom.

Fixes:
- Fixed the 50 mods limit downloaded from Steam.
- The "Export replay to movie" feature now works correctly on more (all?) hardware configurations (and faster).
- A crash that would sometimes happen after enabling/disabling mods and playing a game.
- Mods are no longer deleted after starting the game in offline mode.
- Deploy slots no longer look weird on very large screen resolutions.
- Flashbangs that could sometimes kill an enemy if they hit him.
- Too many trooper radio sounds in replays.
- A bug where shields would not stop bullets coming from grazing angles.
- Snipers can no longer target VIPs.
- A bug where modded weapons would show up more than one time in the equipment menu.

Modding / Structure changes:
- When updating a mod, the mod.xml "description" field is no longer updated on Steam Workshop.
- Can now use additional breaching charge types on a door.
- Maximum map size is no longer hardcoded at 4096x4096, though it's still limited by the maximum texture size supported by the GPU. Recommended 8192x8192.
- Added more rendering layers (can now control which item renders on top of what item with more precision).
- All weapon mods that use bullet_trace.tga + bullet_trace_shotgun.tga should now use the .dds versions. Will remove the .tga ones in the next update.
- All weapon mods should update the firearms flare rendering layers to mimic the ones in the new equipment.xml version.
- All weapon mods should add bullet-shell-on-the-ground sounds like in equipment.xml. If your mod already added such sounds (e.g. SiC), make sure to take them out or add them using the new fields in equipment.xml.
- Graphics / Explosion sounds for flashbangs/breaching charges are now moddable. Mods that modify the flashbangs/breaching charges should modify them according to the new equipment.xml (added the explosion sounds and graphics).
- Crowbar/lock-picks added to the equipment items and can now be modded.

Have fun, wear your plates OR NOT ;) , and don't forget to hit the feedback button :)

Your DevTeam @ KillHouse Games

20 comments
Read more
Reviews
"Door Kickers is a very fun, very simple to pick up but difficult to master strategy with real time SWAT tactics."
GamersDissent about Alpha 4

"If you're a fan of the SWAT games, Rainbow Six, Frozen Synapse, (...) then you've probably got Door Kickers pencilled in your diary, perhaps even accompanied by a couple of exclamation marks."
PC Gamer covers Alpha 3

"It's a thing of beauty and manages to capture the planning and satisfying execution of more complex strategy games, as well as the gung-ho and the popping-off of growly man in military shooters. (...) It's probably the best man-shootery game I've played in years."
Indie Statik on Alpha 3

Steam Greenlight

This game was picked with help from the Steam Community. To vote for other games you'd like to
see made available on Steam, please visit Steam Greenlight.
About the Game
Door Kickers
is an innovative realtime strategy game that puts you in charge of a SWAT team and lets you command them during a tactical intervention.
Analyze the situation, plan team routes, choose equipment and breach points and coordinate multiple troopers to reach the hostage room before the bad guys get to press that trigger.
It may sound daunting, and like real world CQB combat, it sure is. But
most levels can be completed in minutes
and on the fly improvisation works. Achieving the perfect planning, getting the mission done with no false steps, that's a skill harder to master.
Quick Points:
2D, Top Down for optimal tactical analysis

Real Time With Free Pause

No turns, no hexes, no action points or awkward interfaces

Realistic but action packed

Non-linear levels, freeform gameplay

Mission editor and modability

Unlimited gameplay via mission and campaign generators

Single Player (but MP might come later)
Door Kickers is currently in Beta, very playable but not finished yet. But our users and the press think its already very fun and addictive! And there's a lot of gameplay in over 70 handcrafted levels + the mission generator.
What can you actually expect? Obviously some features are not yet implemented. There are also small bugs or gameplay tuning issues and you can say the experience is not yet final quality. We are releasing regular updates to the game and will continue to do so, with an
Estimated release of the final game in Q3 2014
. Each update comes with new stuff, new toys, new levels.
By buying the game in Early Access you will also receive the full game, upon its release.
Planned Key Features of Door Kickers:
6 controllable unit types, each with pros and cons

over 10 enemy bad guy types, giving distinct challenges in firepower and behaviour

customizable unit loadouts affecting their behaviour and abilities in the field

level locations of all sizes and shapes, with infinite scenarios generated over them

natural, easy to use context-sensitive interface

clever AI that needs no babysitting

Location and Mission Builder at your fingertips, with missions easy to share between players

freeform gameplay supported by reactive AI, open structures and multiple gameplay options

realistic tactical options such as door breaching, flash bangs, coordinated entries and sniper support
PC System Requirements
Minimum:


OS: Windows XP SP3

Processor: Intel Pentium IV 2.6 GHz or equivalent

Memory: 2 GB RAM

Graphics: An OpenGL 2.0 graphics adapter. NOT SUPPORTED: Intel GMA, Intel HD Graphics 1 or older.

Hard Drive: 2 GB available space

Additional Notes: 1366x768 minimum display resolution
Recommended:


OS: Windows 7

Processor: Intel Core 2 Duo or AMD Athlon 64 X2 5600

Memory: 4 GB RAM

Graphics: NVidia Geforce 9xxx / AMD Radeon HD / IntelHD 3000 series or better

Hard Drive: 2 GB available space

Additional Notes: A resolution of 1920x1080
Mac System Requirements
Minimum:


OS: OSX 10.7

Processor: Intel Pentium IV 2.6 GHz or equivalent

Memory: 2 GB RAM

Graphics: An OpenGL 2.0 graphics adapter. NOT SUPPORTED: Intel GMA, Intel HD Graphics 1 or older.

Hard Drive: 2 GB available space

Additional Notes: 1366x768 minimum display resolution
Recommended:


OS: OSX 10.8

Processor: Intel Core 2 Duo or AMD Athlon 64 X2 5600

Memory: 4 GB RAM

Graphics: NVidia Geforce 9xxx / AMD Radeon HD / IntelHD 3000 series or better

Hard Drive: 2 GB available space

Additional Notes: A resolution of 1920x1080
Linux System Requirements
Minimum:


OS: Linux

Processor: Intel Pentium IV 2.6 GHz or equivalent

Memory: 2 GB RAM

Graphics: An OpenGL 2.0 graphics adapter. NOT SUPPORTED: Intel GMA, Intel HD Graphics 1 or older.

Hard Drive: 2 GB available space

Additional Notes: 1366x768 minimum display resolution
Recommended:


OS: Linux

Processor: Intel Core 2 Duo or AMD Athlon 64 X2 5600

Memory: 4 GB RAM

Graphics: NVidia Geforce 9xxx / AMD Radeon HD / IntelHD 3000 series or better

Hard Drive: 2 GB available space

Additional Notes: A resolution of 1920x1080
Helpful customer reviews
Title:
Door Kickers
Genre:
Action
,
Indie
,
Simulation
,
Strategy
,
Early Access
Developer:
Killhouse Games
Publisher:
Killhouse Games
Release Date:
Sep 3, 2013
Languages:
| | Interface | Full audio | Subtitles |
| --- | --- | --- | --- |
| English | | | |