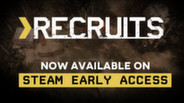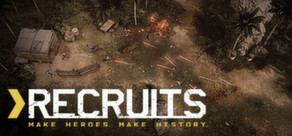 Recruits is a brutal fast paced top down shooter that puts the lives of countless amounts of soldiers in your command. Lead your men to victory and see them progress through the ranks, show them defeat and they will be lost forever.
Release Date: Jul 31, 2014
Watch HD video
Early Access Game
Get instant access and start playing; get involved with this game as it develops.
Note: This Early Access game may or may not change significantly over the course of development. If you are not excited to play this game in its current state, then you may want to wait until the game progresses further in development. Learn more
What the developers have to say:
Why Early Access?
"We released our Pre-Alpha over a year ago, we got great feedback and now need to reach out to more players! With Steam we can the the suggestions and feedback of a larger player base and really create a game everyone can enjoy."
How long will this game be in Early Access?
"We do not know how long we will be in early access, you hope to bring the game to a very high quality during early access with your help and support."
How is the full version planned to differ from the Early Access version?
"The full version will have much more content, additional missions, new vehicles, multiple enemies, etc. We also expect to get feedback from Early Access to further develop what you want in the game."
What is the current state of the Early Access version?
"At the moment, the game features the core mechanics that will be present in the game. Both Single Player and Multiplayer are available in basic form so that the community can give us further feedback on what areas to focus on."
Will the game be priced differently during and after Early Access?
"Buying the game in Early Access means that you are giving us your money for a half finished game. We understand this and that is why the Early Access price is slightly less than the full priced game as extra incentive to purchase Recruits early and help us out with development."
How are you planning on involving the Community in your development process?
"We would like players to give us feedback of Recruits via our forums, comments, and reviews. We will read all of these and take them on board with our development of the game." Read more
August 5



Alpha 0.5.3 - Aug 6, 2014



We have been busy getting things working better and fixed up as per your feedback and suggestions and now we have another little update. We want to also thank you all for the feedback and great multiplayer game we have been playing with you guys.

Note: This update may reset Controls and video options. Hopefully this will be the last update to do this.

Changes:

Squad Command Menu has different options depending if aiming at Enemy or Squad Member

Added super basic Melee

Added Random Delay to when enemies throw grenades so not instant.

Show warning when trying to deploy in MP without recruit selected

show warning when trying to create server without name

Use Progress Bar shows above head when using objectives (planting C4 etc..)

MP Commander XP and Respect points earned and updated per kill instead of per game.

Refactored Use tooltip Code to make MUCH more consistent and accurate

Use key utilizes Priority layering For when multiple usable objects overlapping
Bugs:
Fix next round time on official servers

Fixed Flash grenade selection throwing Molotov

Roofs in Village now have proper Collision.

Swapping Squad mates does not change weapons

Removed BSP from Village Level

Chat Text Field No longer overlaps with chat log

Enemies Should no longer throw grenades after death.

Fixed connecting to Official Server Listings if Steam Server is in list

Pickup Weapon tooltip Hides when weapon despawns

Fixed grenades not getting thrown correctly in multiplayer
Remember to head over to the
Discussion Forums
and post any bug or ideas you have for Recruits.
1 comments
Read more
August 2



Alpha 0.5.2 - Aug 2, 2014


We just want to thank everyone for all the feedback during our launch. We have had tons of bugs and note and comments and believe me when I say we are very grateful for them all!

Now, we have done some fixes and changes and pushed them out for everyone to test. Take a look below for the latest change log for Recruits. We are still doing fixes and changes and starting to get back into content development.



Changes:
Show warning screen when launching without recruits

Squad members move to point even if cant resolve on nav mesh as long as clear line of sight

Add Scroll Bar to resolution Select in Options Menu and Map select.

Removed Kill all enemies objective from Tank Level

Objectives HUD stays open by default

Single Player Memorial list now sorts by latest death at top
Bugs:
Helicopter Mission Final Objective now assigned properly

Fixed issue in tank mission with destroying barricade before being assigned objective

Fixed Squad Hud from bugging out when swapping recruits with 1234 keys.

Tips now trigger more consistently

Can no longer shoot through walls if gun is clipped through them

Squad HUD no longer overlaps entries on certain resolutions (1920x1080)

Fixed Memorial Death Dates being clipped in menu
Remember to head over to the
Discussion Forums
and post any Bugs or Ideas you have for Recruits.
3 comments
Read more
Reviews
"One of the most anticipated games Greenlit by the Steam community"
Go! Indie Beat

"One to keep an eye on"
Rock, Paper, Shotgun

"Community Rating"
8.9/10 – Desura

About the Game
Recruits is a brutal fast paced top down shooter that puts the lives of countless amounts of soldiers in your command. Lead your men to victory and see them progress through the ranks, show them defeat and they will be lost forever.
Your role as a commander puts you in charge of managing a platoon of soldiers during the war. Take men into battle one squad at a time to accomplish your missions, along the way gaining experience and respect that allows you to better equip and customize your soldiers.
Only by keeping your men alive, gaining medals and awards and defeating an overwhelming amount of enemies can you hope to be victorious during this time in history.

Recruits is in ALPHA, meaning that is is currently not finished. DO NOT PURCHASE THIS GAME unless you are happy to contribute to the development and play it with bugs and issues. This game is on Steam so that it can reach a wider audience and players can help contribute to the active development of Recruits.
Current Features
General Gameplay – Full body dismemberment and gore, weather effects, physics and destruction and time of day lighting effects.

Variety of Mission Objectives – Including kill all enemies, destroy all buildings, covert operations and survival situations.

Soldier Progression – Permanent death, enlisted rank progression, personal attributes and customizable nicknames and load outs.

Special Abilities and Weapons – As a Commander, earn respect points to unlock upgraded weaponry and special abilities such as Airstrikes and Cluster Bombs.

Squad Orders – A right click command menu in singleplayer gives you the ability to give basic commands to your squad members.

Game Modes – Singleplayer campaign missions, online multiplayer death match and team death match.

Controllable Vehicles – Helicopters and Tanks with specifically tailored missions and environments for them.

Updates – Updates for fixes and feedback from players to improve the game in all aspects.
Future Features
More Mission Objectives - Rescue prisoners of war, assassinate enemy leaders and base patrols are just a few.

In-depth Soldier Progression – Platoon role stat bonuses, visual soldier customization and more.

Special Abilities and Weapons – Larger variety of weaponry and more special abilities including Napalm, Mortar Strikes, Airdrops, Chemical Sprays reinforcements and more.

Context Sensitive Command Menu – Greater and more precise control over the squad A.I.

Soldier Morale – Events in game effecting the mood and effectiveness of your soldiers in battles.

More Game Modes – Introduction of online and local co-op, capture the flag and more.

Medals and Awards – Earn special stat boosts by performing heroic events in game.

Steam Integration – Steam Achievements.

Overall Game Improvements – Bugs and fixes, along with making the game easier to play and understand for all users. This game is still being developed and will always be updated to improve the overall usability.

Facebook -
http://www.facebook.com/commotiongames
Twitter -
http://www.twitter.com/commotiongame
Youtube -
http://www.youtube.com/user/commotiongame
System Requirements
Minimum:


OS: Windows XP SP3 (32-bit only), Windows Vista, or Windows 7

Processor: 2.0+ GHz multi-core processor

Memory: 2 GB RAM

Graphics: SM3-compatible

DirectX: Version 9.0c

Hard Drive: 2 GB available space

Additional Notes: 3 Button Mouse Recommended
Recommended:


OS: Windows 7 64-bit

Processor: 2.5+ GHz multi-core processor

Memory: 8 GB RAM

Graphics: NVIDIA 8000 series or higher

DirectX: Version 9.0c

Network: Broadband Internet connection

Hard Drive: 2 GB available space
© 2014 Commotion Games Pty Ltd, Recruits, are trademarks of Commotion Games Pty Ltd. All Rights Reserved.
Helpful customer reviews
Title:
Recruits
Genre:
Action
,
Indie
,
Early Access
Developer:
Commotion Games Pty Ltd
Publisher:
Commotion Games Pty Ltd
Release Date:
Jul 31, 2014
Languages:
| | Interface | Full audio | Subtitles |
| --- | --- | --- | --- |
| English | | | |
Awards
"MassDiGi.org - Best Game Prototype" 2012
"IndieDB.com - Top 100" 2012
"IndieDB.com - Top 100" 2011