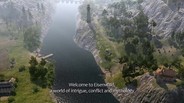 Legends of Eisenwald is an old school RPG with elements of strategy and turn-based combat. Gather your troops and embark on a dangerous journey to carve your name into the legends of the grim lands of Eisenwald where all the supernatural superstitions of medieval times are found to be true.
Release Date: Oct 9, 2013
Watch HD video
Early Access Game
Get instant access and start playing; get involved with this game as it develops.
Note: This Early Access game may or may not change significantly over the course of development. If you are not excited to play this game in its current state, then you may want to wait until the game progresses further in development. Learn more
What the developers have to say:
Why Early Access?
"We are a small indie development team and without Early Access we would find it very hard to finish our game. Thanks to Early Access we are now close to release."
How long will this game be in Early Access?
"We are on Early Access since October 2013. We plan to release this Autumn."
How is the full version planned to differ from the Early Access version?
"More scenarios will be available, graphic SFX will be implemented, there will be Steam Achievements and Trading Cards. Also, the user interface will be different and it will be released next, after Steam Workshop integration."
What is the current state of the Early Access version?
"The game is fully playable with only few occasional bugs."
Will the game be priced differently during and after Early Access?
"We started with $15 price, and we raised it to $20 in June 2014. It is likely it will cost $25 at the release."
How are you planning on involving the Community in your development process?
"We implemented many features requested by community since October and now we are looking for help to test the gameplay, scenarios and report the bugs so the game is well polished at the release. Based on the feedback, we redesigned UI and it's almost finished. We are considering a closed beta on Steam to test additional scenarios of the main campaign that will be fully available at the release." Read more
August 25
Hello everyone,

We are happy to share with you this piece of news. The version 0.97 has been released and soon your Legends of Eisenwald will start downloading it.

We can say that this patch can change your perception of the game because this patch not only changes the user inferface functionally but also changes its appearance: new color pallette is used that corresponds more to the game world, new backgrounds added, new buttons and other things. We added a few details to enhance authenticity – catholic lithurgy of hours is now there too. And we also think, that new reworked tutorial turned out much better than the first version – it is easier to understand and looks way more beautiful. Give it a try! It's available right out of the main menu. Later it will be available in the prologue as well, now it doesn't work properly and we didn't want to delay the release because of that. Please don't turn on the Tutorial option, and things will be fine. You can see at it anytime in game by pressing F1. Oh, and since F1 is not for tutorial, F3 is a new button for autocombat.




Besides the new interface, this patch includes fixes in how the speed of the army is calculated (can be slower or faster depending on how many things your hero is carrying in his/her inventory, the effect of horses is calculated now too). Because of the players feedback we lowered a bit speed of weaker armies that try to run away, so it will be easier to catch them. If you had an issue with minimizing the game, now the problem with using Alt-Tab is partially solved - the windowed mode is changed to a full screen (with a condition that you selected windowed mode and your true screen resolution).




==================
Русскую версию новости можно прочитать на официальном сайте.
16 comments
Read more
August 14

Today we tell about characters each player faces when he or she first starts Legends of Eisenwald. We will talk about main heroes of the game.

HISTORY OF CREATION
Three main characters of Legends of Eisenwald are invented by leading game developers Nikolai Armonik and Denis Lomako analogous to our first game Discord Times. We have once said that initially Legends of Eisenwald was planned to be much easier and more like a remake of Discord Times, but eventually we got many different ideas that found their way into the game. We eliminated everything that is impossible to do by a small team and got a hardcore simulator of a wandering knight. It was originally planned that we would have 6 heroes (one male and one female characer for each class), but in the process we decided to give make it a bit different, so we ended up with just three characters: Knight, Baroness and Mystic.

A little later, when Nikolai had already developed the game engine and we came up with game visualisation, its main features, narrative outline, and other elements. We decided not to go much into narrative individualization based on the hero class, and we made a bet on the players possibility to associate themselves with a character.

So today, you can choose one of three characters, not only in accordance with yours strategic and tactical preferences, but also to write your own history of relationships with the world of Eisenwald. This world has a twisted story and a large number of in-game legends, which can be touched. We believe that our characters perfectly embody everything that we do with the game world.

CHARACTERS = CLASSES



Despite the fact that we did not seriously pursue individualization of heroes, for general understanding of the classes possibilities we descriptions (not in the game yet and not edited yet):


Knight:
This is a strong and tough warrior wearing heavy armor and he is unsurpassable in melee combat. He leads his troops to victory or death, marching forward and then as the first meets one or the other. There are no weapons that wouldn't be fatal in his hands, whether it's a quick sword, cavalry lance or a heavy hammer. When he mounts his steed, he will not leave his enemies even a chance to escape.
Baroness:
She is a bold and self-willed noble woman. She prefers hunting, archery competition and dangerous journeys to needlework and music. She considers hand to hand combat a privilege of men but sill she knows how to handle a bow and a crossbowBaroness assume fights face to face privilege of men, however, she knows how to hanlde a bow and a crossbow. Thank to her instincts, cunning and hunting skills, she like no one else can gain advantage in the wild.
Mystic:
He is a learned man who apprehended metaphysics, astrology and alchemy, but also who realized that to discover the mystery of life you need to look death in face. A cruel fight is the best lesson in philosophy, and the huge world is a laboratory. That is his postulate. When he gained power over the properties of matter, a mystic tells metal become brittle as glass, leather – strong as steel, and touch – deadly as flame.
Game skills of main characters are divided into three branches: the command, social and class.
Command skills
are the same for all three characters. They include five abilities to improve capabilities of fighters. Some increase initiative, others reduce damage. You can even get an extra support slot! A great commander is a leader. One can not conquer alone, so we recommend to pay attention not only to personal skills of your hero but also to his command skills.
Social skills
do not differ between the classes of the game characters. In fact, this direct line of three points of development: a feudal lord, a traveler, a merchant. Each of these points, as the name implies, provides definite advantages to the player, which could significantly affect the gameplay. The feudal lord may take tribute from villages, the traveler does not receive fines for traveling over rough terrain, and a merchant trades with higher efficiency. Our game is not just about knights battle each other, but also about the medieval world. You have to immerse yourself in this world, hence opportunity to stock up on useful skills of noble man may be just opportune for anybody, who prefers to tread carefully through uncharted lands of Eisenwald.
But the most delicious for any player are, of course,
class skills
! It is because of them you choose the baroness instead of the knight or the knight instead of the mystic! Because these skills make your playing style very specific and not similar to other. Class skills will allow your character to progress their own skills, to fight at the head of troops or to support organizational process and also practical skills.
Knight is not only battle commander for his army, but he is a battering ram in the battle because his class abilities allow him to fight not only with one-handed and two-handed weapons. He can also use horses in battle and even ramming attack with his lance. A class branch of Baroness consists of progress in shooting abilities and features of the character. At the outset Baroness can give any hunter a hard time, whether she has a bow or crossbow. We consider, that mystic is a one of the most difficult to learn skills. At the same time this is the strongest class for a person, who study out in a fine structure of existence and who is a true-born astrologer and alchemist. Mystic can learn 6 skills, that help to use a variety of spells, which he acquires during the game. Spells can be both punishing (for enemy), and supporting (for allies). Astrology increases the impact of selected spell depending on a position of the stars, metaphysics allows to nourish with spiritual energy at the end of the turn, and Necromancer skill, for example, allows you to be able to invoke spirits!
We don't want to bother you with description of all characters skills. In our opinion, it was written enough above to help you decide which hero you will choose when you start the game for the first time. If you have already played for all characters in the game, we invite you to join the discussions on our Steam forum and tell us what class is more interesting and what is easier!
P.S.
Incidentally, in the scenario "Cursed Castle", which was officially included in the game with the latest update, each character is present on the map and has its own starting position and castle. To state the obvious, in this scenario in particular you can see who is worth what.
========================
Как всегда, русскую версию дневников вы можете
прочитать на нашем официальном сайте
.
0 comments
Read more
Reviews
"The graphics are excellent, the presentation is sharp, the setting is pleasantly different from the norm and the gameplay is challenging but accessible. If Aterdux keep on down this road, they might well have a hit on their hands."
Indie Statik

"Legend of Eisenwald is looking to shape up quite nicely."
RPG Codex

"While the game is very much in beta, it has so much potential I'm giddy just thinking about it."
http://pc.mmgn.com/Articles/legends-of-eisenwald-preview

About the Game
Do you miss old school RPG/strategy games? If so, we invite you to Eisenwald where we carry on the proud tradition of games like Kings Bounty or Disciples 2! In Legends of Eisenwald you will encounter a unique turn-based combat system and story driven campaign set in a low fantasy medieval world.
A Story-Driven Strategic RPG
Play through the extensive main campaign, containing seven scenarios, as well as a stand-alone scenario, The Masquerade. Each scenario, or chapter in the story, will take you to a new part of Eisenwald and present new challenges to overcome. The decisions you make affect how the story plays out with several paths and endings.
Original Turn-Based Battles
The combat system is heavily streamlined to create a dynamic form of turn-based battle that maintains all the tactical benefits of a turn-based system but a much faster pace of play that removes the frustrating moving between attacks.
Combat feels much more like an RPG than a strategy game but provides a greater degree of tactical depth and flexibility than similar games.
Low Fantasy Authentic Setting
Legends of Eisenwald is set in a believable medieval land featuring supernatural elements. Rather than the high fantasy worlds of elves and dragons, Eisenwald is based on the concept of how the world would look if all the medieval superstitions turned out to be true.
You'll encounter witchcraft, terrifying creatures and mystery on your journey but the world is driven primarily by human motivations and politics rather than mystical powers.
Highly Customisable Heroes and Units
Enjoy deep skill-trees and multiple options for customising your character and army as you progress through the game. Choose from three distinct hero classes in the Knight, Mystic or Baroness and then equip and develop your hero and troops to your personal taste and play style.
Huge Game With More Than 30 Hours of Gameplay
A main campaign with seven scenarios as well as the standalone scenario of The Masquerade will be included in the game at launch, providing more than 30 hours of gameplay and a significant amount of replay value beyond that due to the non-linear story and impact on the combat from your choice of hero class.
Key Features
RPG With Strategic Elements

Non-linear story That Reacts to Your Choices

Original Turn-based Combat System

Low Fantasy, Authentic Medieval Setting

Deep Skill Trees and Intricate Customisation Options

Huge Variety Of Weapons and Spells

Support for English, French and Russian language throughout, limited German support currently
Key Info on the Status of the Early Access Build vs. Final Release:
All the core gameplay mechanics are integrated and live, although we are still working on polishing and refining these based on your feedback.

English, German, French and Russian language support is in for the Prologue and Masquerade scenario. English, French and Russian support is in for The Way Home and Run Away scenarios.

Sound effects are mostly done but will be improved more.

No special visual effects integrated yet – final visuals will be much nicer.

We're also aiming to integrate Steam achievements. Trading cards will be availalbe at the full release.

The final game will contain a campaign consisting seven scenarios including the prologue and will support English, German, French and Russian languages at launch. Maybe Spanish too.
System Requirements
Minimum:


OS: XP, Vista, 7

Processor: 2 GHz dual-core CPU

Memory: 2 GB RAM

Graphics: 512 MB graphics memory, shader model 3 (Radeon HD 4600, GeForce 8600)

DirectX: Version 9.0c

Hard Drive: 2 GB available space

Additional Notes: Screen resolution 1280x1024; Dedicated video card required
Recommended:


OS: XP, Vista, 7

Processor: 3 GHz quad-core CPU

Memory: 4 GB RAM

Graphics: 1024 MB graphics memory, shader model 3 (GeForce GTX 260, Radeon HD 5770 or better)

DirectX: Version 9.0c

Hard Drive: 2 GB available space

Additional Notes: Screen resolution 1680x1050 or higher; Dedicated video card required
Helpful customer reviews
Title:
Legends of Eisenwald
Genre:
Indie
,
RPG
,
Strategy
,
Early Access
Developer:
Aterdux Entertainment
Publisher:
Aterdux Entertainment
Release Date:
Oct 9, 2013
Languages:
| | Interface | Full audio | Subtitles |
| --- | --- | --- | --- |
| English | | | |
| German | | | |
| Russian | | | |
| French | | | |
Awards
RPG France Editor's Choice