Nuclear Throne is Vlambeers latest action roguelike-like about mutants fighting their way through a post-apocalyptic world. The radioactive waste in the world allows mutants to get ahead by mutating new limbs on the fly, the abundant availability of powerful weaponry make the quest to become ruler of the Wasteland one frought with peril.
Release Date: Oct 11, 2013
Watch HD video
Early Access Game
Get instant access and start playing; get involved with this game as it develops.
Learn more about Early Access.
What the developers say:
"By buying Nuclear Throne you can support Vlambeer and the rest of the team while
they're working and livestreaming the development of the game
. You'll receive a new build of Nuclear Throne pretty much every week. After launch, when all the live development is over, the game will be available for slightly less than the Early Access price."
Read more
March 8th, 2014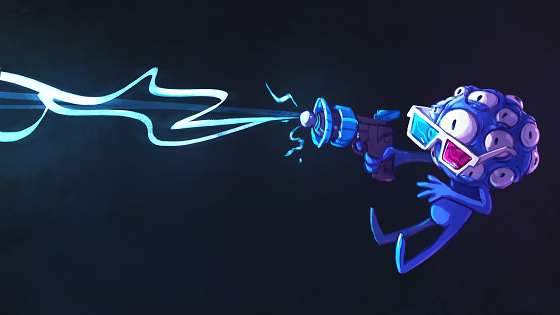 This is a last, quite substantial but small update before we head off to the Game Developers Conference and all take a little break. We'll be launching LUFTRAUSERS at GDC and we will likely be making some Nuclear Throne annoucements at GDC, so keep track of our Twitter and Facebook for the latest news. Anyway. we bring to you: a million fixes, more lightning weapons, more decals, and a boatload of balancing. Enjoy!


Features
New decals in the Sewers and Caves, and an alternate version of the Frozen City decals have been added.

Walking on spider webs now slows you down. Sorry.

Lightning Rifle!

Lightning Shotgun!

Balancing

Explosive weapons now get more ammo from drops!

The Crown of Hatred now gives you radiation over time instead of damage, and can no longer kill you.

The I.D.P.D. Shielder now idles a bit longer after leaving shield mode.

The Splinter Gun now shoots an extra splinter!

The Toxic Bow now deals more damage on impact.

Leveling up now spawns I.D.P.D. after level 4.

Leaving a Crown Vault with a Crown now spawns I.D.P.D.

Plasma Guns are now slightly more accurate.

The Laser Cannon now pushes enemies away more while charging.

Wolves now deal a bit less melee damage.

Fixes

You can now use the Flare Gun without fear of errors.

Toxic Barrels no longer spawn in certain places.

You can use the arrow keys for movement again.

Gamepad should be usable again in the menu.

The Crown of Destiny can now be used with gamepad.

You can now pause the game again with the gamepad. Unpausing doesn't work yet, sorry for that. use the keyboard for that.

Misc

The Double Shotgun, Super Slugger and Super Crossbow now move you back a bit when fired.

The way lightning weapons and the lightning pistol work has been updated. Lightning weapons now also look cool!

Chicken's slow motion now influences rain and snow!

Radiation flies out of enemies with a bit more speed.
We'll keep checking back in, but the updates will slow down for the next week or two. Please keep sending feedback, please keep making Let's Play videos and please keep playing! Enjoy Nuclear Throne Update 19!
8 comments
Read more
March 1st, 2014
This was an intense week. While the changelog is not very long, it features some significant additions, and it feels as if every single aspect of the game has gotten a major boost.

First of all, the characters now all have their own animations to play when selected in the main menu. Scrapyard and Frozen City both now have decals a bit like the bones you find in the desert.

The game now also sounds better! We have a first sketch of what Rebel will eventually sound like, and every boss has gotten their very own theme. Fighting Big Dog and Lil' Hunter will never be the same again.

The code also got a big overhaul, with all new input code. This fixes some major bugs and also opens up cool future possibilities like customizable controls. It should significantly increase performance for a small group of players

Of course we also have gameplay things for you! Two very challenging types of I.D.P.D. have been added. The Shielders shield and carry heavy machineguns with them, while the Inspectors have powers you are probably familiar with and come equipped with lethal sluggers.

Finally, we bring you a very work in progress Lightning Pistol! Enjoy.


Features
All characters have their own selection animation for the campfire scene now. We are incredibly happy with how this turned out.

Rebel no longer sounds like Fish! She now has her very own voice. This is not her final voice, as we intend to get a voice actor, but should give you a first impression of what she´ll sound like.

Two new types of I.D.P.D. troops: Shielders, and Inspectors. Both should seem pretty familiar...

Every boss now has its own musical theme.

The way player input is handled has been redone from scratch. This does a couple of things. First of all, performance should be significantly better for at least a small portion of our players. It also fixed the infamous "Crystal Shield Bug" where keys did not register when pressed during the small pauses that happen during explosions and the like. Finally, it will also make some planned features such as customizable controls a bit easier to implement.

Scrapyard and Frozen City now have decals like the bones in Desert.

A Lightning Pistol! Still very work in progress, but this should give you an idea of the lightning type weapons we're planning.

Balancing

I.D.P.D. explosions now blow up walls, but Grunts (and Inspectors) no longer have infinite grenades.

Fixes

The blood launcher can be used without fear of errors again.

As mentioned above, keys pressed (or released) during freezes are now registered. No more Crystal getting stuck in shield mode!

Some players should experience a significant performance increase.

Misc

You can now set the amount of auto aim for gamepad support in the options menu. It can be set from 0-200%.
Next week will bring a last, tiny update before the Game Developers Conference, where we'll be visiting, speaking and getting a short break and some time to hang out with our fellow developers and get super inspired for the period after GDC. Expect some bugfixes, balancing, and maybe a couple more lightning weapons early next week. We'll keep track of what's happening, but we'll be a bit more quiet than usual and the updates will cease for a week or two. We won't cease streaming, but we'll have guest streamers during this period.
Keep letting us know what you think, though, and keep in touch on http://twitch.tv/Vlambeer, http://twitter.com/Vlambeer or http://facebook.com/Vlambeer.
10 comments
Read more
Reviews
"It's a rapid-fire, deliciously crunchy randomized romp starring a cavalcade of characters from Vlambeer's past."
Rock, Paper, Shotgun

"A brutal game that rewards patience, situational awareness and mastery of trial and error."
Polygon

Early Beta Access
Welcome to Nuclear Throne!
Join us while making Nuclear Throne through the livestreams on the game
website
and be the first one playing new builds every week. We hope you enjoy the ride with us, as we have no clue where we're going to end up on this project and that's really fine with us.
At this point, Nuclear Throne includes:
Four playable worlds to trek through towards the elusive Nuclear Throne.
Seven playable characters, ranging from the explosive Melting to the almost-retired Fish.
Two bossfights with the powerful Big Bandit and the rusted corpse of Big Dog.
A huge range of weapons, skills and randomly generated goodness.
At launch, Nuclear Throne will further include:
At least four more worlds and an undefined number of secret worlds to explore, both on Earth, other planets and other dimensions.
Additional characters, B-skins and sound effects.
Dangerous Crown Vaults to raid for game-changing Crown Modifiers.
The Nuclear Throne.
Join us on the road to final release by buying into the Early Access Beta build for $12.99. Follow livestreams of development on nuclearthrone.com and play new builds pretty much every week.
About the Game
Nuclear Throne is Vlambeers latest action roguelike-like about mutants fighting their way through a post-apocalyptic world. The radioactive waste in the world allows mutants to get ahead by mutating new limbs on the fly, the abundant availability of powerful weaponry make the quest to become ruler of the Wasteland one frought with peril.
System Requirements
Minimum:


OS: Windows XP

Processor: 1.2Ghz+

Memory: 1024 MB RAM

Graphics: 256MB

Hard Drive: 200 MB available space
Recommended:


OS: Windows XP

Processor: 2Ghz

Memory: 2048 MB RAM

Graphics: 1GB

Hard Drive: 500 MB available space
Helpful customer reviews
Title:
Nuclear Throne
Genre:
Action
,
Early Access
,
Indie
,
RPG
Developer:
Vlambeer
Publisher:
Vlambeer
Release Date:
Oct 11, 2013
Languages:
| | Interface | Full audio | Subtitles |
| --- | --- | --- | --- |
| English | | | |
Awards
INDIGO Showcase Gamescom 2013
Fantastic Arcade Nominee 2013