Çalışması için Age of Empires II HD oyununun Steam sürümüne sahip olmanız gerekmektedir.

Çıkış Tarihi: 7 Kasım 2013
İndirilebilir İçerikler
Çalışması için Age of Empires II HD oyununun Steam sürümüne sahip olmanız gerekmektedir.
Age of Empires II HD: The Forgotten Satın Alın
Bu oyunu içeren paketler
Age of Empires II HD + The Forgotten Expansion Satın Alın
2 ürün içerir: Age of Empires II HD, Age of Empires II HD: The Forgotten
Age of Empires Legacy Bundle Satın Alın
3 ürün içerir: Age of Empires® III: Complete Collection, Age of Empires II HD, Age of Empires II HD: The Forgotten
Steam Workshop


Advance to the Steam Age!
Explore new maps, multiplayer scenarios, and user created campaigns. Or reinvent your game experience with new sounds, visuals, AI, units, and more! Ready to share your creations with the world? Upload right from the map editor, or collaborate with friends to create a masterpiece collection.
Trading Cards Available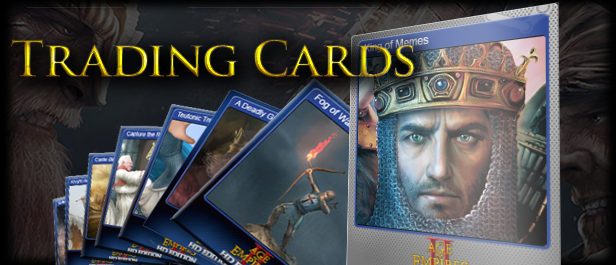 With the introduction of The Forgotten expansion, we're thrilled to bring trading cards to Age of Empires II: HD Edition. Earn them in game and trade with others to craft badges, emoticons, profile backgrounds, and badges. Can you get through all six levels?
Oyun Açıklaması
Welcome to Age of Empires II HD - The Forgotten; the first new official expansion for the Age of Empires II universe in over ten years. Challenge friends with five additional civilizations and technologies, battle through four campaigns, vanquish opponents in new game modes on massive maps, or shoutcast a match and stream it all through twitch.tv.
Crafted exclusively for Age of Empires II: HD Edition; The Forgotten expansion builds upon the Age of Empires II: HD experience and includes Steam workshop support, new expansion rankings, steam trading cards, and more!
Explore a host of new features with Age of Empires II - The Forgotten including
Five New Civilizations


Italians - Set sail to Venice and take the role as general in one of the Italian republics that emerged from the chaos after the collapse of the Roman Empire!

Indians - Put vast armies under your command, comprised of countless Camels and powerful Elephants.

Slavs – Even after the dissolution of the Mongolian Golden Horde, these icy planes of Eastern Europe still echo under the thundering hooves and countless boots of your soldiers.

Magyars - Lead the mighty Black Army over the Hungarian plains and command the fiercest cavalry forces that Europe has ever witnessed in the Middle Ages

Incas - Lead your armies along the shores of Lake Titicaca, defend your wealth and heritage from the invading Conquistadors and erect mighty structures to withstand the test of time.



Four New Campaigns


Alaric: The trauma of the Hun invasion in the 4th century has shaped Alaric, the fearsome warrior king of the Goths. But can the beloved king secure a new homeland for his people in the territory of the collapsing Roman Empire?

Sforza: Always hungry for glory and wealth, Sforza wanders around 15th century Italy, offering his services to the highest bidder. Will he pick the right battles or make the wrong enemy? Take the fate of the young mercenary captain in your hands.

Bari: 400 years after the collapse of the Roman Empire, Italy is still up for grabs. Relive the tale of the port city Bari from the point of view of a Byzantine family, rising from the common soldiery to the nobility. Beware, for not only Bari is at stake, but also control of Southern Italy.

Dracula: History forged an incredible legend around the man who ruled Wallachia in the mid-14th century. Holding his ground against the vast armies of the expanding Ottoman Empire, his cruel tactics made him the most feared man in all of Eastern Europe. Shall his thirst for blood and the loyalty of his soldiers hold the Turks back for good?



New LudaKRIS map size

Twitch.tv streaming integration

Spectator mode

New Game Modes


Treaty - Popularized in later titles, the economically focused "Treaty" gametype will be available in AoF. Also commonly known as "No Rush", Treaty mode enables a limited duration of battle-free early growth before focusing on military might.

Capture the Relic - For a quick paced, action oriented battle the new "Capture the Relic" will see players rushing with their monks to take control of a single treasure and return it safely to base.
Sistem Gereksinimleri
Minimum:


OS: Windows XP - Windows 8.1+

Processor: 1.2GHZ CPU

Memory: 1 GB RAM

Graphics: Direct X 9.0c capable GPU

DirectX: Version 9.0c

Hard Drive: 2 GB available space

Sound Card: Direct X compatible sound card

Additional Notes: Twitch streaming requires Windows vista or newer
Helpful customer reviews
139 kişiden 16 tanesi (12%) bu incelemeyi yararlı buldu
159 products in account
10 reviews
Çok güzel bi DLC bence alınması gereken bi eklenti , 5 yeni millet var ,4 Campaigns olması çok güzel .
17 kişiden 9 tanesi (53%) bu incelemeyi yararlı buldu
17 products in account
6 reviews
Wow did not see that coming! : D
Başlık:
Age of Empires II HD: The Forgotten
Tür:
Strateji
Geliştirici:
Hidden Path Entertainment, Ensemble Studios
,
Skybox
Yayımcı:
Microsoft Studios
Çıkış Tarihi:
7 Kasım 2013
Diller:
| | Interface | Full audio | Alt yazılar |
| --- | --- | --- | --- |
| İngilizce | | | |
| Fransızca | | | |
| İtalyanca | | | |
| Almanca | | | |
| İspanyolca | | | |
| Flemenkçe | | | |
| Japonca | | | |
| Korece | | | |
| Brezilya Portekizcesi | | | |
| Rusça | | | |
| Basitleştirilmiş Çince | | | |
Tümünü gör 11 desteklenen diller