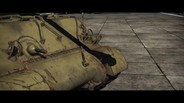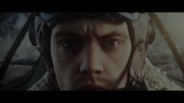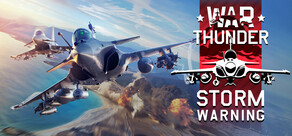 War Thunder is a next generation MMO combat game dedicated to World War II military aviation, armored vehicles, and fleets. You will take part in all of the major combat battles, fighting with real players all over the world.
Release Date: Aug 15, 2013
Watch all 3 trailers
Buy War Thunder - Steam Pack
War Thunder Steam Pack includes premium airplanes, two single-player campaigns, one month of Premium account upgrades, and 1700 Golden Eagles!
Downloadable Content For This Game
July 23rd, 2014
The Royal Norwegian Air Force (abbreviated to RNoAF, and in Norwegian, 'Luftforsvaret') is Norway's active air force, formed after the unification of the Army Air Force and the Naval Air Service in 1944, both of which had been in existence since 1915. During the 1930s, when war seemed imminent, Norway felt they needed to modernize their army. They imported several Gloster Gladiators and Heinkel He 115s during the pre-war years, as well as a number of planes from the United States, prior to the German invasion of Norway.

Unfortunately, the offensive ended abruptly in German victory, with the Norwegian army defeated. However, the few Gladiators that Norway had claimed over 10 German planes shot down. While the RNoAF had several Curtiss P-36 Hawks at their disposal, none of them were combat-ready, and ended up captured by the Germans. Since the Norwegian government had gone into exile, the army, as well as the air force, was dismissed and sent to aid Allied units.

Although defeated, Norway was not yet down and out, and they did not give up. Norwegian and Canadian officials set up a ground and air force training camp for Norwegian soldiers and escaped refugees who wanted to help free their country in Toronto, nicknamed "Little Norway". The soldiers that finished their training there were sent to support British armies, while the pilots were enlisted into the RAF forming two Norwegian Spitfire squadrons, the No. 331 and No. 332.

Little Norway was were some of the Norwegian aces were trained. Svein Heglund was one such ace. His primary profession was as an engineer and military officer. However, at the onset of war, he decided to support his country in a more practical way and volunteered for the RAF. With over 16 confirmed kills, he was Norway's most accomplished ace, earning him the British Distinguished Service Order and Distinguished Flying Cross, as well as the War Cross with two Swords.

Other honorable mentions include Helner Gustav Einer Grundt Spang, Martin Yngvar Gran, Marius Eriksen Jr. and Werner Christie, each of them attaining 10-12 kills as well as earning a War Cross.

After the war, Norway's air force was supplied almost entirely by the British, consisting of aircraft such as the Spitfire IX, Mosquito FB and the de Havilland Vampire. During the 1950s they switched to American-made planes such as the F-84 Thunderjet and the F-86 Sabre.

Today, Norway has a much more modernized air force, consisting mostly of heavily upgraded F-16 fighters, fitted for attack, bombing, and interception roles. as well as several P-3 Orion planes used for surveillance and intelligence, along with other non-combat aircraft. The RNoAF is one of the few countries on constant standby for NATO, and has participated in many NATO operations. Norwegian pilots are trained in USA under the Euro-NATO agreement, but grading is conducted in Norway.

In honor of the Norwegian pilots, we will introduce the Royal Norwegian Air Force roundel with one of the upcoming updates:

The War Thunder Team
11 comments
Read more
July 23rd, 2014
As German armor roared across western Europe in the Blitzkrieg, they were riding in arguably the finest light tank then made. Relatively fast, good armor, good 37mm main gun with co-axial and hull 7.62mm machine gun, an effective 4 man compartment, and reliability the envy of generals. It did have a few design and crew ergonomics shortcomings but compared to other light tanks in 1940 it was an balanced and winning combination. In the Blitzkrieg the Panzer 38(t) accounted for 24% of the Wehrmachts 961 big gun tanks (the majority did not mount heavy cannons), and yet this finely engineered tank was not made in Germany, it was not even a German design!

The story of the 38(t) began in 1935 Czechoslovakia as a replacement for the joint Škoda and Českomoravská Kolben-Daněk (ČKD) "Lehký tank vzor 35", translated "Light tank model 35" (aka "LT vz 35", "LT-35") for the Czechoslovak army. While overall good, the LT-35 had a number of design weaknesses, was complex, and not all that reliable. ČKD moved ahead with a new design that tacked the deficiencies and complexities of the LT-35, resulting in the LT-38. Powered by a Praga Typ TNHPS/II water-cooled, inline 6-cylinder gasoline engine of 125 PS (123.3 hp, 91.9 kW), it propelling it up to 42 km/h, 26.1 mph on-road and about 15 km/h off-road. A distinguishing feature was the 4 large road wheels unusual for the time. Other unique features was the centrally mounted hull MG accessible to both the gunner and driver, who also had a remote trigger. The turret MG had the same mount also so it too could be aimed independently of the cannon, or locked to be coaxial.

Interestingly, even before the 1st July 1938 order by Czechoslovakia for 150 of the new tank ČKD earlier sold scores to the nations of Iran and Peru, but political upheaval conspired to deny Czechoslovakia use of its own creation. On 29th September 1938 the "Munich Dictat" was signed and figuratively overnight Czechoslovakia lost about 40% of its territory. Six months later Nazi Germany occupied the rest of the Czech lands and now independent Slovakia was largely forced to ally with the Nazi's to survive.

Evaluating their new prizes the Germans found the LT-38 and older LT-35 valuable addition their paltry panzer force and with a few modifications incorporated them; in all the Czechoslovak armor contributed 35% of the heavy cannon tanks used in the Blitzkrieg. The names were changed to Panzerkampfwagen 38(t) and 35(t) respectively, with the "t" derived from German writing of Czechoslovakia, "tschechisch".

By 1941 the Pz38(t) was completely outclassed as a main battle tank, but its highly reliable and perfectly tuned drive was without equal in any military: "In one documented case a regiment was supplied with tanks driven straight from the factory in 2.5 days instead of the anticipated week, without any mechanical breakdowns". Maintenance and repairs were also very easy, ideal for the conditions the crews faced. While the tank itself was becoming obsolete, the dependable chassi found new life as the "Marder III" and Jagdpanzer 38(t) "Hetzer" and at least a dozen other variants. Meanwhile the LT-38/Pz38(t) was finding more foreign customers including Sweden, Switzerland, Lithuania, and passed around to axis allies to east.

The greatest legacy of the LT-38/Pz38(t) was not its armor or gun, but a level of operational reliability that kept it on the road decades after the first one rolled out the factory; Peru finally retiring its last LT-38 in 1988.

The War Thunder Team
4 comments
Read more
About the Game
War Thunder
is a next generation MMO combat game dedicated to World War II military aviation, armored vehicles, and fleets. You will take part in all of the major combat battles, fighting with real players all over the world.
War Thunder
offers a highly detailed and personalized aviation experience, giving players access to hundreds models of planes with detailed cockpits, dozens of upgradeable weapons, and flying skills that can be honed and improved with each mission. Thanks to the game's painstaking attention to detail, you'll truly feel like a World War II fighter pilot as you plunge into battle.
The genuine World War II experience isn't limited to the skies. The massive historical battles featured in War Thunder cannot be fought by aviation alone, so the game will also expose players to combat on land and at sea. Currently the game is in open beta stage and full functionality is yet to come.
Features Include
Varied PvP-experiences set in full-scale combat missions

Multiple settings options allow advanced virtual pilots and beginners to enjoy playing the game together

Rich PvE content: dynamic campaigns, solo missions, mission editor, and much more for single-player and cooperative gameplay

Impressive diversity includes detailed models of planes and their cockpits, as well as tanks and ships

Astonishing graphics, authentic sound effects, and beautiful music
PC System Requirements
Minimum:


OS: Windows XP SP2, Windows Vista SP1, Windows 7, Windows 8

Processor: 2,2 GHz

Memory: 1 GB RAM

Graphics: Nvidia GeForce 7XXX series or higher; AMD Radeon 1XXX series or higher

DirectX: Version 9.0c

Network: Broadband Internet connection

Hard Drive: 8 GB available space
Recommended:


OS: Windows 7,

Processor: dual-core 2,4 GHz

Memory: 4 GB RAM

Graphics: Nvidia GeForce 460 or higher

DirectX: Version 9.0c

Network: Broadband Internet connection

Hard Drive: 8 GB available space
Mac System Requirements
Minimum:


OS: 10.9 Mavericks

Processor: Intel Core i7

Memory: 4 GB RAM

Graphics: AMD/Nvidia/Intel HD 4000

Network: Broadband Internet connection

Hard Drive: 8 GB available space
Recommended:


OS: 10.9.2 Mavericks

Processor: Intel Core i7

Memory: 8 GB RAM

Graphics: AMD/Nvidia

Network: Broadband Internet connection

Hard Drive: 8 GB available space
© 2009—2014 by Gaijin Entertainment. Gaijin and War Thunder are trademarks and/or registered trademarks of Gaijin Entertainment or its licensors, all other logos are trademarks of their respective owners.
XF5F-1 Skyrocket, XP-50, F4F-3 Wildcat, F4F-4 Wildcat, F4U-1A Corsair, F4U-1B Corsair, F4U-1C Corsair, F6F-3 Hellcat, F9F-2 Panther, F9F-5 Panther, OS2U-1 Kingfisher, OS2U-3 Kingfisher, P‑47D-25 Thunderbolt, and P-47D-28 Thunderbolt are trademarks of Northrop Grumman Systems Corporation and are used under license to Gaijin Entertainment Corporation.
Helpful customer reviews
Awards