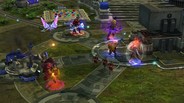 Join the war between technology and magic in Prime World, the new competitive RPG from the creators of Heroes of Might & Magic V, Blitzkrieg, Silent Storm, and Etherlords. Choose from dozens of heroes and fight your friends in a battle for victory, glory, and Prime!
Julkaisupäivä: 31 Maaliskuu 2014
Katso HD-video
Pelaa Prime World
Free To Play
Tämän pelin lisäsisältö
18 huhtikuu(ta) 2014
"How did you end up like this? You're supposed to be elusive, or so I recall..." the Duelist asked quietly of his neighbor, a dim shadow in the darkest corner of their damp prison cell.

The Assassin snorted, disappearing in the shadows completely and refusing to answer. The Duelist nodded to himself, agreeing that talking about the woman who chained them might injure their reputation even more.

Meanwhile, rumors spread that a new hero appeared in Praia. It is said that the pretty face donning an innocent smile and a sonorous voice are just a mask, hiding her cold blood, frozen heart and ice cold grip. The Law is her shield and Justice is her weapon. Criminals shudder and hide at the simple mention of her name while law-abiding citizens of Praia praise her, as if she were their only salvation.

This unforgiving beauty breaks the hearts of all her enemies on behalf of Justice, for Justice makes no difference, be them Dokhts or Adornians. Nevertheless, she is loved by the crowds for her cold character. That is why the people got used to calling her Justice.





Name: Justice
Hero: Cryo/Blizzard
Faction: Both
Features: New Voice
Price: 99 Gold

2 kommenttia
Lue lisää
18 huhtikuu(ta) 2014

In this update we have rebalanced Kiton, fixed some more bugs, and added additional flags.




Kiton

Since Kiton's appearance was resulting in premature large-scale battles that were significantly affecting the rest of the game, the following changes have been introduced:


The amount of Prime received by each member of a team after defeating Kiton has been reduced from 300 to 250.


The amount of bonus Prime received by the hero who deals the final blow to Kiton has been reduced from 200 to 150.


In the new version, Kiton appears after five minutes rather than after three as before. Since he appears later, his starting level has been increased by one.


A bug that was causing heroes to become visible to the enemy team if invisibility was applied onto them when they were already invisible has been fixed. This problem was especially common among heroes whose class talents enabled them to become invisible if the effect had not worn off yet.


In Outpost mode it was unclear which area of the Keepers base allowed healing and which did not. In the new version, the healing area has now been outlined with a stone base.

Audio In Combat
New music tracks have been added in the patch. They are set to cycle during battle time.


A new system has been introduced that changes the music when certain events take place, such as when a tower is destroyed or a hero is resurrected.


The victory and defeat music has been changed.


A bug that caused the sound effects for the Power and Upgrade glyphs not to play has been fixed.


New sound effects have been added for all successful ranged attacks by heroes.

A bug that made it impossible to click on the button that blows up an artifact if two heroes were touching it at the same time the last time it exploded has been fixed.


A bug that caused the Fire Drake not to attack anyone if the first targets it saw were Magic Lanterns has been fixed.

Jaeger / Wolf Dancer
A number of bugs relating to the behavior of Jaeger/Wolf Dancer's wolves with other wolves after a spear had been thrown (sometimes they wouldn't pursue the target or would pursue it for too long) have been fixed.

Wanderer
A bug that caused the Taunt status to remain on one Wanderer until he died if two Wanderers used the Decisive Attack talent with the Challenge upgrade on one another at the same time has been fixed.

The rewards for completing the New Storage and Second Floor quests have been improved. The player's rewards for completing them are now the unique Haste and Natural Health talents respectively. Players who had already completed these quests will have the talents added to their libraries.


Quests that required the player to save up a certain amount of a certain resource have been removed, as have those that required the player to build a Manufactory/Spinnery or recruit friends to help with their construction. Players who were already making progress toward the completion of these quests when the update was applied will have them replaced by the next quests in the questline.


The quest A New Clash has been removed. Players who had the quest active when the update was applied will have it replaced by the next quest in the questline.


Completing the Honing your Mastery quest now requires the player to reach Mastery Level 3 with any hero rather than Mastery Level 4 as before.


Completing the Confirming Rumors quest now requires that the player complete only one quest from the Tavern/Teahouse rather than three as before.


Players who had active quests that were changed by the update will receive them again.

A number of bugs that caused certain players to be listed twice after a server update have been fixed.


A bug that caused the animation around the portraits of heroes and players to be displayed incorrectly when they were added to a free building slot has been fixed.


The position of the clan abbreviation over players' names in the pre-match window has been adjusted.

Special Flags
We wanted to give players another opportunity to show their individuality, so we have introduced a setof spcial flags into the game. You can find and purchase them from the main menu by pressing ESC, then going to "Account", and selecting "Change Flag.
0 kommenttia
Lue lisää
Press Quotes
"I love games that offer a lot of customization, as well as letting players have a major say in how they play the game."
- RTSGuru

"Don't fall into the trap of assuming that Prime World is just a League of Legends clone."
- Massively

"It seemed too much fun and too good to be true to cost nothing..."
- RPGFan
Tietoja pelistä
Join the war between technology and magic in Prime World, the new competitive RPG from the creators of Heroes of Might & Magic V, Blitzkrieg, Silent Storm, and Etherlords. Choose from dozens of heroes and fight your friends in a battle for victory, glory, and Prime!
Prime World merges persistent RPG hero development, PvP, PvE, story-driven battles and castle building. Hire, equip and train over 30 unique heroes between battles using collectible and upgradable talents, build a thriving economy in your city, and play together with your friends. You can even start your own clan and fight other clans!
Prime World offers various battlegrounds to challenge your friends – there are currently eight game modes, with more to come: fight in the traditional 5v5 Borderlands, fast and fierce 3v3 Outpost, dark and moody 4v4 Dragonwald or take on co-op episodic challenges.
Build Your Kingdom - Construct your Castle and establish an Army and economy. Build and upgrade various structures, collect resources, craft hero abilities, and manage your clan.

Hire An Army - Hire, level up, and independently equip over 30 unique heroes.

Fight For Glory - Take on other players in fast paced, strategic PvP battlegrounds. Work your way through the matchmaking ranks to become the top player on the leaderboards.

Explore the Prime Zone - Challenge you and your friends by taking on the monsters of Praia in our Co-Op PvE missions.

Diverse Game Modes - Choose from one of 8 distinctly challenging gameplay modes: 5v5 Borderlands for that classic MOBA feel, 4v4 Dragonwald with a mix of PvE and PVP, Co-Op PvE against the monster of Praia, or even fight hordes of zombies.

Hero Customization - Change the look and feel of your Heroes through diverse skins featuring new animations, voice-overs, and visual effects.

Craft Your Playstyle - Craft and earn over 700 talents to equip your Heroes the way you want to play them. Add invisibility to your favorite tank? Stunning ability to your support? Quick heal to your favorite carry? The variety of choices is nearly endless.

Clan Versus Clan - Build, level up and manage your clan. Take on other clans in your clan battles and fight for the top spot together!
Järjestelmävaatimukset
Minimum:


OS: Windows XP SP2, Windows Vista SP1, Windows 7

Processor: Intel Core 2 Duo/Athlon 64 X2 - 2 GHz

Memory: 2 GB RAM

Graphics: GeForce 8600 GT/Radeon X1600 - 128 MB VRAM

DirectX: Version 9.0c

Network: Broadband Internet connection

Hard Drive: 3000 MB available space

Sound Card: Direct X compatible sound card
Recommended:


OS: Windows XP SP2, Windows Vista SP1, Windows 7

Processor: Intel Core 2 Duo/Athlon 64 X2 - 3 GHz

Memory: 4 GB RAM

Graphics: GeForce 9800/Radeon HD 3850 - 512 MB VRAM

DirectX: Version 9.0c

Network: Broadband Internet connection

Hard Drive: 3000 MB available space

Sound Card: Direct X compatible sound card
Hyödylliset arvostelut
Palkinnot